YD News | Three-minute read
Gulmarg, the flower meadow, is an ideal destination for discerning travellers. Gulmarg is one of India's best-skiing destinations Lofty snow-capped mountains, lush greenery, small lakes, and a wide variety of flowers are what you will find in Gulmarg. Adventure lovers will find a thrill in almost everything they encounter in Gulmarg. Trekking, skiing, and ice skating are popular adventure sports in Gulmarg. Continue reading to know what makes Gulmarg the ideal vacation destination at any time of year.
Go for skiing and snowboarding
For beginners to learn this fascinating sport, there are three main slopes to choose from. The Baby Slope, Slope 85, and Highland Park slope. Thousands of enthusiasts visit here every month. The last two slopes are for people who have gotten used to skiing on the baby slopes.
Must ride the Gondola
A trip to Kashmir would be incomplete without a ride on the Gondola. It is a must-try if you want to make your trip memorable and see the breathtaking views.
The ride is divided into two phases. Phase one takes people from the base station to Kongdoor and gains about 400 metres in elevation. Phase two takes people from Kongdoor to the shoulder of Aphrawat peak and gains about 900 meters of elevation.
You can walk around a little and get beautiful panoramic views of the mountains while also playing in the snow. On clear days, you'll get beautiful views of the Pir Panjal range and the Nanda Devi peak.
Take enthralling photographs at Ningle Nallah

Aphrawat Mountains' melting snow forms the Ningle Nallah stream. At Sopore, this stream joins the Jhelum River. You will find photographers here at Ningle Nallah at any time of the year.
During the summer, you can see beautiful wildflowers, a forest of pine trees, and a carpet of green around the stream. The snow-capped peaks in the distance add to the ambiance, and you'll run out of camera batteries before you run out of photography angles.
Pony Ride at Khilanmarg

A pony ride to Khilanmarg is an experience in and of itself, providing some of the most spectacular views of the Himalayan peaks. The blooming of several aromatic flowers attracts visitors to this mesmerizing valley.
Apharwat Peak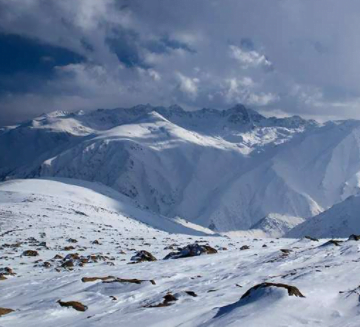 It is a charismatic snow crest mountain peak with a breathtaking bird's eye view of the entire valley. Apharwat Peak is at an elevation of 4,200 meters above sea level. It is a popular skiing destination, with slopes and trails suitable for both beginners and experts.
How to Travel to Gulmarg

Flight: Srinagar Airport is the nearest to Gulmarg. From there, a cab can be hired to take you directly to Gulmarg.
Train: The nearest railway station is Jammu.
Road: There are several private and state buses that run to Gulmarg. You can even hire a private car or a taxi. They are also easily available.