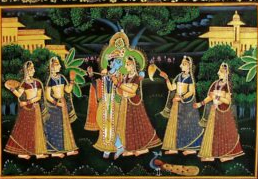 YD News | Two-minute read
The History of Basohli Paintings
"A picture is a poem without words," says Horace, a Roman poet. Basohli paintings based on Bhanudatta's great poem Rasamanjari beautifully reflect this remark. Basholi paintings illustrate the poem. The poem is divided into 19 chapters.
Bhanudatta recounts the social life of the aristocracy in his poem, depicting couples as Nayak Nayakas. Various scenes from the life cycle in Ramanjari's series depict Lord Krishna and Radha, Lord Shiva and Parvati, and even Lord Rama and Sita.
Town of Basohli
Basohli is a tiny town in Jammu's Kathua district. However, there are 74 villages in this tiny town. Moreover, the town is culturally rich. A lot of famous artists are from this small town.
In terms of culture, the town is well-known for its Basohli paintings and Pashmina Shawls. Sohan Singh Billawaria and Surinder Singh Baloria are two well-known artists from Basohli.
Basohli's tourist attractions
Shivalik Hills' towering peaks flank the town of Basohli and it is located near the Ravi River's bank. Basohli Bridge, Purthu (Mini-Goa), Sheetla Mata, and Ranjit Sagar Dam are amongst the town's tourist attractions.
Basohli Paintings' Basic Characteristics
The origin of this painting style happened in Basohli and expanded to neighbouring states like Punjab and Himachal Pradesh over time. The experts recognize the Basohli paintings for their flawless geometric patterns.
In the Basohli painting, the characters are dressed lavishly. The artists put an emphasis on the characters' deep-set facial patterns and protruding eyes.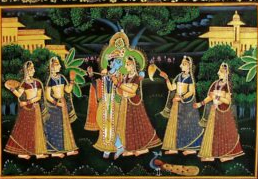 Basohli paintings' clothing and style
The artists make the characters uniquely dressed in these paintings. Choli and Ghagra style skirts are the main costumes of women in Basohli paintings. On the other hand, the men are dressed in Jama with a ribbon around their waist. The painters use bright colours and shiny enamel in these paintings, which gives the characters a distinct personality.
A unique colour scheme in Basohli paintings
Basohli style of painting first appeared in the 17th and 18th centuries. People recognized it as the first school of Pahari art.
Figures' faces define the receding foreheads and eyes fashioned like lotus petals to make them appear more emotive. The artists use the main colors Red, Blue, and Yellow extensively in the paintings. These paintings have a simple composition that is unique in their own right.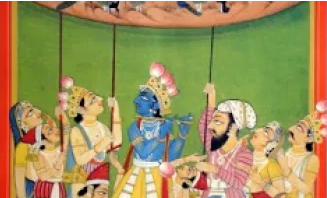 Basohli Paintings are a great way to support local artists
This beautiful art form now thrives to acquire a new lease on life thanks to a society that made a small effort to preserve and thrive its authenticity.
"We are training children in Basohli paintings so that the artwork survives," said Sohan Singh Billawaria, a state and national award-winning Basohli painter who has painted 407 Basohli artworks for Shri Mata Vaishno Devi Shrine Board and shown his works in shows throughout the world.