YD News | Two-minute read
UPES Dehradun celebrated International Women's Day in a unique way. UPES Dehradun ran a campaign 'Burst the Bias'. They urged the people to take a stand against all the biases towards women and put an end to them.
The students and the faculty carried out the campaign in multiple locations in Dehradun. They even amplified it on several digital platforms.
Vice Chancellor UPES Dr Sunil Rai wholeheartedly supported the initiative.
Pro-Vice-Chancellor, Dr Ram Sharma, and Mr. Sharad Mehra, Chairman, Hydrocarbon Education Research Society, deans, faculty members, employees and support staff of the university also participated in it.
During the campaign, the UPES staff members and students placed photo booths at various government offices, public spaces.
Other than that, the students paced them at media houses, Secretariat, Police Station- Prem Nagar, Pacific Mall, Vikas Mall, Ashley Hall apart from the university campuses at Bidholi and Kandoli.
At the photo booth, the staff asked the government officials, visitors, UPES students, parents and faculty to write a bias against women on a balloon & burst it reiterating the importance of gender equality.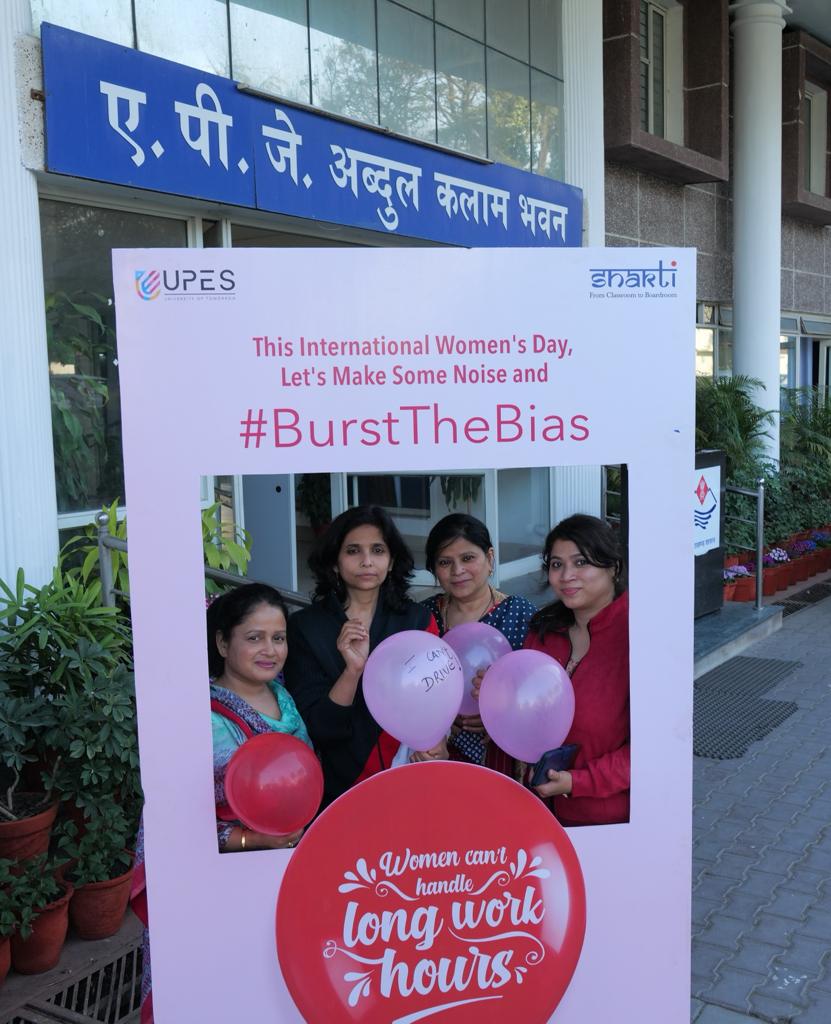 "EMPOWERING WOMEN IS THE CORE OF UPES"
Dr Sunil Rai, VC, UPES said, "Empowering women has been the core of all our initiatives at the campus." Further, he said, "We strongly believe that women play a vital role in the growth of any economy. For its upliftment, women need to be recognised as equals. UPES has been putting in every effort to support and help women realise their potential. For us, it is not a single day but a constant endeavor to cultivate an inclusive, gender-diverse environment."
With the theme "Gender Equality Today for a Sustainable Tomorrow", the university runs several initiatives that are focused on the holistic development of women. All these initiatives are under the university's flagship program 'Shakti'. It ranges from access to formal education for girls, skill training, leadership training and personality grooming.
Under Shakti, UPES hosts a women's internal cricket tournament called the Shakti Challengers Cup. This tournament concluded on Women's Day. There were six teams that participated, with women from various departments.
Scholarship initiative for women
Under the Shakti program, there is also a scholarship initiative for girls. Over 5000 scholarships have been announced and offered since the initiative was launched in 2020. The leadership programs for women are held with a focus on adaptive skills, emotional intelligence, business communication and more.
All these initiatives aim at accelerating the gender equality journey, helping women realise their potential, focus on their growth, and contribute to the nation.
UPES Dehradun
Established in 2003 through the UPES Act, 2003 of the State Legislature of Uttarakhand, UPES is a UGC-recognized university. NAAC has accredited it with grade 'A'.  
National Institutional Ranking Framework (NIRF), Ministry of Education, has ranked UPES amongst the top 100 universities to study in India.
Globally acclaimed QS Rating has given 5-Stars on Employability to UPES
UPES offers graduate and postgraduate programs through its eight schools
School of Engineering
Computer Science
Design
Law
Business
Health Sciences & Technology
Modern Media and School of Liberal Studies