Prewedding photoshoot: Wedding is indeed one of the most life changing phase for anyone, the times and months before the wedding are special too but are full of indecisions and jitters. In order to deal with them creatively, people are much into prewedding photoshoots in order to make the best of their times with their partners.
Congratulations on your upcoming wedding! As you prepare for your special day, one thing that you may be considering is a pre-wedding photoshoot. These photoshoots have become increasingly popular in recent years, as they provide couples with a beautiful way to capture their love and excitement before the big day.
If you're planning a pre-wedding photoshoot in India, you're in luck! India is a country full of beautiful and dreamy locations that are perfect for romantic pictures. In this article, we'll be sharing the top 5 dreamy locations for pre-wedding shoots in India. Whether you're looking for stunning landscapes, historical monuments, or serene beaches, we've got you covered. So, grab your partner, your camera, and get ready for some beautiful pictures that you'll cherish for a lifetime!
Udaipur
Known as the city of lakes, Udaipur is one of the most popular destinations for pre-wedding photoshoots. With its picturesque landscapes, stunning palaces, and beautiful lakes, Udaipur provides a perfect backdrop for romantic pictures. Udaipur is one of the top choices for the brides and grooms to get their photoshoots done because land is full of love.
Also read: Top 10 places in Delhi that you must visit at night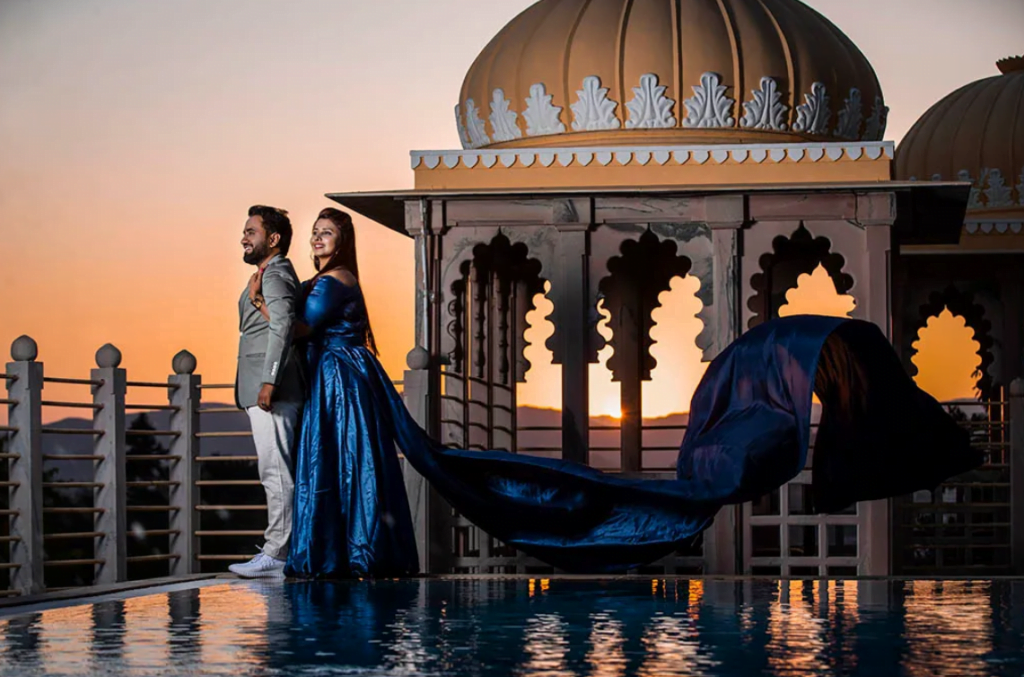 Jaipur
The Pink City of India, Jaipur is a vibrant and colorful destination that provides a unique mix of old-world charm and modernity. With its stunning forts, royal palaces, and beautiful gardens, Jaipur offers an ideal setting for pre-wedding photoshoots. Jaipur is a colourful destination that tends to offer historic presence as well as modern landscapes and backgrounds at the same time. With both, you can get variety of photos clicked as a couple and individuals as well.
Goa
With its beautiful beaches, clear blue waters, and palm trees, Goa is an idyllic destination for pre-wedding photoshoots. The relaxed and laid-back atmosphere of Goa also adds to the charm and makes it a perfect place for romantic pictures.
Agra
The city of the Taj Mahal, Agra is a popular destination for pre-wedding photoshoots. The iconic Taj Mahal, along with other historical monuments and stunning gardens, provides a beautiful and romantic backdrop for pictures.
Kerala
Known as God's Own Country, Kerala is a lush and green destination with beautiful backwaters, beaches, and hill stations. The serene and tranquil atmosphere of Kerala provides a perfect setting for pre-wedding photoshoots, and the stunning landscapes offer a beautiful backdrop for pictures.
Conclusion for prewedding photoshoot in India
In conclusion, India is a beautiful nation with many picturesque spots that make the ideal setting for pre-wedding photo sessions. For couples wishing to document their love and excitement before their wedding, there are several alternatives, from the stunning lakes and palaces of Udaipur to the lush greenery of Kerala.
Whatever the setting, keep in mind that the most crucial thing is to enjoy yourself and your partner's company. Make the most of your pre-wedding photography and capture some genuinely amazing moments that you won't forget since these images will be treasured memories for years to come.