YDNews| 03:20 pm| One-minute read
Amidst the nationwide lockdown, the food delivery app Swiggy has introduced 'No contact delivery' for their customers. This step has been taken to avoid the physical contact between the delivery partner and the customer to avoid any kind of transmission.
The users will get the option to choose 'No contact delivery' in the app while they place their orders. Moreover, the customers can also call the delivery partner and ask him/her to leave the food at their doorstep. After the delivery partner leaves the food at the doorstep, he/she will call the customer for delivery confirmation.
For hygiene purposes, Swiggy has advised the customers to keep a stool or bag outside the doors where the order can be dropped off. It is to be noted that the service is not available for cash on delivery. It is available for prepaid orders only.
Leading food delivery brands like Zomato and Swiggy went out of work because of the nationwide shutdown and restaurants going out of service.
Also read: Jammu and Kashmir: First death due to Coronavirus as 65-year-old preacher dies
Have a look at the Swiggy initiative: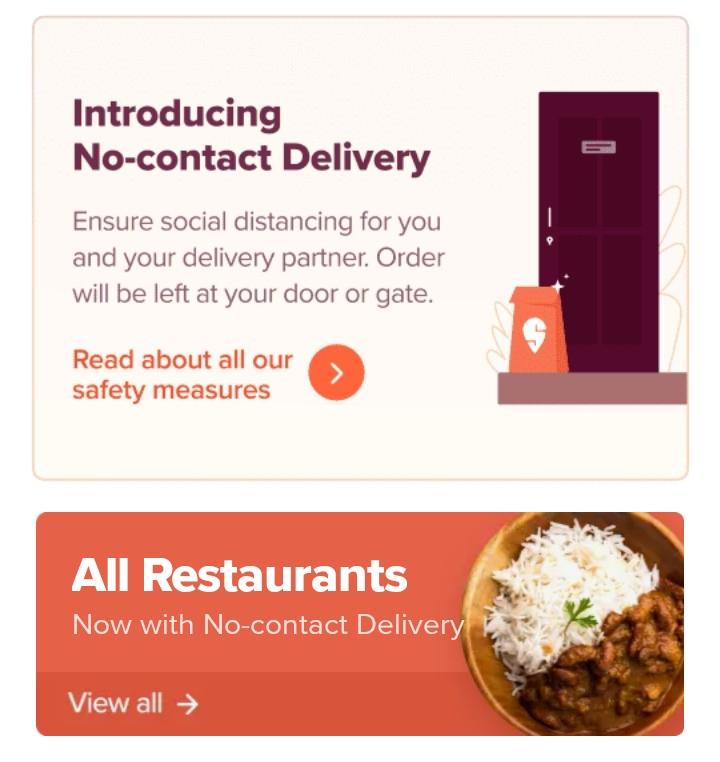 However, according to a media report, a spokesperson from Swiggy was quoted saying, "Swiggy is working with local governments to remain operational and extend our support during these testing times, especially to the customers in need."
The World Health Organization has announced the outbreak of the Coronavirus as a pandemic. Italy has been severely hit by COVID-19 with more than 8000 deaths recorded to date.
Ramping up the fight against this deadly Coronavirus, Prime Minister Narendra Modi called for a nationwide lockdown for 21 days which started from March 25.
This lockdown aims to break the chain of Coronavirus transmission and save the country from a massive outbreak.