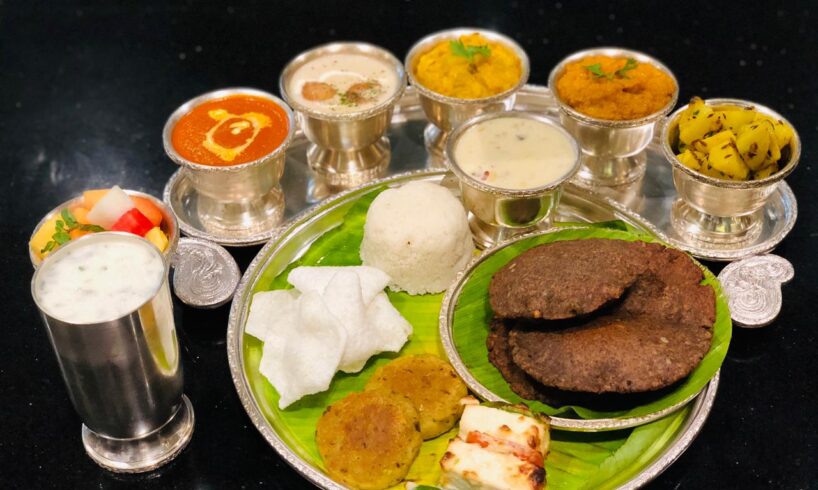 YD News | Two minutes read
Accumulating the joy of festivities in one plate, The Chocolate Box and Lounge at MBD Neopolis with its have introduced Navratri bites till October 15. Also, one of the city's best restaurants Cafe Delish is serving Navratri Thalis.
A tasty Thali awaits you at Radisson Blu Hotel MBD Ludhiana.
To celebrate the nine auspicious days of fasting at Cafe Delish restaurant, thali is curated in a unique style that will be available for lunch and dinner. The Chocolate Box and Lounge will be serving ala carte dishes.
The Navratra Bites fest has also been introduced in The Chocolate Box and Lounge at MBD Neopolis mall Ludhiana. The menu includes Sweet Potato chaat, Fresh Fruit Salad, Sago and Coconut Pudding, Mix fruit juice and Banana Honey Smoothie.
Have a look at the delicacies
To start with, a refreshing Indian drink, Butter Milk (pudine ki chaas) will be served.
For starters, you can try the delectable and savory Kacche Kele Ki Shammi, perfectly suited for your Navratri fasts. These sizzling tikkis are made with raw bananas, which are good for energy during fasting.
For all those who like things classic and simple, Vrat Ka Paneer Tikka, another amazing snack is included in your Navratri thali.
The puri made with buckwheat flour goes well with almost anything. So, they have teamed them with another paneer makhanwala.
You will also find khatta meetha sitafal, Malai Kofta, Aloo Jeera, Lauki ki Rasedar Sabji, Samak Ke Ghee Chaawal, sabudana papad in your Navratri thali.
Chef Pradeep Shahi and Pastry Chef Amit Porwal have curated the menu for Navratra Thali. Both Cafe Delish and The Chocolate Box and Lounge are famous for their Navratri menu.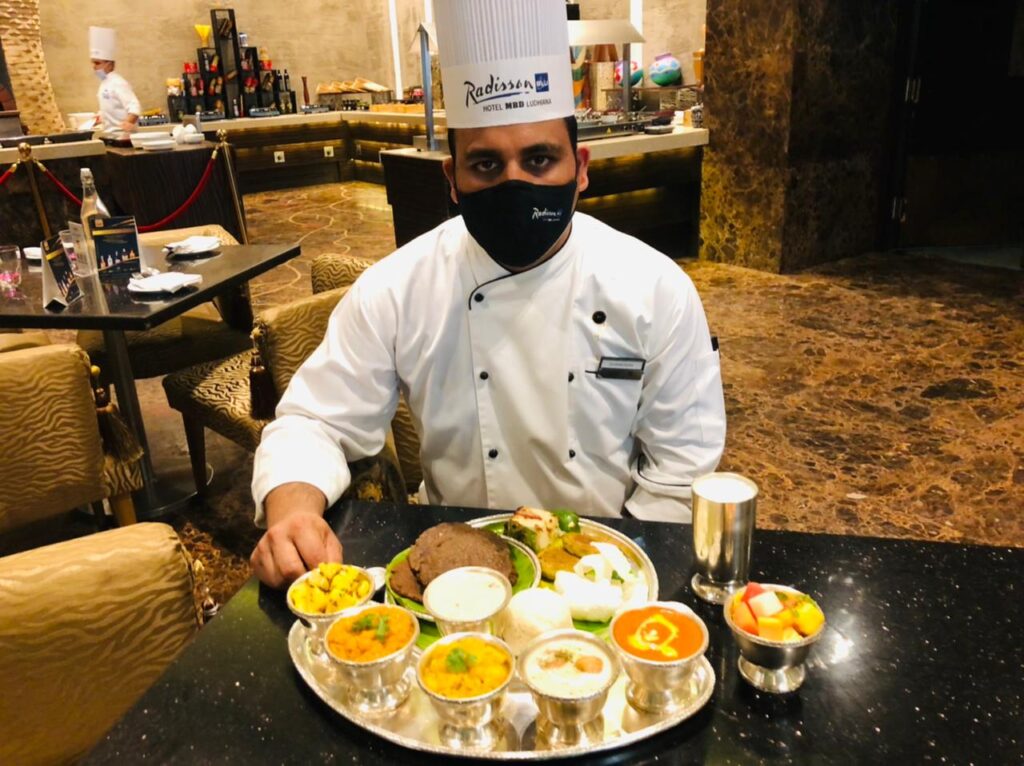 The chefs said pure vegetarian meals are made with gluten-free grains. General Manager of Radisson Blu Hotel MBD Ludhiana Abhay Kumar said, the kitchen is cleaned thoroughly. The cooks have a designated area in which they prepare these thalis. He said that our chefs have curated the "saatvik" menu for people to enjoy a feast while fasting.
Also read: Radisson Roti Pe Boti food fest in Ludhiana, till 29th Aug