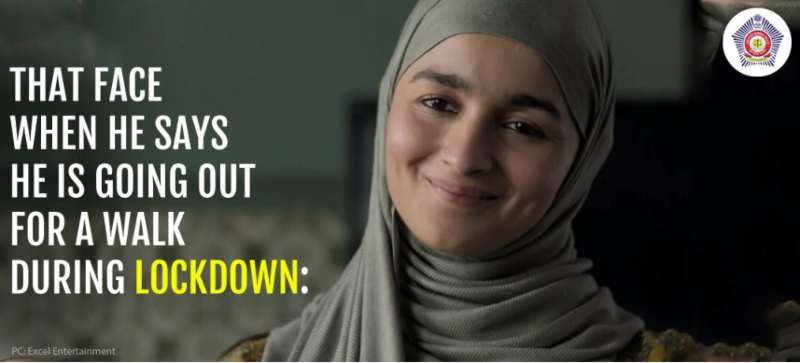 YDNews| Mumbai police
April 21- Mumbai police today shared a poster from the movie "Gully Boy" and it features Alia Bhatt in it. However, this poster is actually a warning from Mumbai police for the lockdown violators.
The city police took to Twitter and shared this poster of Alia Bhatt with a smiling face and it read, "That face when says he is going out for a walk during the lockdown."
Undoubtedly, this meme by the Mumbai police is very funny. But the caption to the Tweet is even funnier. It says, "Abort Mission We repeat- Abort Mission! #StayHome #StaySafe"
Have a look at this hillarious tweet:
Also read: Railways save 5-year-child life, bring medicine from Pune to Belagavi in lockdown
The city police have been using Bollywood movies and its dialogues in order to educate the people about lockdown and Coronavirus. Earlier, it shared a poster referring to one of the dialogues from Shraddha Kapoor's movie "Stree".
The poster reportedly read, "O Corona Kabhi mat aana" (Oh Corona please don't come) with a message to keep every street safe. This message was written on the wall as it was written in the movie.
Not only this, but the city police are also very witty when it comes to replying. Recently, actor Ajay Devgn shared Mumbai police's video to spread a word regarding lockdown and Coronavirus.
To this, city police replied, "Dear "Singham", just doing what "Khakee" is supposed to do to ensure the things return to how they were-"Once upon a time in Mumbai"! #TakingOnCorona"