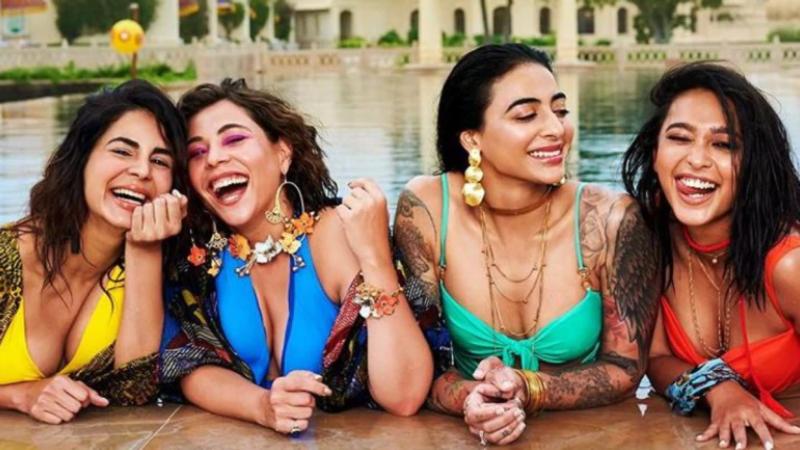 YDNews
By Garima Aggarwal
Amazon Prime Originals have finally released the second season of its women-centric drama series Four More Shots Please! The first season of the show has garnered a lot of fan following with its extravaganza locations, super-powerful casting choice, script, bold scenes, and whatnot.
The story revolves around the lives of four best friends who get separated by a big fight and faced a lot of problems individually. Now in the second season, the girlfriends are back together, even stronger and upfront towards life.
CAST of Four More Shots Please! season 2:
Talking about the cast, the girlfriends in the lead role are portrayed by Kirti Kulhari, Gurbaani, Maanvi Gagroo, and Sayani Gupta. The others the parallel lead are Milind Soman, Prateik Babbar, and Lisa Ray.
Each and every character of the series is quite different from each other and has some traits worthy of a watch. Kirti Kulhari is in the character of Anjana, a senior lawyer who is facing some brunt regarding gender differences by her new boss at her present company. She is also facing some problems with her younger boyfriend Arjun. Other than this, due to her life's loneliness, she indulges herself in a problem from where finds it difficult to escape.
Gurbaani AKA Baani is seen in the character of Ludhianavi Punjabi kudi who is a gym expert and a bi-sexual due to which she is cut off from her family. She fell in love with an actor Samara Kapoor and is separated due to Kapoor's professional career. She is the desi munda of the group and lits the party up every time the 4 meets.
Sayani Gupta is a bold and fearless journalist who is thrown out of her own media firm. She is not only bold but tends to be lonely deep inside trying to find herself a company that can bring her out of her loneliness.
Maanvi Gagroo, the chubby kid of the group who has always faced criticism from her mother due to her fat body. She is fun-loving, confused and trying to find a way out for herself.
Together, the 4 of these girls embark on a journey where one wrong steps take them somewhere unexpected.
Story analysis of Four More Shots Please! season 2:
The Four More Shots Please season 2 is a series that is filled with drama, boldness and sexiness, hook-ups, break-ups, confusion, risks, fire, fun, heartbreak, sacrifices, selfishness and some unforgettable moments those pretty much stay with you for the rest of your lives.
The story of the series revolves around the confusion and sufferings of the ladies who have a hard time making choices so that they can set the future right. While Siddhi or Sids is facing her problems all by herself and is highly missing her girl gang, Damini struggles with her OCD and is trying to write a book amid a heartbreak from her former love interest Jeh. At the same time, Umang is having a hard time forgetting her ex-girlfriend, Anjana is having a tough find finding a closure between her ex-husband and in the process does something regretful.
Also read: Health: Activities you must include in your daily routine to keep you healthy, alive and fresh all day long
All the ten episodes of Amazon Prime Originals are a tight slap on the society who says that girls cannot find a way to themselves for a good future. However, the 4 girlfriends tend to become more confused than ever when it comes to their life choices. It might take the time but it seems like they don't learn from their past mistakes.
Content analysis of Four More Shots Please! season 2
The story of the drama was quite weak and lose. It is incapable to hold public interest but some points or scenes are quite beholding and grasping.
However, the end of the series is quite indifferent to what Four More Shots season 1 displayed. This time, the girls are together as strong as ever, hand in hand in the confidence of each other and become each other's wing-women even if they make a mistake.
The last episode of this season points out that the audience must wait for another season as there are many open plots points to be filled.
Overall performance and YDNews's ratings
Meanwhile, if we dig more into the story it will spoil your fun when you go watch the series on your own. But as far as your confusion if concerned regarding if you should watch it or not then we suggest watching if you have an account of your friend or you have Amazon Prime membership. Don't especially buy the membership for it.
Rating 'A casual one time watch'
7/10 stars