Delhi's street cuisine provides something to satisfy every appetite, whether you want spicy chaats or decadent sweets.
Best street food in Delhi: Delhi's street food scene is a reflection of the city's varied cultural influences and long history. The city's streets are a melting pot of flavours from all across India and beyond. They range from age-old family recipes to creative fusions crafted by ambitious merchants. Delhi's street cuisine provides something to satisfy every appetite, whether you want spicy chaats or decadent sweets.
As you witness culinary wonders that line the streets of this dynamic city, be ready to set off on a culinary journey. Delhi's street food culture provides a variety of flavours and fragrances that will leave you wanting more. As we uncover the mysteries of famous food places in Delhi, get ready to have your taste buds piqued and your senses heightened.
Join us as we go on this delectable excursion through the Best Street Food Market in Delhi. Whether you're a food fanatic or a curious person ready to experience the culinary delights. Get ready to explore the best food in Delhi under the lively street food scene and tantalise your taste buds!
Chawri Bazar
Custom wedding cards are a speciality of this wholesale marketplace in Old Delhi. It is also the centre of everything in Delhi, including winding streets, busy intersections, ornate structures, and many food booths. For those who enjoy breakfast, Shyam Sweets offers nagori halwa, puri, bedmi kachauri, and daulat ki chaat, a fluffy soufflé. But if you like to go out after dark, Ashok Chaat Bhandar's chaat is a must-try. The 100-year-old store Kuremal's kulfi is the greatest place to finish any meal in this city. You may sample any taste, or all of them at once, whether you prefer mango, apple, orange, rose, fig, or plain cream.
Moolchand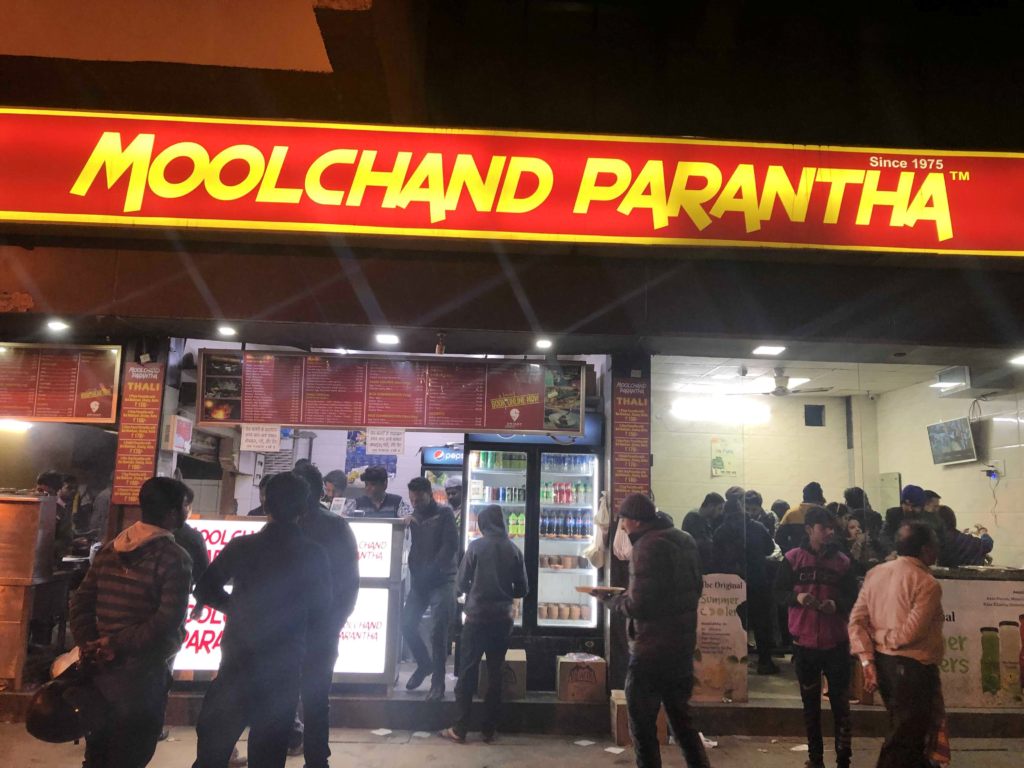 The main dish in Delhi is the paratha. These dough discs are rolled, packed, and then shallow-fried till crisp. They provide food for thousands of people every day across the city, along with a dab of butter or a cup of yoghurt. The greatest ones may be found at Moolchand Parantha. What was once a modest stand has grown into a full-fledged restaurant with dozens of paratha variations and drinks to go with them. These boiling hot aloo, paneer, and mixed parathas, eaten with burning fingertips, are the classic Delhi delight and are best enjoyed late at night.
Connaught Place
Connaught Place is Delhi's Times Square, although it is circular instead of a square. It is a centre for offices, one of the most upscale retail areas, and a must-see on any visitor's itinerary. Connaught Place's several concentric circles are home to some of the city's most diverse cuisine selections. We recommend several tried-and-true dishes, such as the mutton curry at Kake Da Hotel and the rajma chawal at Shankar Market. Enjoy a spicy curry with rice and a crisp salad as fuel for your shopping and sightseeing tour. Connaught Place has a great vibe that makes it the perfect place for the best street food in Delhi at night.
Chandni Chowk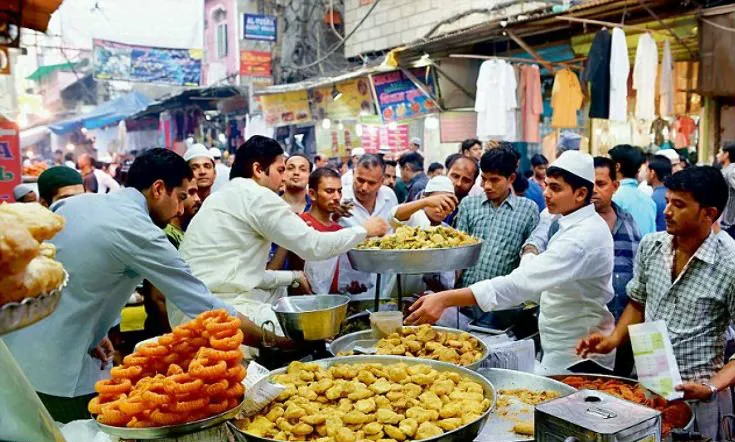 Without Chandni Chowk's sweets and savouries, Delhi's street cuisine is lacking. The area, which was formerly a prestigious market for the Mughal Courts, is today bustling with wholesale stores and the largest spice market in the whole globe. Pundit Gaya Prasad Shiv Charan, a straightforward eatery in Parathewali Gali, offers free paratha samples. The parathas offered here are made with many varieties of fillings and come with a mild potato curry, a pumpkin dish, and a sour tamarind sauce. The next items on your list should be Chaina Ram Sweets and Natraj Dahi Bhalla Corner. While Chaina Ram Sweets is renowned for its samosas and mithais, Natraj is known for some of the greatest dahi bhallas in the city.
Also read: All you need to know about Delhi's Chandni Chowk Market!
Karol Bagh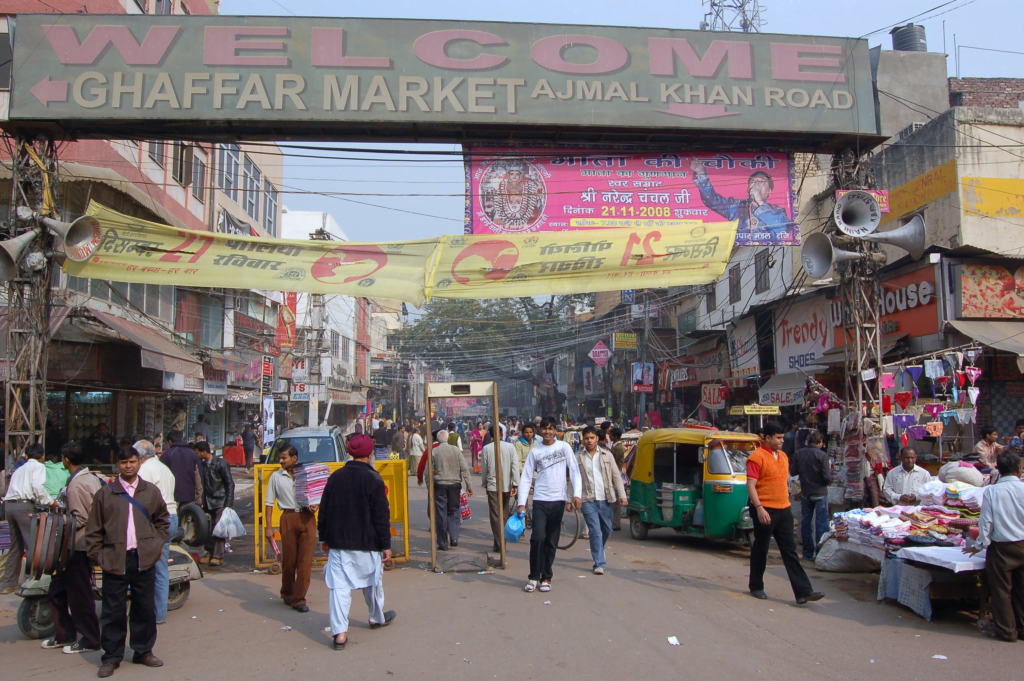 Street food sellers serving up one delicacy after another can all be easily found in Karol Bagh, another shopping haven. It's entertaining to see folks indulge in their favourite foods while you're here. Another is to give some of the cuisine a try. It is strongly suggested to visit Tera Hotel, a tiny establishment offering fresh dal makhani and a lentil dish. Also not to be missed are the chole bhature and kulfi at the fabled Roshan di Kulfi. The chilled, sweet kulfi with saffron and pistachios will help calm things down. While the chole, which is cooked and seasoned chickpeas in a sauce, might turn up the heat.
Ballimaran
This Old Delhi suburb is a goldmine of centuries-old recipes. Surprisingly, it is home to the famed Urdu poet Mirza Ghalib and millions of Punjabi immigrants. You may get ready for the feast served at Manzoor Hotel by strolling through the congested streets. Khameeri roti, a thick, fresh bread prepared in coal-fired ovens, must be consumed with dishes like chicken kofta, brain curry, dal gosht, and nihari that are served from huge pots. We advise you to make a pit stop at the Old Kheer Shop on the way home to sample the velvety pudding cooked the same way since 1880 by churning rice and milk together all night.
Lajpat Nagar
Delhi's culinary nirvana is this retail area. The market is a popular destination for Punjabi foods including chole bhature, bread pakoda, ram laddoo, and chole-kulche. Also, it is visited by both locals and lone travellers. We suggest the sausage and salami sandwiches at Golden Fiesta, which are oozing with butter, cheese and mayonnaise. It also provides the greatest street-side Chinese and sandwiches in all of Delhi. The finest place to sample sizzling hot ram ladoo is from an unidentified cart next to Khanna Jewellers on the main market street. These deep-fried dumplings are paired with shredded radish and zesty green chutney.