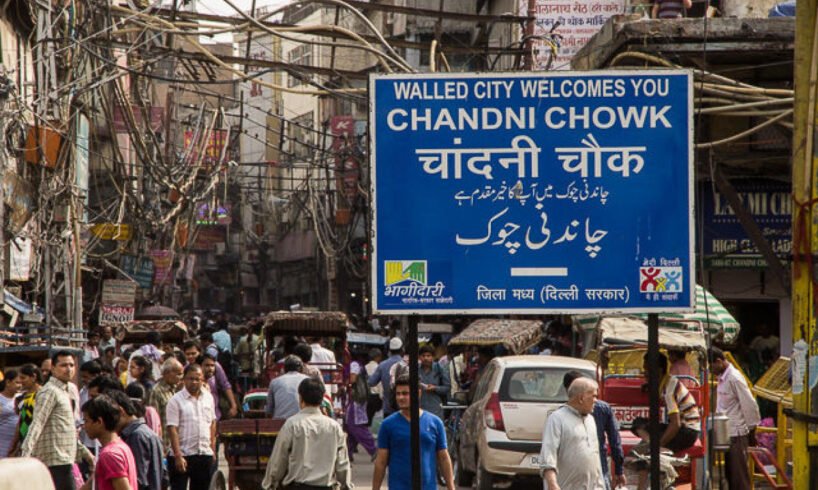 Chandni Chowk Market: If you have ever been to Delhi, it might be a shame to even ask if you have been to Chandni Chowk or not. Anyone who ever went to Delhi would be more than happy to visit Chandni Chowk no matter how substandard the market looks. Chandni Chowk is one of the oldest markets in Delhi. Lined by porters and hawkers, Chandni Chowk is a chaotic wholesale market where you can shop and even enjoy tasty street food. This market is responsible for offering a whole medieval bazaar experience.
It is a significant historical location noted for the abundance of food and merchandise of every description. The market was built in the 17th century by Shah Jahan, the Mughal emperor of India. It offers a glimpse of the Fatehpuri Mosque and is located across from the Red Fort. Therefore, one can say that Chandni Chowk
Chandni Chowk Market Overview
Chandi Chowk has a sensation of ancient Delhi shopping thanks to its network of congested lanes and stores. This location has been referred to as a "shoppers' paradise" in Delhi since the 17th century. A canal with trees along it ran through the middle of the city under Shah Jahan's rule, reflecting the moon. Thus, the name "Chandni Chowk"—which means "moonlight place"—was given to the area.
Chandni Chowk's market is spread out across a number of short alleyways, and these streets are flooded with a colourful variety of clothing, perfumes, electronics, jewellery, candles, idols of deities, and lifestyle things.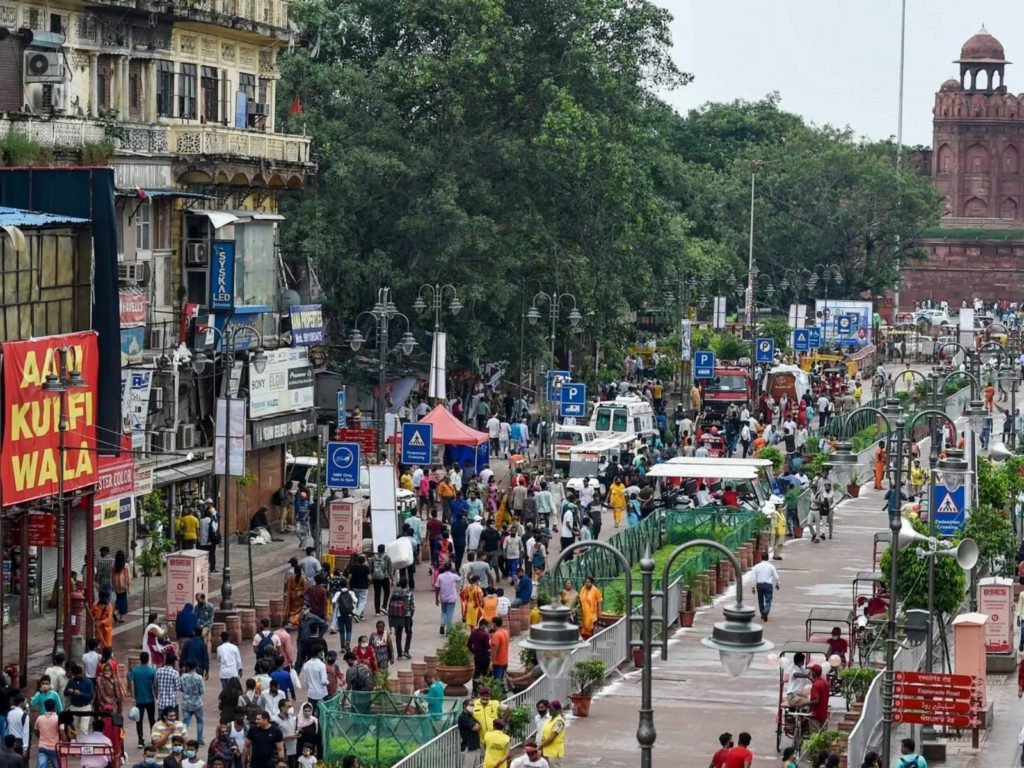 The market carries everything consumers would consider purchasing for their homes as well as for themselves. Since this is a wholesale market, the majority of the things are available at steep discounts. These shopping areas are a retailer's paradise. Along with its stores, this location is well known for its restaurants, street cuisine, and Indian snacks.
Also read: Top 10 Korean Restaurants in Delhi to try today!
Here are some of the markets famous in Chandni Chowk that sell various kinds of product categories:
A street called Khari Baoli is devoted to dried fruits, nuts, and spices. There isn't a spice you won't find here, which is at the western end of Chandni Chowk.
Khoya and paneer are sold wholesale in Fatehpuri Market. There are also several restaurants here.
The picture market is another name for Kucha Choudhary Market. Everywhere in this market, you may find all different sorts of cameras and their accessories.
The wholesale clothing market is located in Katra Neel. This is also where Raymond's first franchise, originally from Old Delhi, is. Numerous stores provide sarees, lehengas, salwar suits, and men's clothing.
Shawls in a wide variety of designs, colours, styles, and wool types are popular in Moti Bazar. Because it focuses on the acquisition and selling of pearls, it is known as the Moti Bazar.
Tips to shop at Chandni Chowk
Take minimum bags and stuff with you. It will be a hassle for you if you take too much stuff because shopping and walking will make you tired and you will have to carry too much stuff during that time.
While roaming through the market, keep your belongings close to you and pay particular attention towards them if you don't want to get pickpocketed.
Always bargain in order to get the best deal for your choice of products.
Take a water bottle with you because a long walk through the market's chaotic streets might be very tiring.
Beware of duplicate or fake products.
Try to wear sandals which are easy to remove since many shops in Chandni Chowk don't allow customers to wear footwear inside shops.
How to commute to Chandni Chowk?
If you get to Chandni Chowk by metro, you might want to take a cab on your way back because commuting in the market will be done by walking which will definitely make you tired. However, there are several ways to travel to Chandni Chowk, here are your options:
Take the Delhi Metro and exit at Chandni Chowk Metro Station for the greatest access to Chandni Chowk. You have two options for exiting: either go to the Old Delhi Railway Station end or get out at Chandni Chowk Road. To go to the targeted market, you can rent an auto or an E-rickshaw from either end. You can choose to walk instead. To preserve energy for the extensive walking involved in touring the area, it is preferable. At the entrance to the Old Delhi Railway Station, there is parking available for those driving their own cars to Chandni Chowk.
As an alternative, you might choose to take the bus. The easiest place to get off the bus to get to Chandni Chowk is at the Daryaganj stop. Regular bus service connects Daryagunj with Chandi Chowk. You may rent a cab (ideally Uber or OLA) and get off at Chandni Chowk if you want to escape the crowded buses.
Food Options in Chandi Chowk Delhi
Paranthe Wali Gali at Chandni Chowk Market
Gali Paranthe Wali is where the Chandni Chowk food trail starts and finishes. The smell of heated oil and sputtering spices greets you even before you step foot in this calorie-filled foodie's alley. The sight of packed parathas covered in copious amounts of butter is unavoidable. Over the years, a lot of famous people have frequented this street. Only 3 of the 20 paratha shops that were first founded here are still in operation: Pts. Baburam Devidayal Paranthewale, Gaya Prasad Shivcharan, and Kanhaiyalal Durgaprasad Dixit.
This restaurant serves only vegetarian paratha that is free of onion and garlic. Here, you may get nearly every variety of paratha stuffed with any filling imaginable, including lemon, chilli, Kaju, Badam, carrot, radish, paneer, aloo, cauliflower, rabri, matar, and khoya. You may also try the odd filling of papad, banana, and khurchan if there aren't enough to satisfy your craving for anything novel.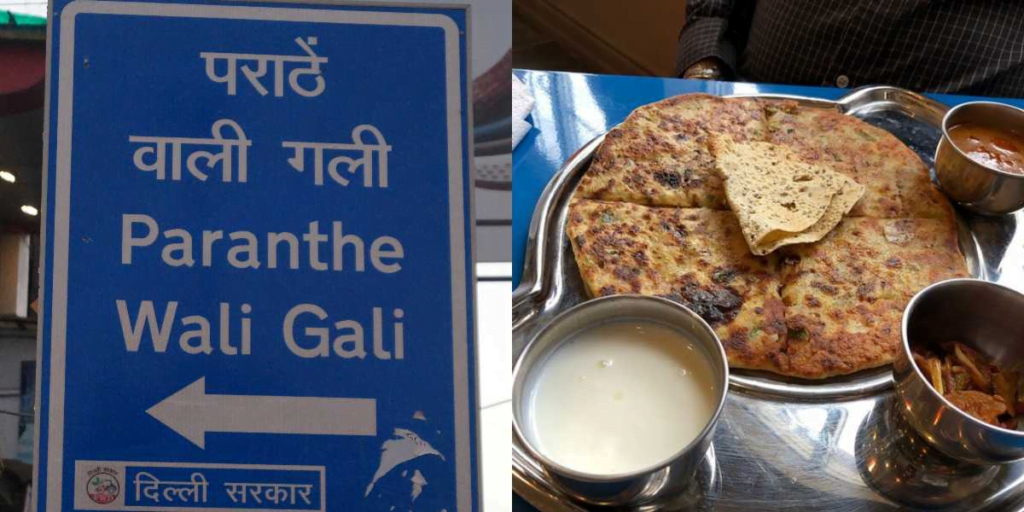 The Famous Jaleba Rabri
If you have a sweet tooth, don't miss having Jaleba Rabri inside Chandni Chowk market. The shop is situated just on the right side of the fountain in front of Gurudwara Sis Ganj Sahib. The Jaleba made here is oversized and tastes amazing as compared to the normal-sized jalebis.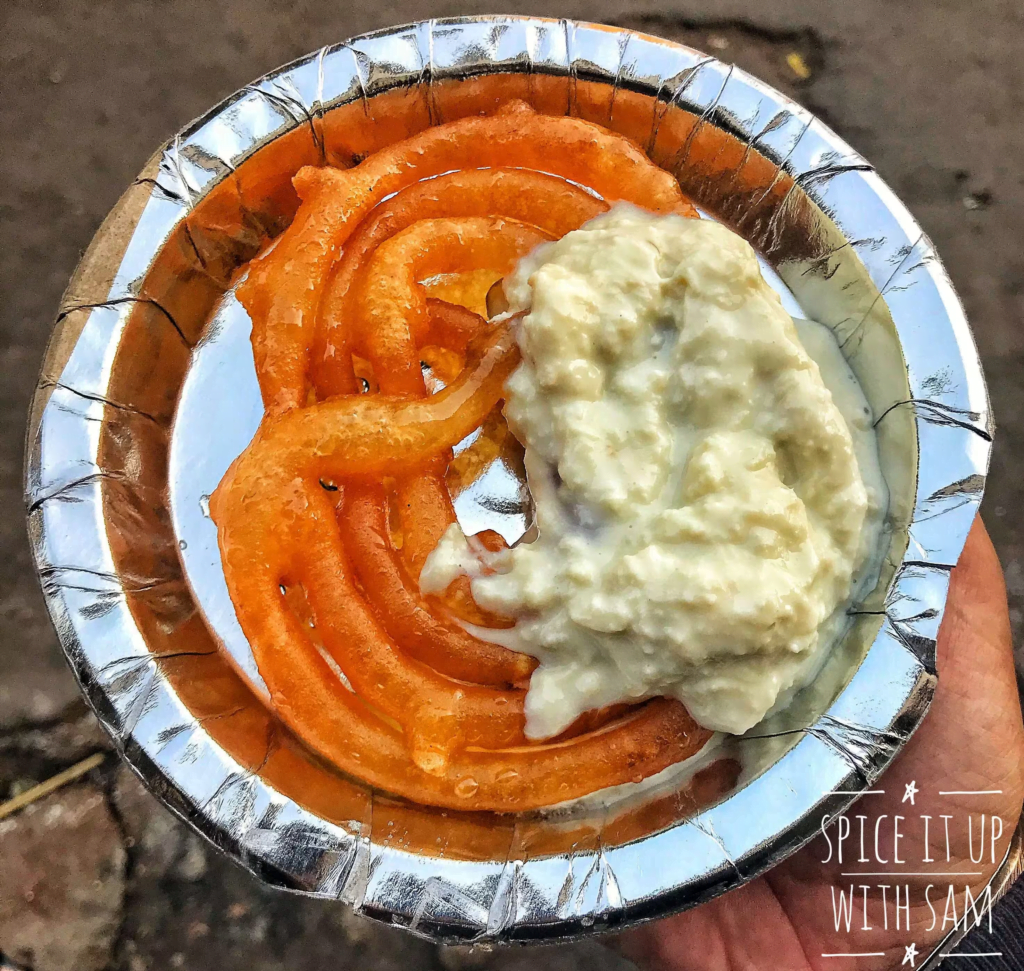 Natraja's Dahi Bhalle, Paranthewali Gali, Gianiji ka Falooda, Kanwarji Bhagirathmal Dalbijiwallah, The jalebi wala, Chaatwallah, Tewari Brothers Confectioners, Bikaner Sweet Shop, Meghraj and Sons, Chainaram, and Annapurna Bhandar are a few of the well-known stores.
Chandni Chowk History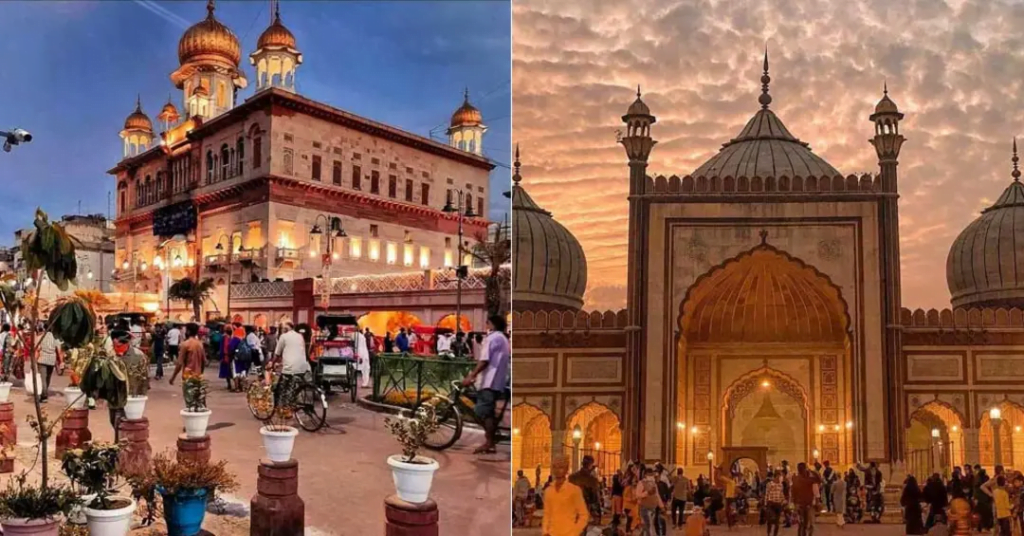 Chandni Chowk was once well-known for its silver traders. Many people have been taught to think that Chandni Chowk got its name from the silver trade since silver is known as "chandi" in Hindi. There are several stores selling various trinkets in lieu of the original plan of a reflecting pool and half-moon-shaped businesses. Previously, it was the largest Indian market. The seedy passageways are filled with bustle and noise yet have a historic feel to them.