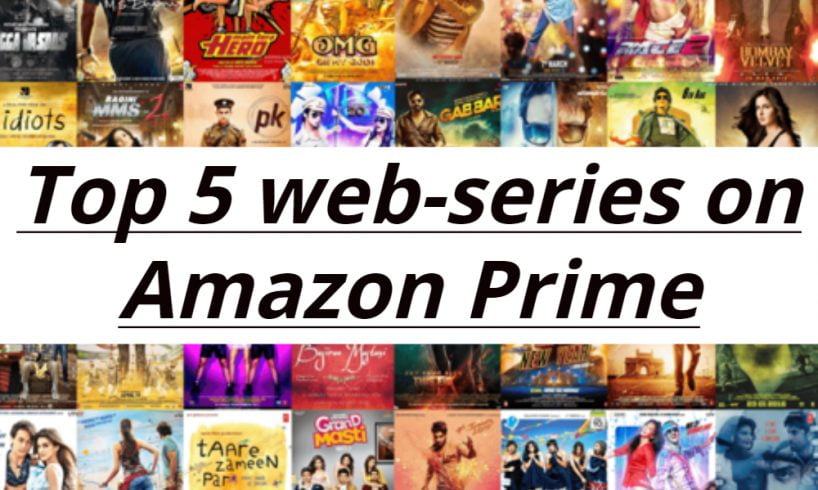 Top 5 web-series on Amazon Prime: Practicing social distancing can be difficult for an extrovert but it is need of the hour right now. We know how much boredom has attacked you and hence, we have some solutions for you. For your safety, we suggest you stay inside your homes and start binge-watching.
How? Here's the solution for your boring quarantine.
If you are left with no topic to discuss with your family, and stress has attacked you then you must get over these Top 5 web-series on Amazon Prime.
Most of us run for Netflix when it comes to web series. But there is amazing content on Amazon Prime too. Here are five shows, web-series on Amazon Prime which we suggest you must watch being quarantined.
Here's a list of Top 5 web-series on Amazon Prime:
The Test
This is an Amazing docu-series that features Australian Men's Cricket team. The series portrays the rebuilding of the team after the famous sandpaper scandal which happened in Capetown in the year 2018. The series goes from the scandal in 2018 to the Australian Cricket team retaining the Ashes in 2019. Even if you are not a cricket fan, this series will hold you till the end.
Genre: Documentary
Starring: Australian Men's Cricket team
The Family Man
This Hindi Web series is undoubtedly one of the best web series on Amazon Prime. The action, drama series features Manoj Vajpayee who is a common man but also an NIA officer. The web-series follows how he keeps a balance between his family and his profession. The first season has left everyone in suspense. According to some media reports, the second season will be released in September this year.
Genre: Action, Drama
Starring: Manoj Bajpayee, Priyamani
Four More Shots Please
Thus web-series is based on four women who have different issues and struggles in their respective lives. One is a journalist, one divorcee, one bisexual and the last one is a bachelor who is continuously mocked by the family for being bulky. The audience is also waiting for its second season as the first one has left all of on an edge.
Genre: Drama
Starring: Kirti Kulhari, Sayani Gupta, Bani J, Maanvi Gagroo
Breathe
It features R Madhavan and Amit Sadh. This detective kind of drama will make you sit and watch every second of it. You will automatically run for the second episode after watching first. The story revolves around a football coach and a police officer. Describing anything about the plot will be a spoiler. So, we suggest you go and watch it yourself.
Genre: Drama, Suspense
Starring: R Madhavan, Amit Sadh
Made in Heaven
This is another Indian series with a great cast and amazing plot. The story revolves around two wedding planners in Delhi who are dealing with an extremely rich family. The plot will keep you glued for sure as every character has some grey shade.
Genre: Drama
Starring: Shivani Raghuvanshi, Kalki Koechlin, Jim Sarbh, Arjun Mathur, Shobhita Dhulipala
Click here for more Entertainment News
These Top 5 web-series on Amazon Prime would make your quarantine days special.