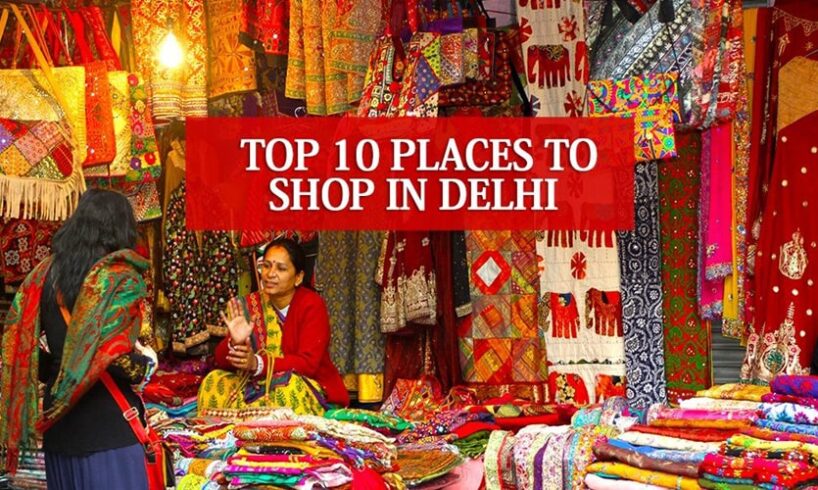 Top 10 shopping spots in Delhi: In the current world, shopping has become a stress-relieving activity rather than just money-spending or a necessity. When we talk about shopping, there are numerous places in Delhi where you can experience India's core of shopping and bargaining be it for men or for women. If you think you can only shop in high-profile malls and shopping complexes without visiting these markets, then you haven't yet experienced India's one true side and soon you might regret it! Read this article to know more about some exceptional and low-budget spots where you can enjoy shopping at its best.
Delhi, the vibrant capital of India, is a shoppers' paradise. The city is teeming with lively bazaars, malls, and marketplaces that provide everything for every taste and price range. Delhi boasts everything of the traditional handicrafts, designer clothing, and street fashion one could want. We'll walk you through Delhi's top 10 shopping areas in this post, each of which offers a distinctive shopping experience. We'll look at the top locations in Delhi for some retail therapy, from the well-known Chandni Chowk to the opulent DLF Emporio. Prepare yourself to shop till you drop in Delhi's bustling streets.
Dilli Haat
This iconic market will not only offer you the best products at amazing prices but will also remind you of the traditional weekly markets that used to be in picturesque villages. Being one of the biggest and most prominent shopping places in Delhi, Dilli Haat is the number 1 priority of every citizen who visits Delhi. If you have been to Delhi and you did not visit Dilli Haat make sure to do it next time you land Delhi. The stalls in the market are hatched with attractive roofs and have an exceptionally beautiful blend of music, handicrafts and cultural potpourri contributing to creating a fantastic ambience. If you are looking for handicrafts for your house, this is the best place to pick them!
The working hours of Dilli Haat are 11 AM to 10 PM every day including Sundays.
INA Metro Station is accessible for Dilli Haat.
Janpath Market
Janpath Market is another well-known shopping destination in Delhi. This is home to amazing artefacts, paintings, leather goods, fake jewellery, shoes, handicrafts, brassware, and clothes, among other treats. In this market, you can haggle hard to score some fantastic deals. One of the most beautiful aspects of Delhi is so well embodied by Janpath. Every nook in it gives a fantastic shopping experience unlike any other, from the Tibetan Market to the Gujarati Market, to the upscale shops, the flea market, and the Central Cottage Industries Emporium.
Timings for Janpath Market are 10 AM to 9 PM however Sunday's timings are 11 AM to 8 PM.
Rajiv Chowk is the closest metro stop, and there is also a bus stop specifically for Janpath Market.
Paharganj
Paharganj is one of New Delhi's busiest and most congested markets, offering a wide variety of goods. Given that the majority of the shops here are wholesalers, you can find a number of foreign goods at rock-bottom prices. The greatest literature, music, textiles, handicrafts, clothing, hookah pipes, and other products may all be found here. Paharganj is known as a paradise for shoppers.
On all days of the week, excluding Mondays, the market is open from 11 AM until 9 PM.
The nearest metro station for Paharganj market is RK Ashram on Blue Line. The market is conveniently accessible to the Paharganj Gate bus station. Also, it is just a 5-minutes auto ride away from Connaught Place.
Chandni Chowk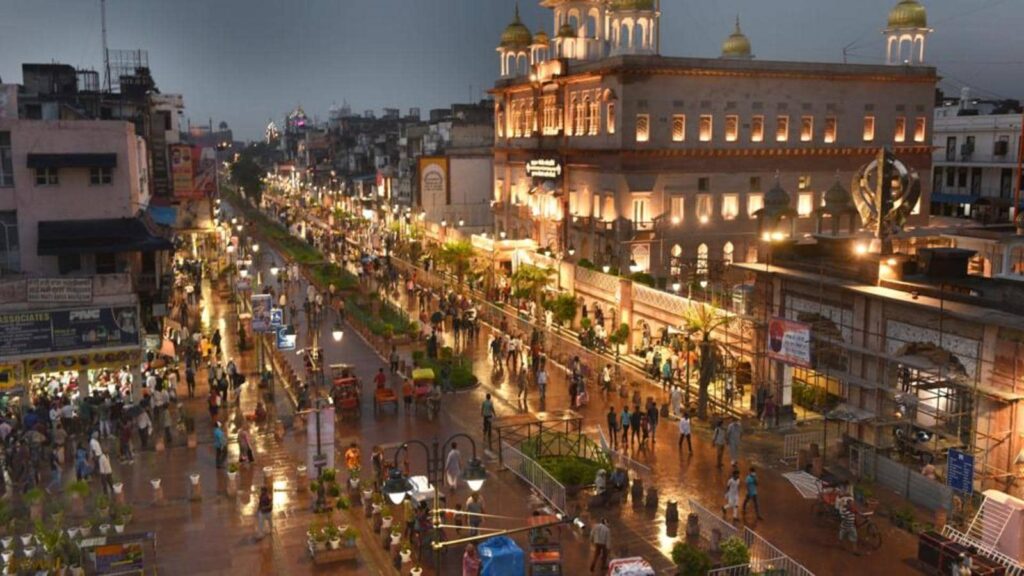 Without including Chandni Chowk, a list of New Delhi's popular retail areas would be incomplete! For both tourists and residents alike, this is one of the most well-known shopping and dining destinations. You may get a lot here, and at relatively affordable costs, including silver goods, jewellery, apparel, electronics, and luggage. The neighbourhood is studded with food stands that sell the delectable fare at reasonable costs.
On other days of the week, the market is open until late but is closed on Sundays.
Being in the centre of the metro network, you can access Chandni Chowk through Chandni Chowk metro station on Yellow Line. You can easily walk to the market.
Also read: Top 10 kdramas on Netflix that you must watch at least once
Connaught Place
Connaught Place, another famous landmark in New Delhi, is perhaps the city's busiest and most active shopping district. Along with having access to the top brands, fashion boutiques, showrooms and much more, the heritage building's appearance and appearance, in general, are major draws. Everything is available here, including multiplexes, cafés, restaurants, chic clothing, jewellery, literature, and technology. You'll frequently return to Connaught Place when visiting New Delhi.
Connaught Place can be accessible from Rajiv Chowk metro station.
The market is usually open from 11 AM to 11 PM every day.
Palika Bazaar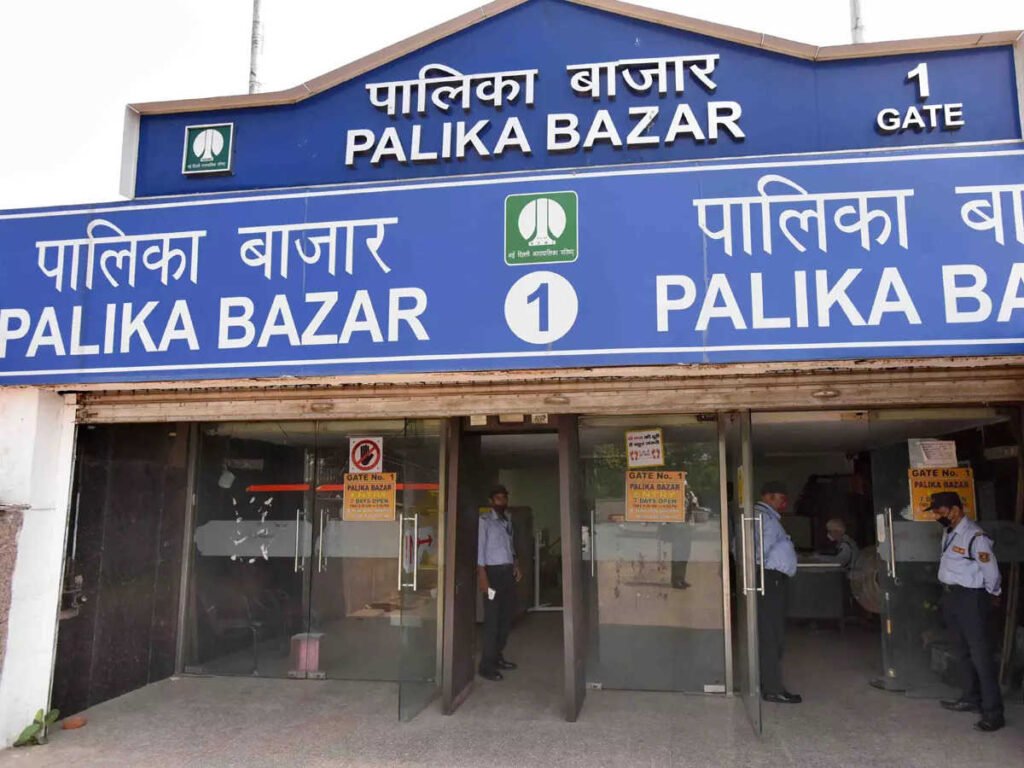 Palika Bazaar is an underground market located in Connaught Place, one of the busiest commercial areas of Delhi. It is one of the most popular and oldest shopping destinations in Delhi. The market is known for its cheap electronic items, clothing, shoes, and other accessories. Palika Bazaar is a haven for budget shoppers, and you can find almost anything at a bargain price.
The market is famous for its counterfeit products, so it's essential to be careful and aware of what you are buying. It's advisable to check the authenticity of the product and bargain hard before making a purchase. The market is well-connected to the Delhi Metro, making it easily accessible. Palika Bazaar is a must-visit destination for tourists who want to experience the hustle and bustle of Delhi's street markets and grab some great deals. However, you need to be aware of the fraud sellers who tend to sell extremely low-quality products one highly inflated prices.
This market is located at Connaught Place so you can access the market via Rajiv Chowk Metro Station.
Closed on Sunday and Monday, Palika opens up around 10 am and closes around 8 pm.
Karol Bagh Market
If you are a forever Sarojini Nagar Market fan, you can also shop the latest products in the newest designs online.
Khan Market
An upscale retail district in the centre of New Delhi is known as Khan Market. One of Delhi's priciest and most affluent markets, it is renowned for its premium designer boutiques, luxury brands, booksellers, and speciality food shops. Diplomats, politicians, and celebrities frequent the market, which makes it a centre for fashion and style.
In addition to having some of Delhi's top eateries, cafés, and bakeries, Khan Market is home to several fashion and lifestyle retailers. Indian, Italian, continental, and Japanese cuisines are just a few of the many options available. The market is renowned for its bakeries, which serve up delectable bread, pastries, and cakes. It is recommended to explore Khan Market on foot as it is a pedestrian-only area. The market is a must-visit location for those who wish to experience the opulent side of Delhi's retail culture since it has such a distinct charm and personality.
Accessible via Khan Market Metro Station itself, the station is located on Violet Line.
Closed on Sundays, the market is open from 10 AM to 11 PM.
Lajpat Nagar Market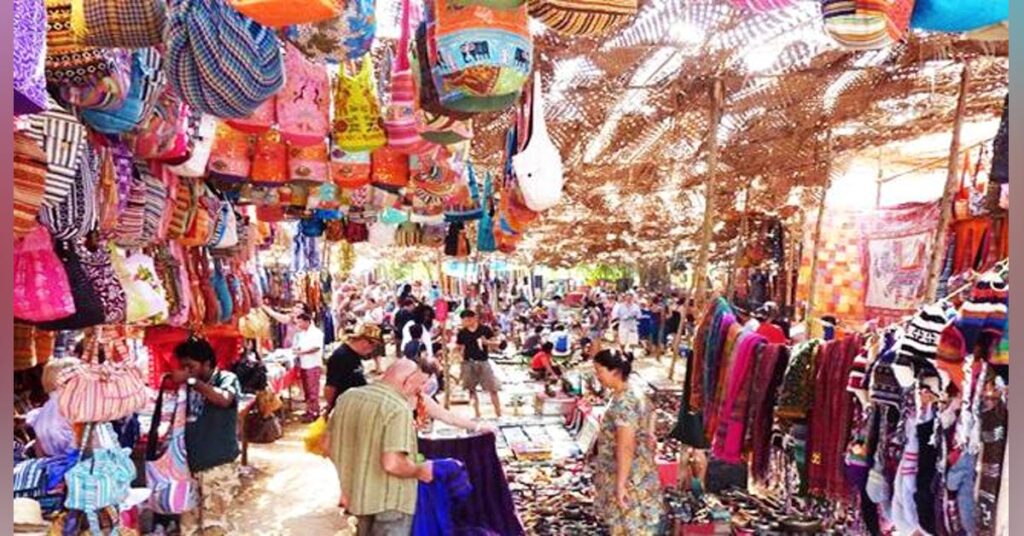 South Delhi's Lajpat Nagar Market is a thriving retail district. It is renowned for its reasonably priced clothing, accessories, jewellery, and home décor. The market is separated into a number of blocks, each of which offers a certain type of goods.
Along with trendy Western clothing and accessories, a wide variety of traditional Indian clothing, including sarees, salwar suits, and lehengas, is available. Due to its low prices and lively ambience, Lajpat Nagar Market is a favourite among both locals and visitors. The market is especially well-liked during the holiday season when it comes to life with vibrant decorations and exclusive deals.
Lajpat Nagar Market is renowned for its street cuisine in addition to its fashion. There are several delectable street food vendors offering mouthwatering chaat, golgappe, and other Indian specialities. The Delhi Metro is well connected to the market, making it simple to get to.
Jangpura and Vinobapuri are the nearest metro stations to Lajpat Nagar Central Market in Delhi.
Except for Mondays and public holidays, Lajpat Nagar Market is open from 10:00 am to 9:00 pm every day.
Select City Walk
In Saket, South Delhi, there is a renowned shopping area called Select City Walk. A large variety of foreign and Indian brands, designer shops, cafés, and restaurants are available in this opulent and cutting-edge mall. The mall features a chic atmosphere with elegant decor, contemporary art pieces, and roomy atriums.
Home Centre, Chic India, and Good Earth are just a few of the lifestyle retailers with a special area of the mall dedicated to them. Select City Walk is renowned for its food options in addition to its shopping. The mall is home to several cafés, eateries, and food courts that serve a variety of cuisines, including Italian, Chinese, Indian, and Lebanese. The mall also features a fitness centre, a children's play area, and a multiplex movie theatre.
The Mall opens every day from 10 AM to 11 PM.
The nearest metro station is Malviya Nagar. From this station, you need to exit from the Max Hospital side which is nearest to the mall.