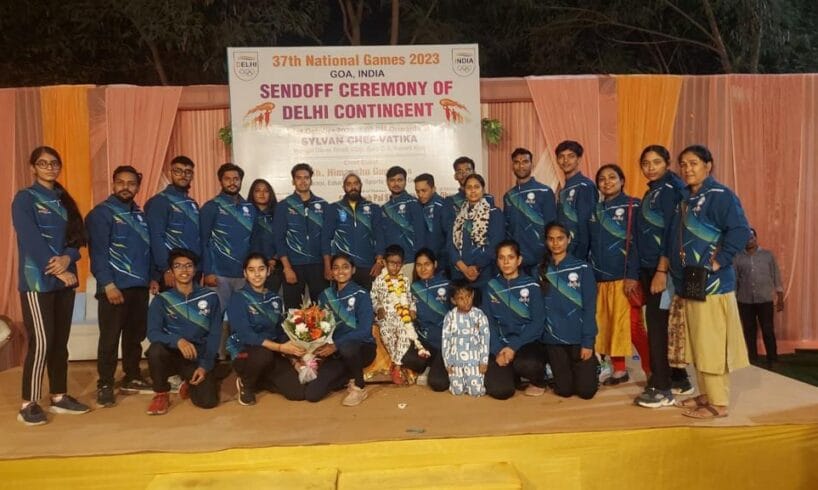 Delhi, October 25, 2023 – In a moment of immense pride and enthusiasm, Titiksha Public School announced that three of their students have been selected to participate in the prestigious 37th National Games 2023, scheduled to be held in Goa. Jivisha Pasricha, a 9th grader, Drishti Dagar from the 10th grade, and Vanshika Sharma of the 11th grade have been chosen to represent Delhi on a national stage.
A commendable send-off ceremony was organized by the Delhi Olympic Association and the Directorate of Education & Sports at Sylvan Chef Vatika, Vasant Kunj, to bid farewell to the Delhi contingent. The event was marked by the distribution of kits and a heartwarming show of pride and enthusiasm.
The event was graced by several high-ranking dignitaries who honored the students with their presence and words of encouragement. Himanshu Gupta, IAS, Director of Education Sports, Government of Delhi, expressed his support for the students. Yogesh Pal Singh, Deputy Director (Sports), Government of Delhi, also congratulated and encouraged the young athletes. Sh. Kuldeep Vats, President of the Delhi Olympic Association, praised the students for their remarkable achievements and wished them the best of luck.
Padma Bhushan awardee Mahabali Satpal, a legend in the field of sports, inspired the team with his words of wisdom and blessed the students for their representation of Delhi. Kush Sehrawat, President of the SQAY Association of Delhi, extended his best wishes to the students as they prepare for their upcoming performance.
The students were showered with support from their school community, which has been an unwavering source of encouragement throughout their journey. Titiksha Public School is dedicated to upholding the values and ethos of sportsmanship that they have always championed, and the students' selection for the National Games is a testament to the school's commitment to nurturing young talents.
The 37th National Games 2023 in Goa promise to be a grand event where athletes from all over the country will compete at the highest level. Jivisha Pasricha, Drishti Dagar, and Vanshika Sharma, representing Delhi, have already made their school proud and are set to make a mark on the national stage. The entire school community, along with the people of Delhi, eagerly awaits their outstanding performance and hopes to see them shine brightly in the upcoming competition.
Also read: Too much digital strain on eyes? Symptoms, Prevention & Treatment