Prominent industry expert Gunjan Taneja has introduced her latest magnum opus, "Salon Retail Management Step by Step Guide"
Taneja's book promises to be a game-changer for those seeking to thrive in the Indian salon industry.
Delhi, India – Gunjan Taneja, a prominent figure in the salon industry, has unveiled her latest literary masterpiece, "Salon Retail Management Step by Step Guide." With meticulous care and attention to detail, Taneja presents a comprehensive roadmap for success in the dynamic world of salon retail, tailored for students, salon owners, and service industry professionals.
In her impassioned introduction to the book, Taneja extends a warm invitation to her audience, saying, "Dear Students, Salon Owners, and Service Industry Professionals, I am thrilled to present to you a comprehensive guide carefully written with the knowledge and skills necessary for success in the dynamic world of salon retail."
Salon Retail Management Step by Step Guide – A Holistic Approach to Salon Retail
"Salon Retail Management Step by Step Guide" is ingeniously structured to provide readers with a comprehensive understanding of retail management uniquely tailored for the Indian salon industry. Taneja has painstakingly organized the chapters to ensure a holistic grasp of the subject matter.
It all begins with an exploration of consumer behavior and extends to the embrace of future trends in the ever-evolving retail landscape.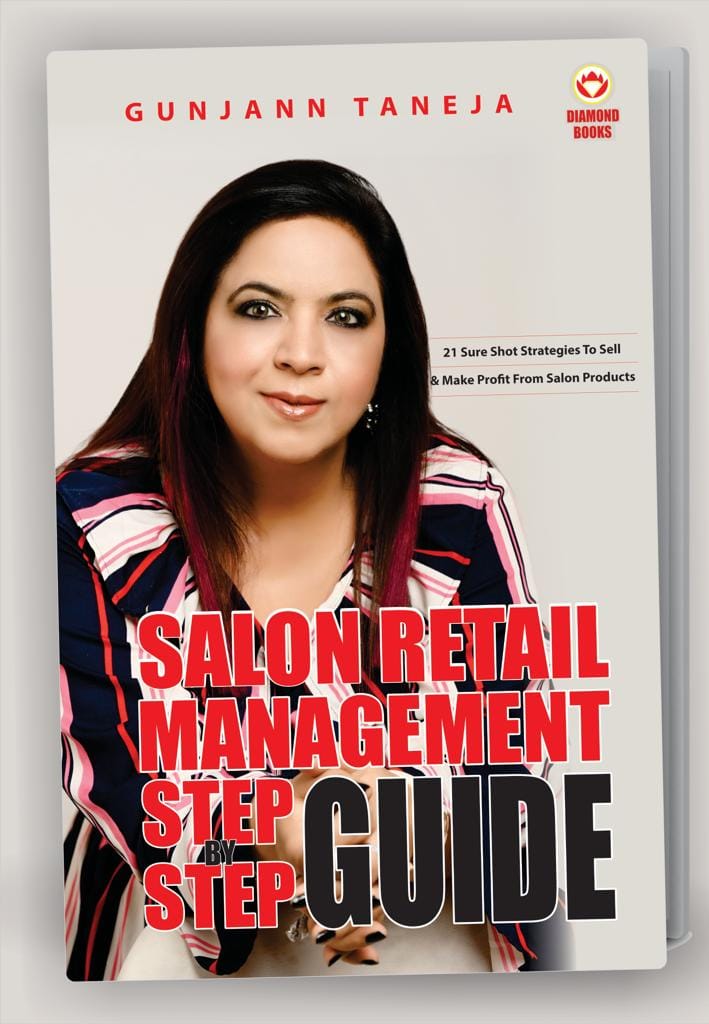 Throughout the book, Taneja encourages active engagement with the content. Readers are not passive observers but active participants. Taneja incorporates exercises, real-world problem-solving scenarios through multiple-choice questions, and common queries designed to stimulate critical analysis of chapter material.
Key Topics Explored in Salon Retail Management Step by Step Guide
Taneja's book delves into a wide array of essential topics pivotal for success in salon retail. Among her personal favorites are:
Understanding Consumer Behavior: An in-depth examination of salon customers' psychology and their purchasing patterns.
Developing a Retail Plan: Crafting a strategic approach to retail operations aligned with salon objectives.
Customer Service: The pivotal role of exceptional service in building enduring customer relationships.
Target Market Selection: Identifying and catering to the specific needs of the salon's target audience.
Retail Forecasting: Utilizing data and trends to make informed business decisions.
Purchasing: Navigating the process of product selection and acquisition for the salon.
Private Label Brands: Leveraging branding and marketing for salon-specific products.
Marketing: Implementing effective marketing strategies to boost retail sales.
Inventory Management: Optimizing stock levels and minimizing waste.
Storytelling and Selling: Utilizing compelling narratives to enhance product sales.
Mystery Shopping: Evaluating the customer experience and improving service quality.
Future Trends: Staying ahead of industry changes and innovations.
Drawing from her extensive experience and expertise in the salon industry, Taneja offers practical insights and strategies for excelling in each of these critical areas.
Building a Strong Foundation for Success
In conclusion, Gunjan Taneja expresses her unwavering confidence that "Salon Retail Management Step by Step Guide" will provide readers with a rock-solid foundation for their future endeavors in the salon industry. Her dedication to empowering professionals and students in this field shines through every page of this groundbreaking guide.
As "Salon Retail Management Step by Step Guide" becomes available to readers, it stands poised to become an indispensable resource for those seeking not just to survive but to thrive in the competitive world of salon retail.
Whether you are an aspiring student, a seasoned salon owner, or a service industry professional looking to enhance your knowledge and skills, Taneja's book promises to be a valuable companion on your journey to success.
To acquire your copy of "Salon Retail Management Step by Step Guide" by Gunjan Taneja, visit your local bookstore or order online today. Don't miss this opportunity to gain invaluable insights from one of the salon industry's most esteemed experts.
About the Author
Gunjann Taneja, a true luminary in the beauty and salon industry, has left an indelible mark on the world with her remarkable expertise and achievements. As a distinguished World Record Holder and a certified expert in Rhetoric Writing and Public Speaking from Harvard University, Gunjann's brilliance shines through in every aspect of her career.
Gunjann's influence extends beyond the salon business, as she holds significant positions as the Vice President of the Chamber of Trade Industry in the Product Category and the Vice President of Women Empowerment in the Global Chamber of Consumer Rights.
As the Director of Bharti Taneja Alps Beauty Group, she oversees a successful conglomerate of salons, clinics, academies, NGOs, and beauty product lines.
She actively contributes to the development of vocational courses in beauty and salon management, shaping the future of the industry.
Not only is Gunjann an outstanding figure in the salon world, but she is also an accomplished manufacturer of renowned skincare and hair care brands. Her mastery in the art of white labelling has solidified her position as a trusted expert in the beauty product manufacturing landscape.
With over two decades of experience, Gunjann Taneja remains dedicated to sharing her wealth of knowledge through workshops and training programs for popular beauty brands.
She has provided training and workshops for top brands to develop staff skills and maximize product sales. Her advice is regularly featured in industry publications as a columnist.
Her last printed book "Step by step guide for Salon Management " was a complete hit in the market, and serves as a guide book for students planning to open their salon. Currently, she teaches Salon Management and Retail Marketing at Delhi University, Along with judging endless beauty show she represented India in "Common Wealth Countries Completion" where there were participants from 8 countries along with India.
Also read: The 2024 Audi Q8 Gets a Stylish Facelift