Major auto brand Audi is updating the Q8 for 2024 with a new face that combines a more streamlined grille with more expressive headlights and chunkier air intakes.
Audi Q8's turbocharged 3.0-liter V-6 and the SQ8's twin-turbocharged 4.0-liter V-8 carry over unchanged.
The 2024 Audi Q8 and SQ8 will go on sale in the United States this winter, with pricing and full U.S. specifications coming soon.
Audi is gearing up for 2024 with a rejuvenated Q8, following in the stylish footsteps of its electric sibling, the Q8 e-tron. The gas-powered Q8 is getting a makeover that brings it in sync with its electric counterpart. This update includes a sleeker grille and redesigned lighting elements, specifically thinner headlights and a refined grille. Furthermore, the high-performance SQ8 is set to return in 2024, sporting its formidable 4.0-liter V-8 engine.
Exterior Updates of 2024 Audi Q8
The 2024 Q8 receives subtle yet impactful exterior changes that enhance its front-end aesthetics. The grille has shed its sharp edges and now seamlessly merges with the headlights, mirroring the Q8 e-tron's design approach. The front bumper features enlarged air inlets, and across the lineup, there's a new exhaust setup. For added flair, the SQ8 boasts a redesigned front spoiler and rear diffuser, while accents of aluminum adorn the grille, sideview mirrors, and air intakes. If you desire a more menacing look, optional packages offer glossy black finishes for the window trim, bumper trim, and grille.
Audi has also revamped the Matrix LED headlights, offering the Q8 with advanced laser lights that extend the reach of the high beams. The top-tier models flaunt daytime running lights with four different lighting signatures that can be controlled through the infotainment system. The rear light bar now showcases a sleeker appearance and can be equipped with Audi's digital OLED lighting units.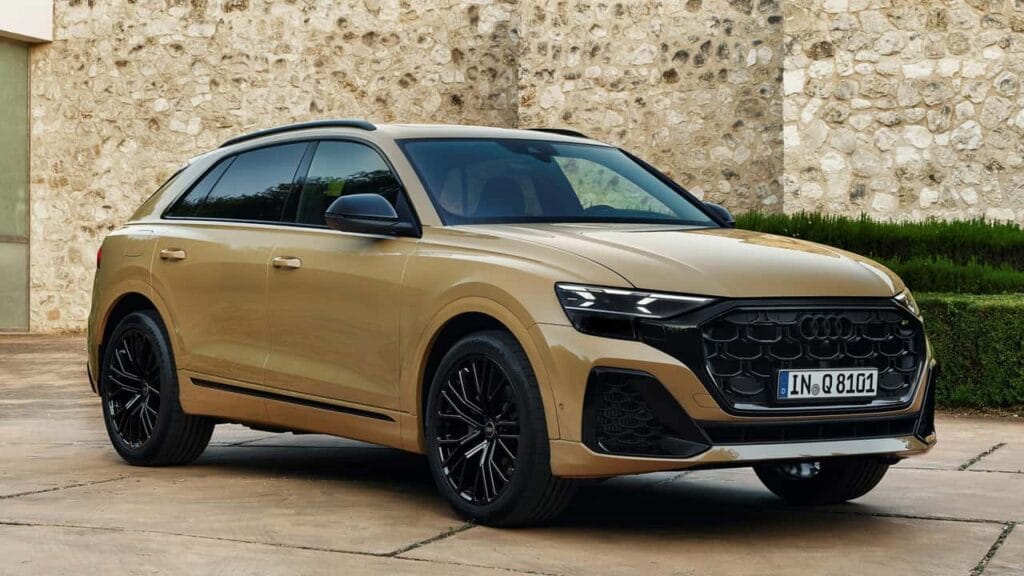 Taking a cue from the electric e-tron models, the gas-powered Q8 now proudly displays its model name and trim level on the B-pillar. There are five fresh wheel designs ranging from 21 to 23 inches in diameter, along with three new eye-catching colors, including the striking Sakhir Gold. Inside, the Q8 offers a range of new materials, and Audi has expanded the compatibility of its infotainment system to include third-party apps like Spotify.
Powertrain and Performance of 2024 Audi Q8
Under the hood, the 2024 Q8 retains its trusty turbocharged 3.0-liter V-6 engine, producing 335 horsepower and 369 pound-feet of torque. This power is managed by an eight-speed automatic transmission that sends power to all four wheels. A 48-volt hybrid-assist system enhances efficiency by recuperating energy during braking, smoothing out the start-stop function, and enabling up to 40 seconds of coasting with the engine off.
Meanwhile, the SQ8 remains a powerhouse, boasting a twin-turbocharged 4.0-liter V-8 that churns out an impressive 500 horsepower and 568 pound-feet of torque. Like its Q8 counterparts, the SQ8 utilizes an eight-speed automatic transmission and all-wheel drive. It also offers a torque-vectoring rear differential and active anti-roll bars for enhanced performance. While the standard Q8 comes with a steel spring suspension, buyers can opt for the adaptive air suspension and even add rear-wheel steering for improved agility. The SQ8, on the other hand, comes standard with air springs, adaptive dampers, and rear-wheel steering.
Availability and Expected Price of Audi Q8
The refreshed 2024 Audi Q8 is set to hit the United States market during the winter, with pricing and more detailed U.S. specifications expected to be unveiled soon. Given the subtle nature of the changes, we anticipate a relatively modest price adjustment for the 2024 model. The Q8 is projected to start around $75,000, while the SQ8 is likely to have a starting price in the high-$90,000 range.
Also read: The Rising Influence of Cryptocurrency in the American Economy