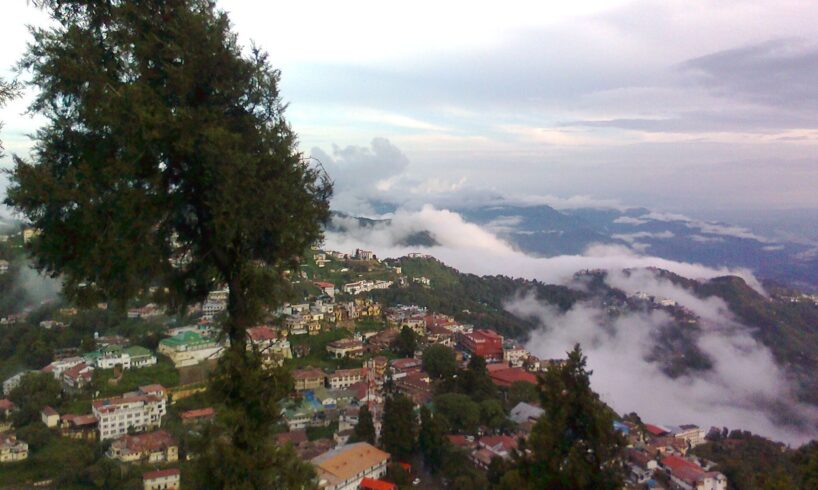 Mussoorie is a perfect blend of nature, peace, and adventure in one place.
Mussoorie, also known as 'THE QUEEN OF hills' is a tiny hill station located in the Uttarakhand state. It is situated at an elevation of 2,005 meters, or 6,580 feet, and is just 34 km from Dehradun (the largest city and the capital of the state of Uttrakhand).
Whether you are a hiker, casual backpacker, couple, planning for a family vacation, or one who is tired of his routine and want to get a holiday, Mussoorie is an ideal place for everyone. Mussoorie is a perfect blend of nature, peace, and adventure in one place. Unlike the most popular hill stations in India like Shimla, Manali, Macleodganj, etc which draw the attention of many tourists and are now very much overcrowded and commercialized. Mussoorie on the other hand is comparatively less crowded and feels more authentic.
How Mussoorie got its name
The name Mussoorie was derived from 'Mansoor, an indigenous shrub belong to that area, on which only the animals of shepherds were grazed before the Britishers came. That's how the city got its name.
History of Mussoorie
When the conquest of the Garhwal and Dehra happened in 1803 by the Gurkhas, under Umer Singh Thapa, from there indirectly, Mussoorie came into existence.
on November 1, 1814, British security clashed with the expansionist policies of the Gurkhas resulting in an inevitable war. The Gurkhas were evacuated from Dehradun n 1815 and were placed in a district of Saharanpur by the Britishers in 1819.
During the British rule, Mussoorie was the centre of soldiers which was established at Landour. Soon both the towns were merged resulting in many residents to the city. Many homes appeared mostly to the mountainsides of the city some of which belongs to the Maharajas and some to humble citizens.
"FROM BEING THE GRAZING GROUNDS TO WITNESS AN INAVETABLE WAR IN 1814, MUSSOORIE WAS FINALLY ESTABLISHED AS A HILL STATION IN 1823".

MUSSOORIE WAS FINALLY ESTABLISHED AS A HILL STATION IN 1823
By the year 1842, the town was consists of about 40 homes, a hotel, and 5 barricades. And soon it city got its second name "Queen of the Hill Stations"
By the end of the 19th Century, Mussoorie was the first choice of Indians for being a hill station destination.
Motilal Nehru, the father of Jawaharlal Nehru, used to break the rule of Britishers and would pay the fine. (Actually, during the British raj, the Britishers Labeled all the hill station a racist rule – " by and for" Britishers). The Nehru family including Nehru's daughter (Later known as Indira Gandhi) frequently visits Mussoorie in the 1920s, 1930s, and 1940s because of Mussoorie's charm.
Mussoorie is also home to various famous personalities like – Ruskin Bond (a famous author), Victor Banerjee (Actor), and many other entrepreneurs, artists, etc.
Although there is so much to do in Mussoorie But we have listed 4 Topmost places to visit in Mussoorie :
1. Visiting Kempty falls
Visiting kempty falls is one of the musts to do things in Mussoorie. Around 15 km from Mussoorie this is an ideal picnic spot. The Waterfall cascades from 40ft height to a manmade pool where people literally can jump in and can take shower under the waterfall and also take a dip in the icy cold water.
How to visit: It is 14km from the Mussoorie bus stand, you can take a taxi or a bus.
Exploration time: 1 hr
2. Gun Hill
In the colonel times, a gun was placed at this hill and was fired every noon so that people can set their watch times. That's how it derived its name. It is the Second Highest peak of Mussoorie which now offers a stunning 360-degree view of the doon valley and the Garhwal Himalayas. It is situated 400ft above the mall (Mussoorie's commercial centre).
How to visit: Cable cars run from 10:00 am to 6:00 pm every day from the mall.
Exploration Time: 2 hr
3. Lal Tibba
The highest peak in Mussoorie is the Lal Tibba. This location is very famous for tourists as from here one can get majestic views of the Himalayas. It is also famous for romantic sunset and sunrise. It is situated at depot hills in Landour.
How to visit: It is around 5.5 km from the mall road Mussoorie
Exploration Time: 2hr
4. Clouds End
The place, Clouds End is the geographical end of the Mussoorie. Surrounded by the oak and deodar forests, clouds end is the heaven for nature and wildlife lovers because of the different varieties of its flora and fauna. A beautiful heritage building can also be seen in cloud's end which was made by some Britishers in 1838. Cloud's end is the ideal destination for the adventure lover.
How to visit: It is around 7km from the mall road Mussoorie.
Time to explore: 2 hr
When to visit Mussoorie
The ideal time to visit Mussoorie is in the summers, particularly from April to June. It's the time when the temperature is pleasant (25 degrees to 35 degrees Celsius). Which results in the best conditions for all the outdoor activities including trekking and hiking.
From July to September is the monsoon season, in which generally it is not advised for the tourists to visit because of the danger of landslides due to heavy rain.
From October to February in the winter season, when the temperature drops below 0 degrees celsius, results in heavy snowfall, and due to which roadblocks happen regularly. But the snow also doubles the beauty of the Mussoorie. It's not recommended to visit Mussoorie in the winter, but if you have decided to visit then try to take more precautions.
Tip: Try to avoid your visit on the weekends, as it gets a bit crowded at that time.
How to reach Mussoorie
By Air
The nearest airport to the Mussorie city is the Jolly Grant Airport which is situated in Dehradun Which is at a distance of about 30Km. There are many Direct flights from Delhi to Dehradun. You can Come from any city but there will be a stopover for Delhi before finally reaching Dehradun. And once you're in Dehradun, you can easily reach Mussoorie via road.
By Train
Dehradun's railway station is the nearest Train station to reach Mussoorie. If you are coming from southern India, then first you have to reach Delhi and then you can take the Delhi-Dehradun Shatabdi express. And If you are coming from Northern India then their many train pass for Dehradun.
By Bus
When reached Dehradun, you can easily get a bus to Mussoorie, It would cost around Rs 50. If you are going to visit Kempty falls then try to take a bus heading towards Nainbagh, Barkot or Yamunotri.
By car
You Can hire a taxi from Dehradun which would cost around 900-1000 Rs, and if you take a shared taxi then the cost would be cut to 250-300 Rs.
Self-driving
If you are coming from Delhi then Take NH-58 to the town of Roorkee and then switch to NH-72 until Dehradun. And from there take the Mussoorie road.
Where to stay
In Mussoorie, there are plenty of options to choose from. PGs, hostels, up to 5-star luxurious hotels. And you'll get spectacular views no matter where you stay.
Tip: Try to Stay near mall road if possible, because it's the centre of the town which givers you easy access to hospitals, shops, public transport, etc.
So how'd you like our blog on Mussoorie – The Queen of Hill Stations, Tell us in comments below.
Also, Read – Amritsar- City of Museums, forts, and The Golden Temple