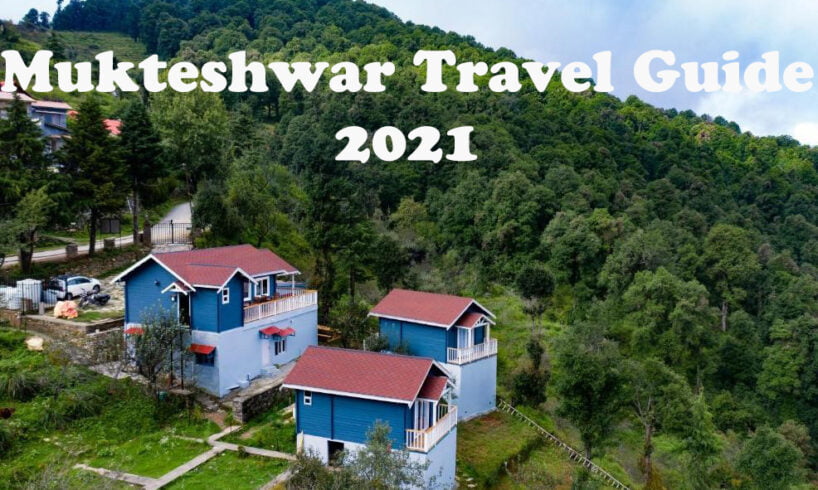 – Mukteshwar is a Place to experience Spirituality, Nature, History and also exploring the unexplored, all at once.
Mukteswar is a hill station and also a pilgrimage in the Nanital District Of Uttrakhand. It is situated in Kumaon Hills at an elevation of 7000ft above sea level and is around 345 Km from Delhi. The hill station is known fr its Mukteshwar Mahadev Temple which is the 350-year-old temple and the same temple was the reason behind how the Town got its name. Mukteshwar Is also blessed with lush nature and fruit orchids which enhances its beauty to a large extent.
The town is known for its beautiful mountain homes (Pahadi home) with different colours (Mostly Red) of roofs and ancient time window panes made of wood which further enhances the beauty of the town and also shows its diverse culture and its history.
If you are a city person and want a break from your daily hustle or even if you are irritated by sitting home due to covid crises. Then Mukteshwar is one of the best gateways which will help you in these tough times. Every breath you'll take in Mukteshwar's beautiful and clean atmosphere will help you to relax your body and mind. And if you are working from Home in this pandemic then this place could be the best Work – from –vacation mode place.
How Mukteshwar got its name
As per the legends of Hindu culture, Mukteshwar got its name from The mukteshwar Mahadev Temple which is roughly 350 yr old (from the time of renovation of the temple). It is Said that Pandavas came here in search of enlightenment and by being the hardcore devotes of lord shiva, They decided to build a temple here dedicated to lord shiva and named it Mukteshwar Temple. They thought that worshipping Shiv Ji here would lead them to Mukti/enlightenment from their tough life.
However, Mukteshwar is one of the 108 Names of Lord Shiva.
Therefore, due to this divine temple, mukteshwar town got its name.
History of Mukteshwar
Mukhtar was the previous name of the Mukteshwar town. This was mentioned in the book – "The Temple Tiger" written by Jim Corbett. In the Year 1947, The town's name was changed to what we call now, Mukteshwar. Many Locals still call it from its older name Muktesar.
This place was known for its Spirituality in Hindus until 1893 when this place was selected for the production of Serum which would protect the animals from deadly cattle Plaque. The Institue's construction was completed by 1898 but unfortunately, it was destroyed in 1899 by fire. Then it was renovated by 1901. Soon After that, it was developed into the Indian Veterinary Institute Of India (IVRI) which later shifted its headquarters to Izatnagar. However, The IVRI facility is still used for their internal purposes and a Goat Farm.
Home to a world famous temple and serum institute of India, Mukteshwar has been a major contributer towards the Rich culture and Heritage of India.
Although there is so much to do in Mukteshwar But we have listed 4 Topmost places to visit in Mukteshwar :
1. Mukteshwar Temple
Home to a world-famous temple and serum institute of India, Mukteshwar has been a major contributor to the rich culture and heritage of India.
Although there is so much to do in Mukteshwar But we have listed 4 Topmost places to visit in Mukteshwar :
Your Journey should always start with the Divine blessings of God. Therefore where in Mukteshwar, the first place to visit could be the Mukteshwar Temple.
Located On a hilltop at an elevation of 2,312 meters. Mukteshwar temple is a 350-year-old Ancient Hindu temple which is dedicated to Lord Shiva. Mukteshwar is one of the names of lord shiva, hence the town got its name from this temple.
This Temple was made by the Pandavas by being the lord Shiva devotees and the purpose of the temple construction was to get Mukti/enlightenment from their life.
This Divine temple also offers a splendid view of the Himalayan range covered with snow including Nandakot, Nanda Ghunti, and Nand Devi (which is the second Highest Peak of India).
How to visit: – Situated n a Hilltop. In Mukteshwar.
Exploration Time: -1Hr
Timings: – Monday – Sunday (5:00 Am – 7:00 Pm)
Entry fee: – Free Entry.
2. Bhalu Gaad Waterfalls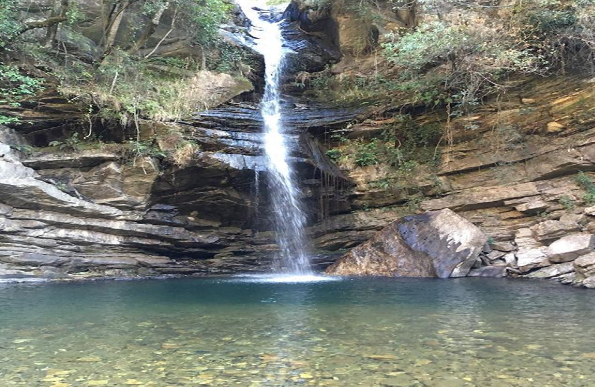 The Bhalu gaad Waterfalls should be the second place on the list of your Mukteshwar journey. This Waterfall is Newly discovered and didn't attract too many tourists. Hence this place is nearly unexplored and holds so many things to do here.
The waterfall is 60ft high and is active throughout the year therefore it can be explored in any season. Nature and birds lover would be loved to be here as this place is full of greenery with a beautiful flowing waterfall along with the sweet voices of beautiful birds shattering around you.
One can also witness a beautiful and big Rainbow which emerges at the bottom of the waterfall And Because of this Locals has also named this waterfall a Rainbow waterfall.
How to visit: – The Waterfall is around 10 km from the Main Mukteshwar Town
Exploration Time : – 1.5 hr
Timings: – 8:30Am – 5:00Pm
Entry fee: – Free Entry. (But one can hire a guide for as low as Rs 200/-).
3. Chauli Ki Jali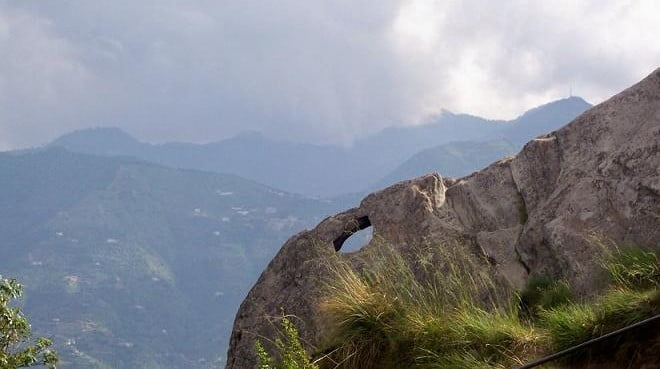 The 3rd number is of the chauli ki jail. It is a tourist place located behind the cliff of the Mukteshwar Temple. This Place is bliss for adventure lovers as one can experience rock climbing and trekking along with the view of the Himalayan Range.
Chauli ki jail is a religious place where it is believed that this place witnessed a war between a demon and A goddess. The place got the ist name from a wall with a small part in the middle of it broken which appears like a window and from which one can see through it. This wall is the reason behind this place got its name. Because Chauli means the wall and Jali means the window.
How to visit: – Chauli Ki jail is 1.5 Km from the main market of mukteshwar and 250 m From Mukteshwar Temple.
Exploration Time : – 1Hr
Timings: – 6:00Am – 6:00Pm
Entry fee: – Free Entry
4. Dhanachuli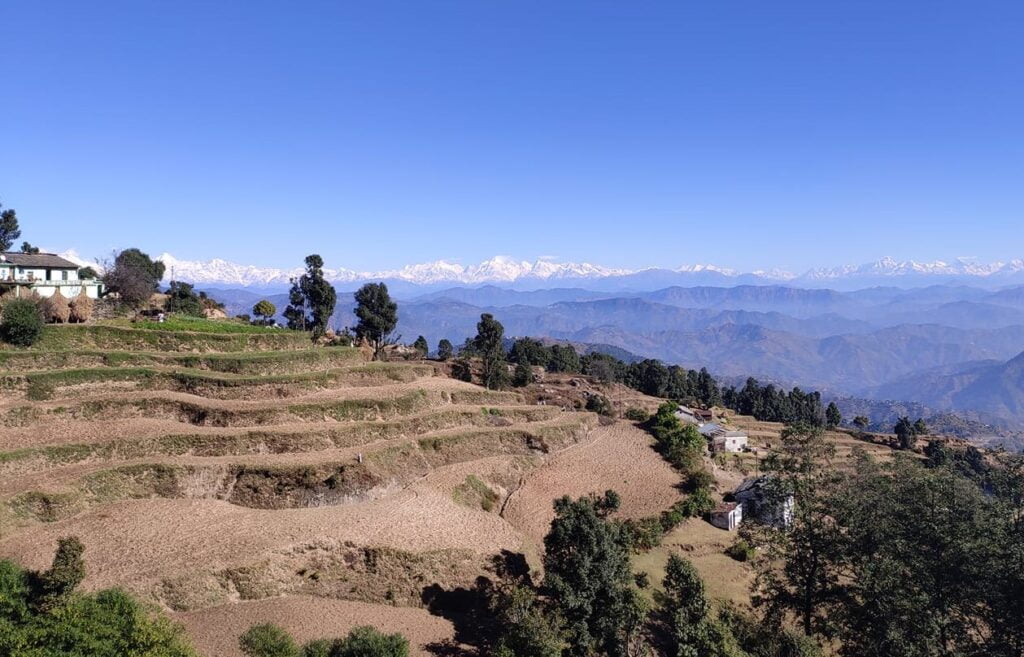 Last but not least on our list is Dhanachuli. A small village amidst lush nature is the heavenly abode for nature lovers. Not just for nature-loving people, but this place is for all those who want to escape their boring and hustling day to day life and want to relax a bit in the lap of Nature.
Located around 8Km from Mukteshwar town, Dhanachuli is situated at an elevation of 7000 Above sea level. It is also around 25 Km from Bhimtal.
The Town is known for its Greenery, Dense woods, Beautiful Weather and Apple Trees. Dhanachuli is a perfect place for those who want to experience lush Nature once in their life.
How to visit: – Dhanachuli is 8km from Mukteshwar and 25 Km from Bhimtal. (It is well connected by road).
Exploration Time: – 2 Days
Timings: – No Time Limit.
Entry fee: – Free Entry. But one has to pay for the basic liabilities like a hotel to stay.
When to visit Mukteshwar
Although the temperature remains pleasant throughout the year in Mukteshwar. But in summers, the day temperature gets as high as 27 degrees Celsius and the nights get pretty cool.
Therefore, this kind of weather condition results in the booming of fruits on trees and very limited danger of landslides and which further results in more scenic views of the hill station.
And if you are planning to go in winter, then there is no need to worry about snow as the average snowfall is less in mukteshwar than in other hill stations.
How to reach Mukteshwar
By Air
Pantnagar Airport Is the nearest airport to Mukteshwar which is located around 100Km away. This airport is well connected to Delhi international airport and from further which one can find various international flights easily.
Taxi and Bus service is always available From the Airport To Mukteshwar.
By Train
Kthgodam is the closest railway station to Mukteshwar, which is situated 70Km from the hilltop. This Railway station is very well-attached to all the important cities of India.
Public Transport and private taxis could be hired to reach Mukteshwar from the station.
By Road
By Road is the best way to Reach Mkteshwar. The town is well connected to all the major cities of Uttrakhand and other nearby States with amazing quality of roads. One can Experience majestic views of the Himalayan range while driving on the smooth buttery Roads.
Where to stay
Since Mukteshwar is a commercialized town and also a pilgrimage place. One can find numerous options for staying here. From luxurious Hotels to motels and from budget accommodation like – PGs to even the Private Resorts located uphill from the town amidst in nature that too with reasonable prices.
However, the weather remains pleasant throughout the year, the supply of basic amenities also remains the same over the year. Hence one can enjoy the mukteshwar journey any time of the year and without any worries.
So how'd you liked Yellow Digit's travel guide on Mukteshwar? Tell us in the comments below!