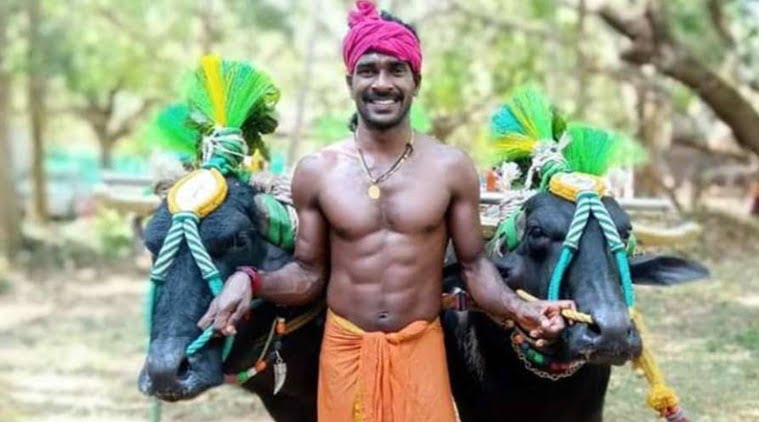 'Faster than Bolt' Kambala jockey says he is not sure whether he will run a trial or not.
The Kambala star jockey Srinivasa Gowda, who was pushed to instant stardom last week. He says that he is not sure whether he will run a trial or not in the SAI trials. He says the government has invited him but he will focus on his own sport instead.
This Kambala jockey who was compared to world record holder Usain Bolt after a video went viral last week. This video showing him 'finishing 100 meters in 9.55 seconds' is already viral on social media.
A day before he was supposed to turn up for trials in Bengaluru Srinivasa Gowda told TNIE on Sunday. "In the Kambala race, heels play an important role whereas it is toes in a track race. Not just jockeys, but even buffaloes have a role to play in Kambala. In track race, this is not the case"
On Saturday, as tales of Gowda's feat flooded social media, Sports Minister Kiren Rijiju arranged for a trial for Gowda.
Rijiju had tweeted: "Officials from SAI have contacted him. His rail ticket is done and he will reach SAI center on Monday. I will ensure top national coaches conduct his trials properly. We are team @narendramodi Ji and will do everything to identify sporting talents!"
A day after the offer, Gowda said the Kambala season had left him too exhausted to take part in athletics trials and also that he was not sure if he could make a mark in the SAI trials.
Gowda said he has been training for Kambala – a traditional form of buffalo racing in parts of Karnataka. This involves the jockey holding on to the buffaloes as they race. Since the age of 15, he is running and is happy with whatever he makes from the sport and his off-season job as a construction worker.
Gowda said that he will turn up in Bengaluru on Monday. "I do not know if I will run in trial tomorrow or not but I will be in Bengaluru tomorrow to meet the CM. I need to consult with my Kambala academy mentor (on whether I should run). I need to rest also," Gowda was quoted as saying by ANI.
Reacting on Monday evening, Sports Minister Kiren Rijiju said, "Standard of Olympics is different from traditional sports. It's not right to compare the two as we cannot go by the amateur record but only by official trial."