A lot is talked about the company but still, there are many unknown facts that one should know about McDonald's.
The craze for Western food chains hit India in the late 1990s. One of the first brands to hit the Indian market was McDonald's. Undoubtedly, there Aloo Tikki burgers literally swept the Indian market and everyone lick their fingers. Now, after so many years, McDonald's has become one of the largest food chains in India. A lot is talked about the company but still, there are many unknown facts that one should know about McDonald's.
Per day sale
Many of you may want to know how much McDonald's makes in a day. In the US, every 1 in 8 workers is hired by McDonald's. In the UK, over 70 million people eat at McDonald's every day. As per reports, McDonald's sells around 75 burgers each second.
Serving in 120 countries
One of the food chains in the world, McDonald's serves 120 different countries across the world. Also, for each country, you will find a different menu. McDonald's has around 38,000 outlets across the world. You will easily find McDonald's near your home.
McDonald's Golden card
There's McDonald's golden card that gives the owner free access to free food twice a week for life. Now, who owns this car? The answer is Bill Gates. Yes! Bill Gates gets free meals from McDonald's.
McDonald's in Germany
I guess everyone in the world would love to visit McDonald's in Germany. And the reason for that is quite interesting. The McDonald's outlets in Germany offer free beer to their customers. This is something that happens in Germany only. Undoubtedly, Germans are quite lucky.
McDonald's and the toys
McDonald's is the largest toy distributor in the world. You as a child or your children must have had Happy Meal at McDonald's. Every Happy Meal comes with toys. And Happy Meals account for 20 percent of McDonald's entire product sales.
No beef
India is the only country, where McDonald's does not serve beef and pork. This is because of the religious sentiments of both Hindus and Muslims in the country. Instead of beef and pork, most of the non-veg items on McDonald's menu in India include chicken.
ALSO READ: Find the best street food in Delhi here
McDonald's and its links with the Royal family
McDonald's has some good links with the Royal family. Queen Elizabeth owned a McDonald's outlet just near Buckingham Palace. Even the royals can't resist and fell in love with the cheap yet yummy delights of McDonald's.
McDonald's fries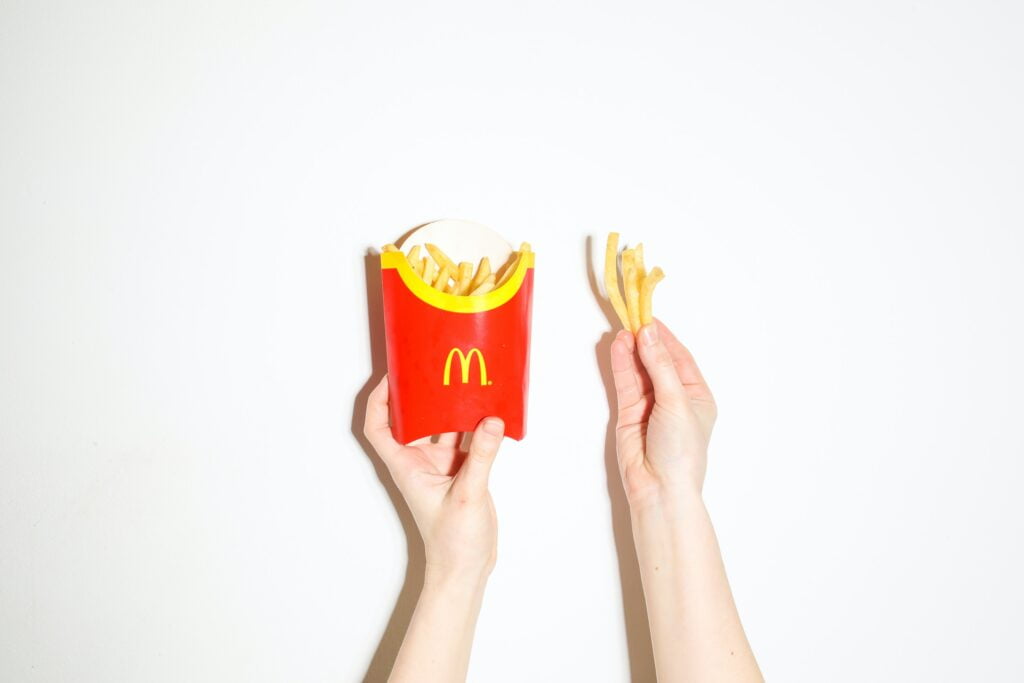 Fries are one of the oldest items on McDonald's menu. You would be shocked to know how many potatoes McDonald's buys. The food chain buys 4.7 billion dollars worth of potatoes every year and serves around 13 billion servings of fries every year.
A movie on McDonald's
The Founder is the movie that portrays the story of McDonald's. The movie was released in the year 2016. The movie stars Michael Keaton as Ray Kroc, and Nick Offerman and John Carroll Lynch as the McDonald Brothers.
McDonald's- the BBQ joint
McDonald's did not serve burgers initially. It was a BBQ joint in San Bernardino, California. After almost eight years, the company started selling burgers, fries, chips etc. The first dish that McDonald's served was a hot dog.