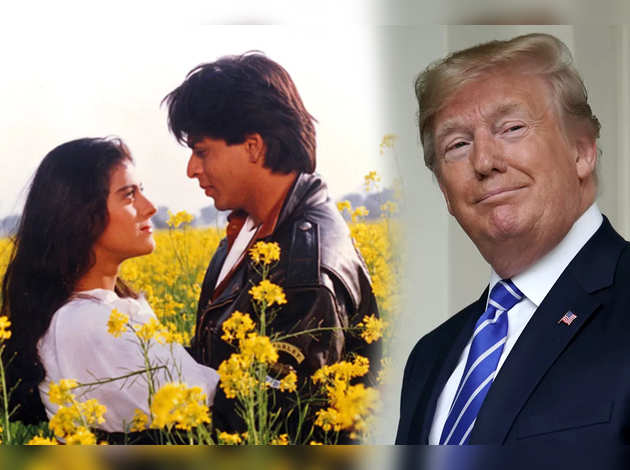 US President Donald Trump is in India for his three-day tour. On his first day in India, US President Trump sent Twitter into a frenzy when he mentioned Bollywood super hit classics Dilwale Dulhania Le Jayenge and Sholay in his speech at Motera stadium in Ahmedabad on Monday afternoon. He also expressed his thoughts and showered praise on the Indian film industry.
"This is the country that produces 2000 movies a year from the hub of genius and creativity known as Bollywood. All over the planet, people take great joy in scenes of bhangra, music, dance, romance, and drama, and classic Indian films like DDLJ and Sholay," Trump, who is on his maiden visit to India, said.
After listening to his words, while the audience erupted into loud cheers at Trump's references to Hindi films, people on Twitter also went into a frenzy. Fans of Shah Rukh Khan, who plays the lead role in Dilwale Dulhania Le Jayenge, were particularly elated.
"US President D. Trump mentioned DDLJ in his speech. BIGGEST STAR of the country SHAHRUKH KHAN. @iamsrk #TrumpIndiaVisit #DDLJ," one fan wrote. Another tweeted, "#NamasteyTrump @realDonaldTrump just mentioned #DDLJ the iconic romantic movie @iamsrk, Presidents change bt @iamsrk remains."
Yash Raj Films, producers of the iconic film, also reacted on Twitter. "DDLJ trumps!" their tweet read. Check out some of the reactions here: