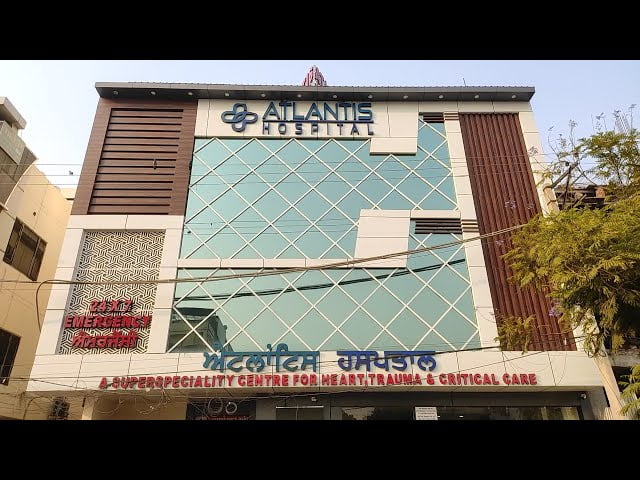 Situated at the heart of the city in Putlighar, Atlantis Hospital is becoming the pride of Amritsar by providing high-quality medical care at an affordable price for the population of the city. Easily accessible by an array of transportation, this hospital is situated on G.T. Road near the Railway station. It provides 24/7 Ambulance service managed under the professional guidance of skilled emergency Medical Technicians who bring Basic and Advanced Life Support medical care directly to the patient. Blessed with a good patient-to-nurse ratio the hospital is well equipped in caring for an estimated 80 patients round the clock.
Atlantis Hospital is a NABH-certified super speciality hospital that offers a wide variety of both Inpatient and outpatient services including Pacemaker installation, Blood pressure management, Cardiac monitoring (Holter, ECG, ECHO, TMT), Poisoning and snake bite treatment, COVID management (Isolation), Burn injury treatment, Pain management, Dialysis, etc.
Atlantis Hospital Departments
Offering world-class and highly technologically efficient medical services, Atlantis Hospital lays down several well-managed and expert departments. Some of them are: Department Of Cardiology, General Medicine/Diabetology, Pulmonary Medicine, Emergency Medicine, Anesthesia & Critical Care, Nephrology, Urology, Neurology, Neuro and spine surgery, Gastroenterology (Medical and Surgical), Orthopaedics, E.N.T.
Also read: Welcome to Sri Sai University: Best University in Himachal Pradesh
Services
Cath Lab
Cath Lab machine offers state-of-the-art high-resolution imaging with minimum radiation for procedures like Angioplasty, Ablation, Angiogram
Trauma care
With access to 24/7 Ambulance service and highly trained professionals, Atlantis hospital prides itself in its Trauma care centre with access to a 24/7 Pharmacy and State of the art medical devices.
Fully modular operation theatres
A continuous flow of highly filtered 'bacteria-free' air is recalculated using an Air handling unit under positive pressure into the operating area by ceiling-suspended laminar airflow to decrease the chances of bacterial growth which reduces the chances of post-surgical infections.
Coronary Angiography
Day Care Radial angiography facility offers a No Cut, No Stitch, Highly comfortable angiography procedure with same-day discharge.
Holter, ECG, ECHO, TMT
Detailed tests to check for rhythm disorders of the heart.
Poisoning & Snake Bite treatment
Non-invasive and Invasive Cardiology
Offers treatment procedures, such as pacemaker installation, ablation, and angioplasty.
Renal angiography and stenting
Cardiac Resynchronisation Therapy (CRT), is helpful in treating rhythm disorders of the heart by the use of a special electric device called an Automated Cardioverter defibrillator (AICD)
Eye surgery
Joint-replacement surgery
Medical and Surgical Oncology
Radiological diagnostics- The hospital has access to diagnostic methods and provides Ultrasound and Bronchoscopy on-site.
Pain Clinic
Pain is the most disheartening thing in battling a long disease. Atlantis hospital provides specialised treatment by using a team of experts from orthopaedics, anaesthesiology, clinical psychology/psychiatry and physiotherapy. This Department uses nerve blocks, a combination of drugs, radiofrequency ablation, stimulation/relaxation therapies, intradiscal procedures, intramuscular stimulation, physical therapy, psychological counselling and surgery for the management of pain problems of the patient to help them to lead a pain-free and good-quality life.
Dialysis unit
The dialysis unit of Atlantis Hospital helps the eligible patient easily access the well-developed dialysis unit under expert nephrologists and medical experts. The dialysis facility is closely monitored and periodically sanitised before every usage.
COVID Management (Isolation)
A separate Quarantine area is present for COVID patients, managed by experienced staff. Staff is provided with appropriate PPE kits and testing kits are available with a timely response
Burn Unit
Atlantis Hospital provides a multidisciplinary approach to the care of critically injured burn patients in the Burn Intensive Care Unit and Burn Stepdown Unit. Offering best practices in burn treatment with the use of the most cutting-edge technologies and innovative therapies to promote healing. The Burn Unit is managed by an experienced team consisting of:
Burn surgeons, trained in general surgery with additional fellowship training in the burn, trauma and/or critical care
Advanced Practice Providers
Nurses with special training in the care of burn patients
Occupation and Physical Therapists with speciality training in burn rehabilitation and scar prevention
Star Facilities for every patient at Atlantis Hospital
Laboratory
While treating a patient, timely results of blood samples of the patient are necessary to ensure the quality of treatment. To make sure there is no delay, the hospital provides round-the-clock testing with quick response.
Physical rehabilitation
Working with professionals, the hospital focuses on the recovery of patients after surgery or after a long fight with a disease through physiotherapy. It helps the patient get back to the normal life they had before.
General and Laparoscopic surgeries
The hospital provides both general and laparoscopic approaches to surgery under one roof. General surgeries are done by a long cut made on the body under the effect of general anaesthesia. Atlantis offers laparoscopic surgeries in all the departments to make the recovery process easy on the patient
Ventilation facilities
Provides both invasive and non-invasive methods of ventilation system for breathing measures when fighting a respiratory disease.
Psychiatric facilities
Atlantis Hospital provides emotional support to the patient while undergoing treatment with the help of dedicated psychosocial support services including a full-time Psychologist who specializes in the diagnosis and treatment of acute stress and post-traumatic stress disorders
24/7 ambulance
The hospital offers 24×7 ambulance services comprising two ambulances. One of which is a state-of-the-art advanced care ambulance equipped with a defibrillator, multipara monitor, ventilator, oxygen, suction, scoop stretcher, spine board, head immobilizer, spencer trolley stretcher, emergency drugs etc which is crucial in transportation of patients in unstable medical conditions.
ICU facilities
Equipped with the well-trained nursing and medical staff there are 5 Intensive Care Units, namely the Medical Intensive Care Unit (MICU), Intensive Cardiac Care Unit (ICCU), Surgical Intensive Care Unit (SICU), Paediatric Intensive Care Unit (PICU), Neonatal Intensive Care Unit (NICU) with the capacity of 5 patients each.
24/7 Pharmacy
Atlantis Hospital has 3 Pharmacies – the OutPatient Pharmacy, the Inpatient Pharmacy, and the Emergency Department Pharmacy, of which 2 are 24-hour drug stores (Inpatient and Emergency Department). Open round the clock, these well-stocked pharmacies are accessible to the patient so their families don't need to worry about finding medicines even in late hours. This eliminates any delay in life-saving medications required during treatment, no matter what time of the day it is.
24/7 Meal service
A well-appointed Vegetarian Kitchen is located in-house on the third floor to provide patients with a vegetarian diet in-line with their treatment plan, free of charge. This service is also available to attendants of patients at any time of day if they require it. Moreover, any international patient can request a diet more in line with their religion and taste preferences.
Community work
The Burn Center manages prevention programs to reach out to high-risk groups, such as firefighters and Boy Scouts. They also provide programming for Parent Teacher Associations providing parents of young children with critical information on the prevention and treatment of minor burns.
Atlantis Hospital's active basic science and clinical research programs are at the forefront of the development of novel solutions to understanding burn injury and tissue regeneration. In addition, the medical team is widely published in peer-reviewed journals and frequently participates in presentations at national and international conferences. The patients are given the option to enrol in clinical trials depending on their treatment needs.
Professional education and research
The multidisciplinary team of Atlantis Hospital provides education and clinical training to students in many healthcare specialities including physicians-in-training, surgeons and critical care specialists. They also participate in training and educating first responders, emergency departments, urgent care centres, and primary care providers.
Affordability
Money should be the last thing a patient should worry about while undergoing treatment. As a solution, the hospital is tied-up with an elaborate group of insurance companies and TPAs, including Liberty General Insurance, FHPL, Aditya Birla Group, Digit, SBI general insurance, Edelweiss general insurance, Royal Sundaram general insurance, Universal Sompo general insurance, Tata AIG insurance, Acko, EWA TPA, Magma, Kotak Mahindra Bank, etc.
Experienced Doctors at Atlantis Hospital
Atlantis Hospital has numerous experienced doctors who have helped several patients to become healthy humans again after being diagnosed with deadly problems. Here are some of the star doctors of Atlantis Hospital:
Dr. Rajan Punj; MBBS, MS General surgery (28 years experience)
Dr. Naveen Kumar Dogra; MBBS, MD(Medicine), DM (Cardiology)
Dr. Tavleen Kaur; MBBS, MD, PDFC (Pain medicine)
Dr. Pankaj Aggarwal MD(Medicine) Fellowship in Nephrology
Dr. Rupam Pasricha; MBBS,MD (OB&GYN)
24 x 7 Helpline: +91 98150 98481 | 98150 98482
For Appointments: 0183-5251400-430 (30 Lines)
Email: info@atlantishospitalamritsar.com
Address: 5-City Enclave, G.T. Road, Putlighar, Amritsar -143001.