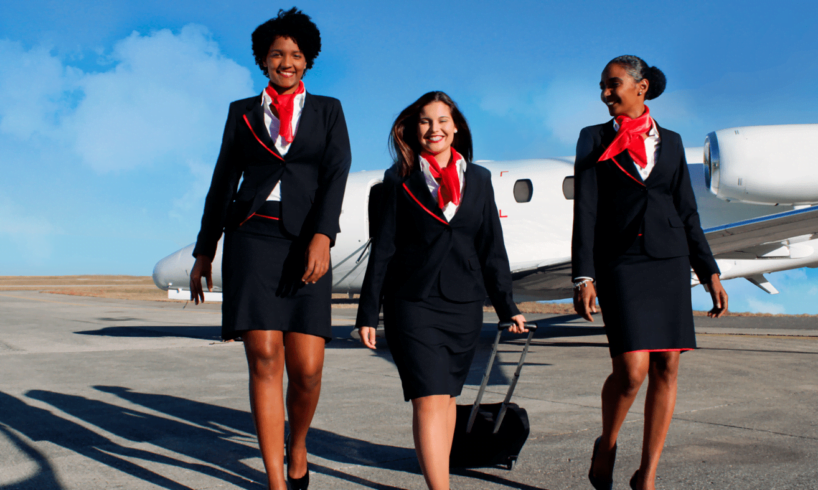 YD News | Three-minute read
There are a lot of youngsters in India who wish to become flight attendants and want to pursue their careers in the field of airlines and tourism management. Undoubtedly, being an air hostess is a dream job for many young women in India. Becoming a flight attendant is one of the most interesting jobs one can have. The industry is ever growing and surely, one can have a great career in this field if they have required skills.
In this article, we will tell you everything you need to know about flight attendants. How to become air hostess/flight attendant, courses, eligibility, education qualification etc. Here, you will find answers to every question that you have related to this field.
Without any doubt, the industry is amazing and a lot of companies provide handsome salaries to flight attendants and air hostesses. Also, they get the chance to travel around the world.
What is the work of a flight attendant?
A lot of people think that it is a fun job but undoubtedly, it comes with a lot of responsibilities. There are several responsibilities that a flight attendant looks after. The major responsibilities include helping the passengers board the aircraft, serving them food, explaining to them all the safety protocols and procedures. The major purpose and job of a flight attendant are to make the journey of the passengers easy and comfortable.
Other important responsibilities of a flight attendant include
Keep a check on the supplies in the aircraft
Check if the emergency equipment is working properly
Ensuring passengers' safety and comfort
Demonstrating the usage of all the emergency equipment properly
Inter-department co-ordination and keeping a check on several announcements
The list does not end here. There are a lot of other responsibilities as well that differs from company to company. However, these are some of the common and the most important job responsibilities of a flight attendant or air host.
What is the eligibility to become flight attendant in India?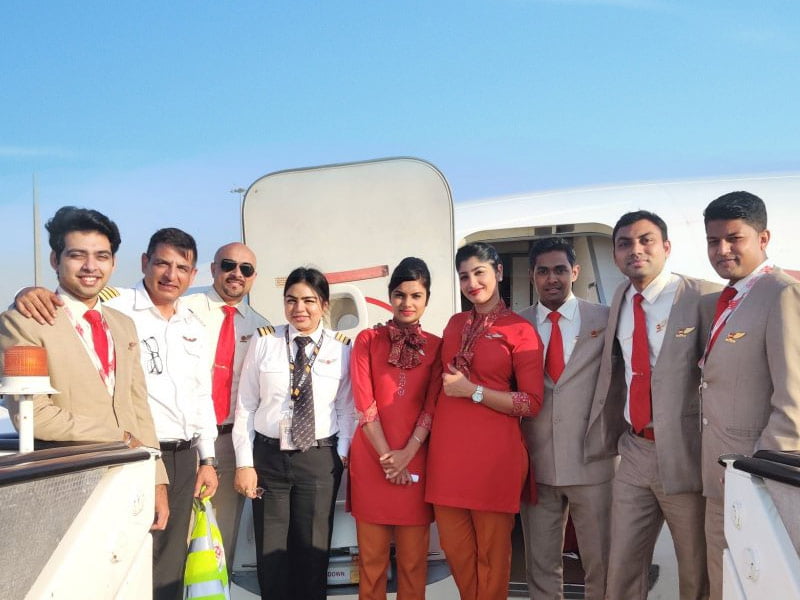 Here is a general eligibility criterion to become a flight attendant in India.
You should be graduated or should have completed your 10+2.
Other than that, your age should be between 18-26.
Most importantly, you should be medically fit and there should not be any mental illness record.
The eyesight of a flight attendant must be 6/6.
In some companies, the minimum height required is 5.1 feet (for women).
A flight attendant must be multi-lingual and should have a good command of the English language.
He or she should hold an Indian passport.
What behavioural traits should a flight attendant possess?
A certain job or a profession requires people with a certain skill set and behavioural traits. The same goes for flight attendants. Here are several behavioural traits that a flight attendant or an air host must possess.
Great communication skills
A good flight attendant must have good communication skills and should be multi-lingual. Most importantly, a flight attendant must be proficient in English and have a good command of the language. This is one of the most important skills that a flight attendant must possess.
Good presence of mind
Presence of mind is really important when you are in the airlines business. Not just for flight attendants, but for everyone working in the airlines business, presence of mind is really important. There are times when flights have emergency landings. At those times, flight attendants have to use their presence of mind and make the passengers understand.
Attractive personality
You must be friendly, polite and soft-spoken with the people. Also, you must have a charming personality to become an air host. Airline companies always prefer a person with a friendly nature and good personality for the job of a flight attendant.
Time management
Good time management skills and flexibility is really important when it comes to flight attendants. There are times when the flights are long and tiring. The work schedule is tough and at those times, flight attendants need to be patient and should not lose their charm and smile. Working hours might extend from the usual. Therefore, you must be flexible, ready and patient enough to understand.
What is the recruitment process?
Nowadays, there are several airline companies and the recruitment process differs depending upon the companies. However, there are some similarities. After initial screening, there is a written test which is followed by group discussion and other personality rounds.
Surely, being a flight attendant in India is one of the most lucrative career opportunities, especially for young girls in their early 20s. The salary packages are handsome. Those pursuing undergraduate degrees in the field of hospitality must go for this field.
Different institutes for air-hostess/flight attendant training
Though flight attendant training is not mandatory, still a lot of colleges and institutes offer courses related to it. Self-preparation is really important but it would be great if you opt for a course from a renowned institute.
It is to be noted that the Indira Gandhi Institute Aeronautics offer a 1-3 years diploma course in cabin crew services and hospitality management.
Other famous institutes giving flight attendants/air hostesses include
Frankfinn Institute of Air Hostess Training
Pacific Airways
Jet Airways Training Academy
Livewel Academy
Bombay Flying Club College of Aviation
Indigo Training Centre
Centre for Civil Aviation Training
Ifly Training Academy Indigo
Rajiv Gandhi Memorial College of Aeronautics
Aptima Air Hostess Academy
Flight attendant courses offered in India
Here is a complete list of all the top courses you can opt for to become a flight attendant in India.
Aviation Cargo
Aviation Security Awareness Basic
Hospitality and Customer Services
Pilot Training
Flight Depatcher
Aviation and Hospitality Management
Air-Hostess Hospitality Training
Professional Cabin Crew Services
Hospitality, Travel and Customer Service
Airport Ground Services
Air Hostess and flight steward