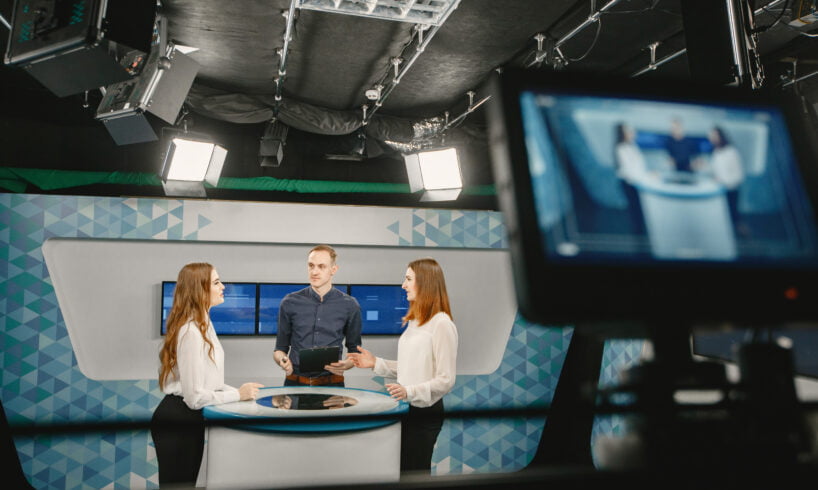 Yellow Digit has set a benchmark for the video production companies in Chandigarh.
They are one of the best when it comes to video marketing strategies for the brands.
Because of the growth and efficiency of digital marketing, the advertisement sector has completely changed. Video marketing and video production are now major weapons in the advertising businesses' arsenal. If you also want to grow your business with video marketing and want the best video production company in Chandigarh, this article will help you.
Yellow Digit makes corporate video production a walk in park
One of the leading video production companies in Chandigarh is Yellow Digit. It is a reliable agency that focuses on providing apt video marketing solutions to all of its clients.
No matter what business you deal in, Yellow Digit can make unique, engaging and high-quality video content for you, fulfilling all your requirements.
The impact of video marketing
Video is the best form of media used in content strategy, overtaking blogs and infographics. Great video advertisements make the required impact on the viewer. If we compare it to a still image or an illustration, it better holds the audience and grabs attention because of different factors.
However, only a few brands manage to set a benchmark and get recognized by the public. Good video production companies like Yellow Digit help them get recognition. The key is conveying your brand's story uniquely and creatively.
There are many companies that struggle to make themselves known to their potential customers even if they have a presence on different media platforms. The reason is that they fail to grab the attention of their audience. Adding good-quality videos to the content strategy can help. Twitter says that the tweets with videos gain 10x more engagement than the ones without videos. Therefore, brands must consider focusing on video marketing. Yellow Digit is the video production company that can help make engaging videos.
There are dedicated employees in Yellow Digit's production department that work wholeheartedly for the video marketing of their clients. The team has experts who have been working for years in the video production arena.
From scripting to post-production, Yellow Digit takes responsibility and provides the best to their clients
Video production involves various stages. Each stage has its own importance and cannot be ignored. Surely, it is a time-consuming and thought-provoking business. Also, it includes a lot of manpower to make a single video.
From pre-production to post-production, several people with different skill sets are involved. Not many video production companies in Chandigarh take responsibility for all the stages. However, at Yellow Digit, you will get all the solutions.
The team takes complete responsibility for scripting, shooting, editing and production. It also includes finding the anchors, voice-over artists, location partners, etc.
For businesses in Chandigarh, Yellow Digit is the best place to improve the video marketing strategy.
Yellow Digit- What does they provide?
Have a look at a wide range of videos that Yellow Digit has expertise in.
Informative explainer videos
Informative explainer videos are great for educational institutes. In such videos, either an expert describes a certain process, product or service, or the viewers are explained with the help of animations or graphics. The motive is to clear the doubts of the audience and give them a clear idea of the topic.
Also read- What makes digital marketing so important for educational institutes?
Yellow Digit creates strong and impactful explainer videos. They focus on delivering the messages to the audience in a clear manner. For the videos including experts, Yellow Digit emphasizes the scripting part first. After that, they find apt locations for a perfect shoot. Also, there are expert video editors that bring the best outcome for businesses. For the informative animated videos, the video editing team takes the whole responsibility, working with creative voice-over artists.
Commercial event coverage
Do not worry about the promotions of your commercial events. Yellow Digit can get exclusive coverage of your company's projects and campaigns.
A strong video marketing strategy works for an event. Post promotions of an event are as much important as promoting it before it happens. Other than your attendees, no one will get to know about it without a great video of the event, even if it has happened on a large scale.
Yellow Digit assures clients of delivering the best videos for the businesses. They have a team of stalwarts that brings the best from their clients' events.
Corporate video advertisements
Yellow Digit has successfully completed different corporate video advertisements for several brands in Punjab, especially Chandigarh. Over a period of time, they have set a benchmark in the video production market of Chandigarh. Moreover, Yellow Digit has initiated several video marketing campaigns that helped the brands overcome their crisis period.