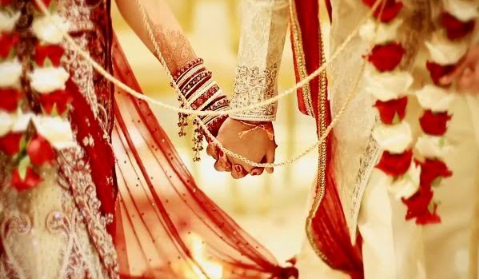 YDNews| Marriage
This nationwide lockdown will always be remembered by many for different reasons. But this for this couple, it will be a pleasant memory as they entered into wedlock in a police station.
On April 20, Anil and Jyoti reportedly married to each other at Shiva temple located inside the premises of Dheena police station in Chandauli.
Rajesh Kumar, SHO of Dheena police station reportedly said, "It was a marriage with limited means. Only five persons from each side of the bride and bridegroom were present at the wedding which took place in Shiva temple inside Dheena police station."
Also read: Chandigarh man falls prey to 'liquor at home' con
As per the reports, Anil hailed from Chandauli itself and Jyoti hailed from Ghazipur district.
Anil had earlier saved the lives of many in a boat tragedy in February. He helped the policemen and saved the lives of many who were there in the boat. The local police had appreciated him for his heroic efforts.
The SHO further said that Anil's marriage was already fixed for April 20. But the lockdown and then its extension made him worried. Therefore, he called the police department and asked for help.
He was told that due to lockdown, not more than five people were allowed to gather for any marriage party or anything like that.
"Then he asked us for his marriage to be conducted in Shiva temple inside Dheena police complex. He assured that five persons from each side would witness the wedding. Therefore, we gave him our nod," said SHO Rajesh Kumar.
Also, senior police officials like Additional Superintendent of Police, Circle officer, and in charge of a police outpost were present at the couple's marriage.