YD News | Three-minute read
In Delhi NCR, you may find thousands of spas and wellness centres. However, hygiene, quality, a great experience is what you will surely find at these spas listed down below.
Here in this article, you will find the best spas in Delhi where you can relax yourself and detach from the outer world. Give yourself a break and visit these luxurious spas in Delhi to calm yourself down.
Sawadhee Spa
For a traditional Thai massage, you must visit Sawadhee Spa once. They offer massage therapies, foot therapy, body treatments, face rituals, etc.
Sawadhee has also won several awards and recognitions. It includes Spa of the year 2021 award, Standalone spa of the year 2021, Tripadvisor Travellers Choice, Best Day Spa award etc.
Address: Plot No.3, Local Shopping Center, Pocket C-9, Vasant Kunj, New Delhi-110070
Contact: +91 8750023456
Asian Roots Spa
Asian Roots Spa, Delhi is in the industry for 17 years now. They have their branches in Delhi, Gurgaon and Kolkata as well.
There are different types of massages that Asian Roots Spa offers. From Shiatsu Massage to Traditional Balinese Massage, there are various options that you can choose. Other than that, they also offer Face Care, Anti-Acne treatment, Natural Spa Facial, and much more.
Undoubtedly, you will have a mesmerizing experience here at Asian Roots Spa. Here at Asian Roots Spa, Delhi, you will have to pay approximately Rs. 3,000 for a full-body massage.
Address: A- 2/25, Block A 2, Safdarjung Enclave, New Delhi, Delhi 110029
Contact: 011 4610 3000
Rejuve- The Lalit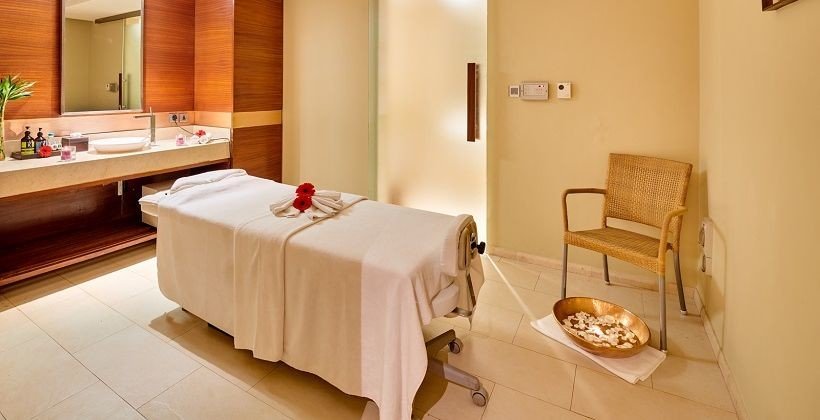 There is no better place to relax and enjoy than Rejuve-The Lalit. The name speaks for itself. You will have a wonderful time here at Rejuve- The Lalit. They make you experience "the divine serene world of Rejuve- The Spa."
Rejuve offers ayurvedic, aroma, herbal and natural colour healing treatments. They emphasize helping people release mental stress and tension. Here at Rejuve, you will feel better and find yourself happier.
Address: Fire Brigade Ln, Fire Brigade Lane, Barakhamba, New Delhi, Delhi 110001
Contact: 011 4444 7777
Alaya Spa + Salon
Alaya has made its name in South Delhi with its amazing work and client satisfaction. They have a traditional Tibetan theme and specialise in different traditional spas from places around the world.
Alaya Spa + Salon has experience of seven years and they have been offering some quality time to the Delhites.
Address: 9 Community Centre PVR Anupam Complex, Entry Opportunity Axis Bank, Saket, New Delhi 110017
Contact: 011 4051 4561
Three Graces Spa
"Luxuriate in spell-bound tranquillity." This is what Three Graces Spa aims to offer to their clients. Here at Three Graces Spa, they offer a range of services including Ayurvedic treatments and international therapies.
Thee Graces Spa also has Kerala Ayurvedic Treatment rooms, Oriental Therapy and Meditation rooms. Other than that, they have a special suite for couples as well, where they can enjoy the treatment together.
Their highest-selling therapies include Choorna Swedanam, Island Exotica, and Stockholm.
Address: 4th floor, #8, Windsor Pl, Janpath, Windsor Place, New Delhi, Delhi 110001
Contact: 011 2375 3048
Blliis by Ravissant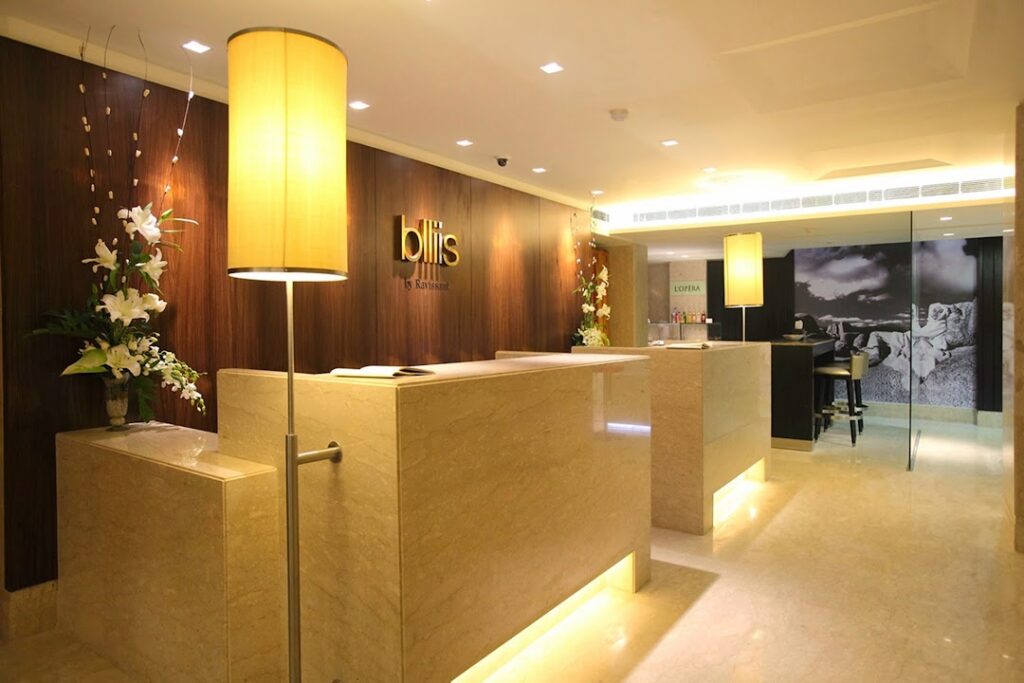 Blliss by Ravissant is called India's first organic green salon and spa. For some quality time, detachment from the stress, you must visit Blliss by Ravissant. They have an international team of professionals who are perfect with their work. The ambience, the staff, the methods they use are amazing. Pamper yourself and enjoy the luxury that Blliss by Ravissant offers.
Address: Grandlay Commercial Complex, 50-51, Maulana Mohammad Ali Jauhar Marg, Friends Colony West, New Friends Colony, New Delhi, 110065
Contact: 011 2632 8649
Monsoon Spa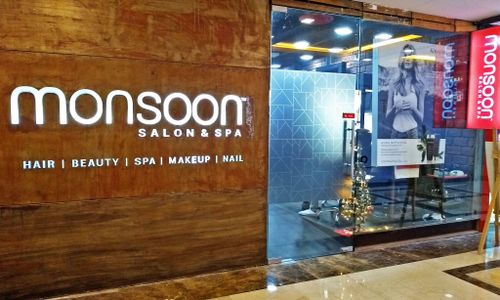 A soothing spa experience is what you will surely have here at Monsoon Spa Delhi. They offer European, Ayurvedic and Oriental Spa therapies to their clients. Not one or two, they've got multiple outlets in Delhi NCR.