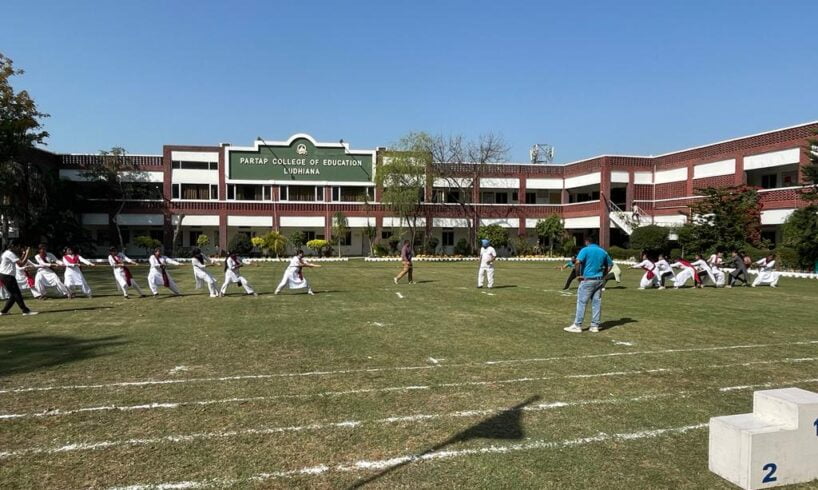 YD News | Two-minute read
Partap College of Education Ludhiana organized 20th Annual Sports Meet with great zeal and fervour. College students of M.Ed., B.Ed. and D.El.Ed participated in various events.
All the students were very enthusiastic and the college playground was overflowing with excitement. Hon'ble Director of the college, Prof. Balwant Singh graced the event as chief guest.
Dr. Manpreet Kaur, Principal of the college welcomed the guest and introduced him to the attendees.
Dr. Sangeeta Sood explained the importance of sports. The event started with a Flag hoisting ceremony, students and teachers took an oath to participate with complete sportsmanship spirit.
Prof. Balwant Singh also encouraged the teachers to participate in sports events.
The students participated in events like March Past, track event (100-metre race), javelin throw, shot put etc.
Other than that, the students also exhibited excellent performance in fun games such as three-legged race, spoon race, sack race, tug of war etc. 
RESULTS
In the discus throw (Girls & Boys) Shrishti Sharma and Munish Thakur bagged the first position. Neha Sharma and Akash Bhushan secured 2nd position. Jinderpal Kaur and Shivang Arora secured 3rd position.
In the Long jump (Boys & Girls) Shivam Sethi and Jinderpal Kaur got the first position. Munish Thakur and Ashmita secured 2nd and Inderjeet Singh and Guneet won the 3rd position.
In 100 metres race (Girls) Ashmita, Mansi and Mamta Begum won 1st, 2nd and 3rd positions respectively. 100 metres race (Boys) was won by Shivam Sethi. Inderjeet Singh and Munish Thakur bagged 2nd, 3rd positions respectively.
In Javelin Throw (Boys and Girls) Akash Bhushan and Preeti Kapoor secured 1st position. Neeraj and Neha Sharma bagged 2nd position. Pritpal Singh Sujata Rani secured 3rd position.
In Shotput (Boys & Girls) Akash Bhushan and Sujata grabbed 1st position, Munish Thakur and Neha scored 2nd position and Pritpal Singh and Shrishti Jain got 3rd position.
Neha Sharma and Akash Bhushan were declared the best Athletes. The event ended with prize distribution, winners were awarded medals and certificates. Dr. Manpreet Kaur congratulated all the winners and appreciated the faculty for organizing the Sports Meet.