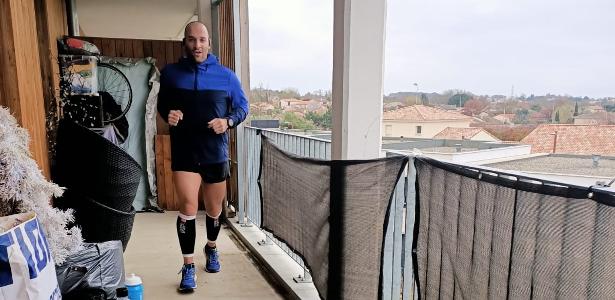 YDNews|"Marathon in the Balcony"| One-minute read
France: In the times where we the human beings are confined to their homes, a French fitness freak runner found his way. 32-year-old Elisha Nochomovitz from France ran a marathon away in his 7 meters long balcony.
Marathon in the balcony
The reports suggest that he ran 42.2 kilometers in a confined space of 7 meters of his balcony. He took it a physical and mental challenge and shared the images of this herculean task online while he was doing so. Living near the city of Toulouse, he did this task "to extend his support to the entire medical personnel who are doing an exceptional job," reported Associated Press.
Elisha wanted to prove that it was possible to stay fit at home also as the Coronavirus pandemic has gripped the world.
Elisha reportedly said, "It was about launching a bit of crazy challenge and bringing a bit of humor during this threatening situation."
Also read: Policeman wears "Coronavirus helmet" in Chennai to spread awareness amongst public | WATCH VIDEO
While running in his balcony, he was worried that his neighbors would complain about the pounding of his footsteps. He also got nauseous while running. It took him six hours and 48 minutes to complete this task.
However, the French government still allows the people to go out for individual sports if they fill a form and explain the reason. Due to this, many joggers are still out on the roads in France which is a matter of concern amid Coronavirus outbreak.
To this issue, Elisha said, "If everyone does the same thing, then the purpose of social distancing won't give results. The message that we need to stay confined at home will have had no impact."
He further spoke about his achievement and said, "In History, we learned about wars and nations but this is beyond everything. While I was running, I thought about the medics who are the real everyday heroes."