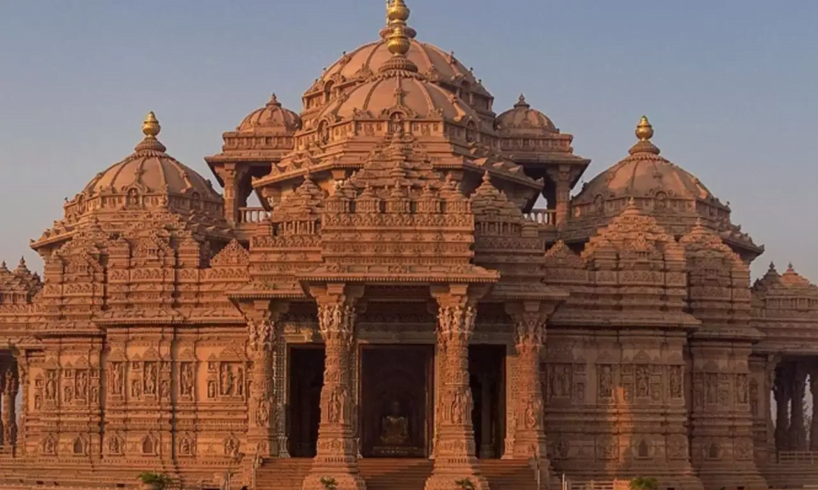 Akshardham Temple: It's hard not to visit Akshardham Temple if you have ever been to Delhi. I recently found out that one of my friends has got placed in Delhi and her rental place has an astounding view of Akshardham Temple from afar. Every day she videos calls me in the evening to show how beautiful Akshardham Temple can be in the evening time.
Akshardham Temple is one of the biggest temples in the world and one of the greatest attractions to tourists and even the local population. In Delhi, India, there is a well-known Hindu temple called Akshardham Temple, commonly referred to as Swaminarayan Akshardham. It is one of Bhagwan Swaminarayan's temples and one of the biggest and most beautiful in the entire globe. Moreover, the temple complex incorporates both contemporary design and workmanship with traditional Indian architectural aspects.
About Akshardham Temple
To elaborate, the word "Akshardham" refers to God's heavenly home. It is praised as an eternal haven of adoration, chastity, and tranquilly. A Mandir is an abode of God, a Hindu place of worship, and a spiritual and cultural campus devoted to devotion, education, and peace. Swaminarayan Akshardham in New Delhi is one such Mandir. Its art and architecture mirror the timeless Hindu spiritual themes, strong devotional traditions, and historic architecture.
The mandir is a modest homage to Bhagwan Swaminarayan (1781–1830), the Hindu gods and goddesses known as avatars, devas, and great sages. However, on November 6, 2005, the traditionally designed structure was officially opened with HH Pramukh Swami Maharaj's blessings and thanks to the tireless work of volunteers and professional craftspeople.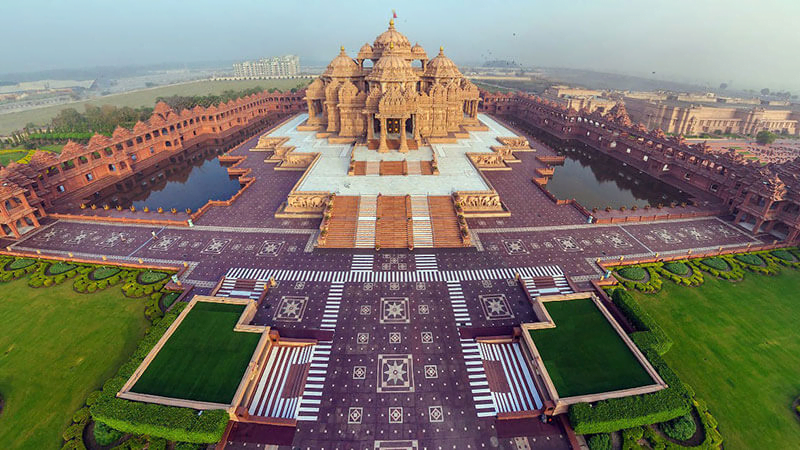 Also read: Top 10 places in Delhi where entry is free!
Why is Akshardham Temple in Delhi so famous and popular?
Spirituality permeates every aspect of Akshardham, including the Mandir, the Exhibitions, and even the Gardens. More than 200 murtis, which symbolise many of the spiritual giants spanning many centuries, may be seen at the Akshardham mandir. Each soul has the ability to be divine, which is Akshardham's central spiritual tenet. Serving one's family, country, neighbours, or all other living things on the planet can all help one progress towards divinity. Every prayer is an invitation to better oneself and draw nearer to God.
Here are some facts and features of Akshardham Temple.
Musical Fountain: To begin with, let's talk about the famous musical fountain. Yagnapurush Kund, a magnificent melodic fountain, is located at Akshardham Temple. It has a timed water show that is complemented by music and lighting.
Gardens: The temple complex is surrounded by exquisitely designed grounds with broad grass, colourful flowers, and a serene ambience. Further, these gardens provide a tranquil setting for guests to unwind and take in the wonders of nature.
Cultural Shows: Akshardham Temple is renowned for its enthralling cultural shows that highlight India's rich past. These performances feature Indian traditional arts, musicals, and dance displays.
Exhibitions: The temple complex has displays that reflect Bhagwan Swaminarayan's life and teachings as well as India's history, culture, and accomplishments.
Mandir Darshan: People may look around the artistically carved interiors of the temple and worship in the sanctum sanctorum. Additionally, the temple is home to several shrines honouring various deities.
Architecture: The 100-acre temple complex has beautiful architectural elements that draw inspiration from old Indian temples and scriptures. It features elaborate carvings, lovely sculptures, and elaborate domes.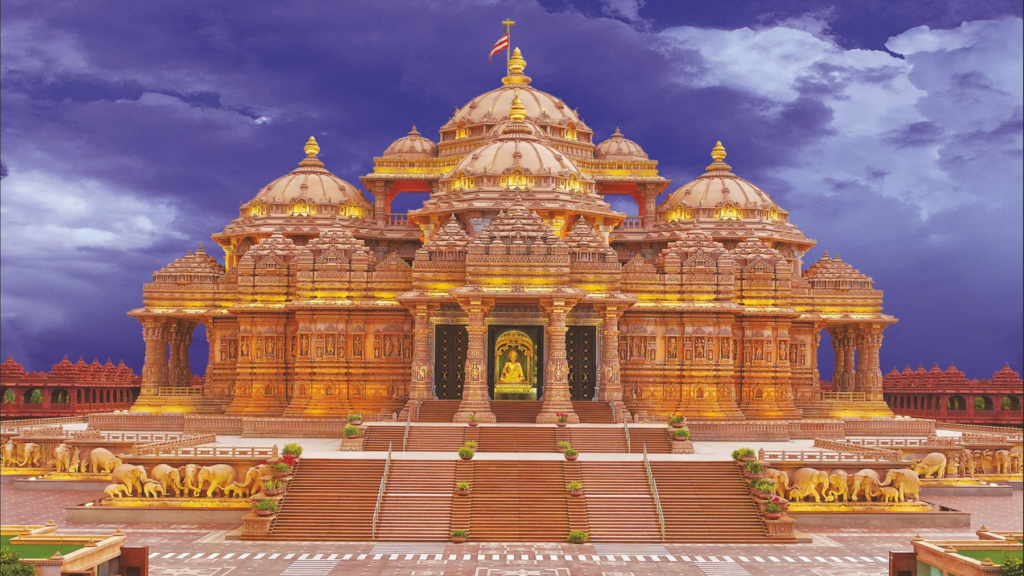 Above all, the spiritual group BAPS (Bochasanwasi Shri Akshar Purushottam Swaminarayan Sanstha) constructed the temple, which was dedicated on November 6, 2005.
Akshardham is a spiritually enlightening place to visit. Furthermore, each aspect has a spiritual meaning, whether it is in understanding the effectiveness of prayer, sensing the force of nonviolence, grasping the universality of Hinduism's founding ideals, or just appreciating the beauty of God's habitation on Earth.
How to reach?
From Akshardham Metro Station
Exit the station at the Akshardham Metro Station, turn right, walk 100 metres, turn right again, walk 250 metres, and enter Akshardham at Gate 1.
40 minutes from NEW DELHI RAILWAY STATION
Travel in the direction of the Ajmeri Gate Exit and the New Delhi Metro Station.
Use the Yellow Line to go to HUDA City Centre.
At the Rajiv Chowk Metro Station, get off.
Take the Blue Line to the city centre of Noida.
Arrive at Akshardham Metro Station to get off.
45 minutes from OLD DELHI RAILWAY STATION
Travel 350 metres in the direction of Chandni Chowk Metro Station.
Use the Yellow Line to go to HUDA City Centre.
At the Rajiv Chowk Metro Station, get off.
Take the Blue Line to the city centre of Noida.
Arrive at Akshardham Metro Station to get off.
Here are some breathtaking pictures of Akshardham Temple Delhi: