Auli – a beautiful and unexplored tiny hill station known for its skiing activities, is not less than an international Destination.
Auli is an unexplored and eventually less commercialized tiny hill station in the Chamoli District of Uttrakhand, India. The town is located at a height of 2800 meters above sea level and is known for its Skiing related activities. The town is also known as Auli Bhugyal, in the Garhwal area which means 'Medow'.
Auli is covered with lush green oak forests, surrounded by astonishing views of the Himalayan range. It is also called as the Jewel of the Country because of its Jaw-dropping beauty. Its Beuty even get more enhance in the snowfall and at that times one can get easily confused, whether they are in India or any beautiful European Village.
History of Auli
For hundreds of years, the semi-nomadic Tribes of the Bhotiyas, which were of the mangolion stock were said to be passed through the Auli. That's because they trade products with nearby Tibet. And this tribe were also known as Thatauli at that time.
It is also said that in the 8th century AD, The Great scholar of Hinduism, Adi Shankaracharya Build a temple (Details described below) very near Auli in the Joshimath, which still exists today and is open for the civilians.
Though there are many stories and places that are directly or indirectly connected to the history of Auli, and which tells about how'd the town looks like at that time. But one thing of Auli to note is that –
Despite being the place which is so well connected to the ancient time, Has emerged as one of the beautiful hill stations and big organizes of modern-day sports activity Sking!
Although there is so much to do in Auli But we have listed 4 Topmost places to visit in Auli :
1. Auli Artificial Lake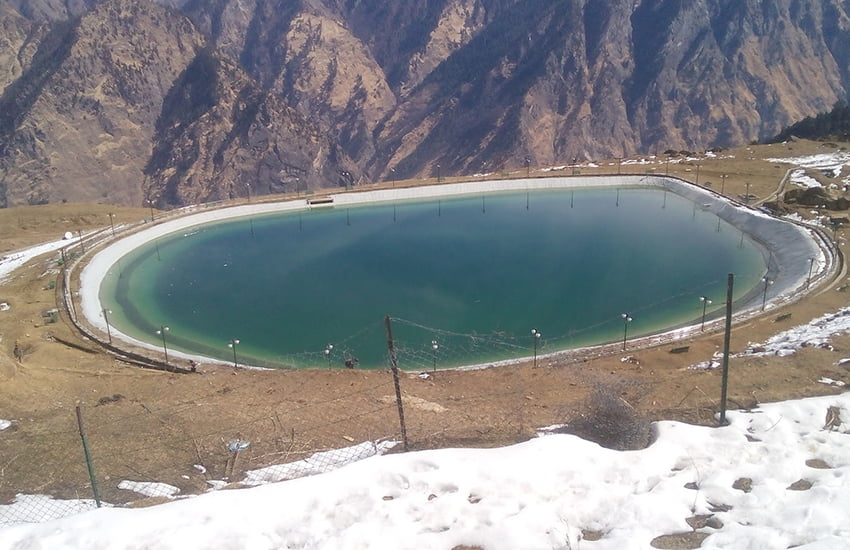 So, the first place to be visited in Auli should be the place for which this town is famously known. This Artificial Lake is Rated as the World's Highest Man-Made lake. This Lake is super clean and was developed with the purpose of creating artificial snow on the Ski slopes by the government. That's Because sometimes in certain seasons, average snowfall didn't match the requirement of Skiing and thus provides inconvenience for the skiers.
Hence, at these times the water in this lake becomes ice and can be used to cover up the less snowfall with the help of the Snow guns placed along the ski slopes for a smoother skiing experience.
How to visit: – The Lake is very close to a very famous hotel in Auli, The Clifftop Club. And 2Km from GMVN Tourist Resthouse.
Exploration Time : – 1Hr
Timings: – No timing Limits
Entry fee: – Free Entry
2. Auli Ropeway
Another Activity for which this destination is famous is Auli's Ropeway. The longest cable car in Asia covers a distance of 4 Km which start from Joshimath and ends in Auli. The Total journey takes the time around 25 Minutes. The ropeway is situated at 3010m above sea level and is second height after Gulmarg.
The journey gives an amazing scenic view of the Himalayan peaks covered with snow and lush greenery spread below the cabin. The ropeway moves at a speed of 3m per sec and can hold up to 25 people at one time.
And Lucky persons can also witness the Arial view of Ski competition if travelling at a right time.
How to visit: – The ropeway is situated in Joshimath.
Exploration Time: – 4.4 Kms from GMVN Tourist Rest House
Timings: – 8:00 Am – 5:00 Pm
Entry fee: – Rs 1000 Per Head (Round Trip).
3. Narsingh Temple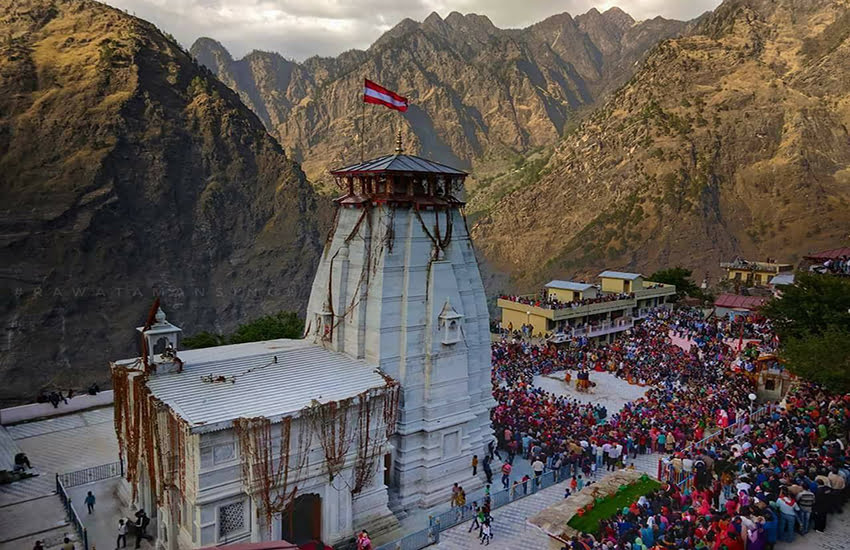 Narshing Temple is one of the sacred places of Hinduism, situated in Joshimath. Since the temple is a part of 'Sapt Badri", it is also known as Narsingh Badri Temple. Because it is the temple of Hindu God Narsima Avatar who was an Avatar of Lord Vishnu, which took birth in the form of Half-Human and half Lion.
However, This Temple was Set up by The gReat Adi Shankracharya (A Great Indian Scholar of Hinduism in the 8th Century.) Himself. So, It is must to visit this place when in this beautiful town..
How to visit: – The Temple is Situated in Joshimath and is 0.50 Km from Joshimath Bus Stand. However, The Joshimath itself is around 10 Km from Auli.
Exploration Time : – 1hr
Timings: – 6:00Am – 7:30Pm
Entry fee: – Fee Entry.
4. Chair Lift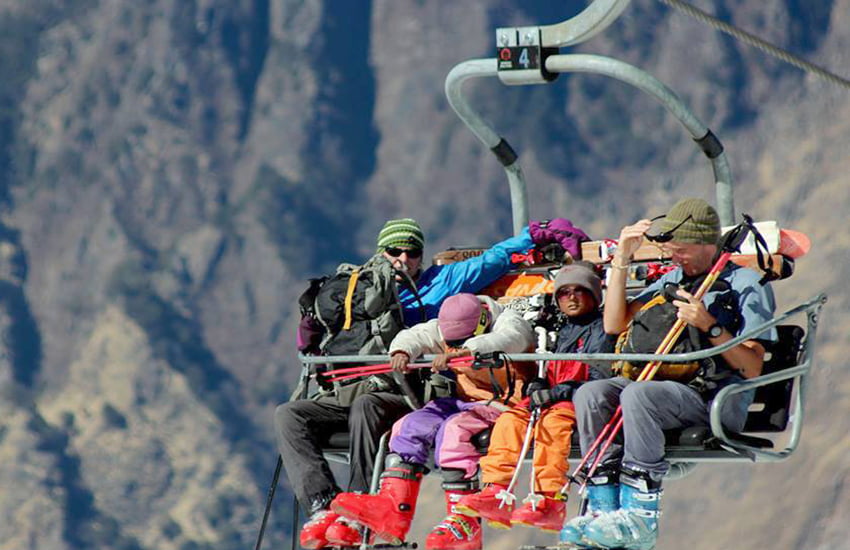 Rember the Ropeway which connects the Joshimath and Auli?
The Auli Chair Lift take you to the Auli Skiing slopes. It is not worth it if you'd not visited the ski slopes and tried skiing or just watch others skiing when in Auli. So, Auli's Chair lift is the best way to reach the skiing slopes and reach there and taking part in Skking activity and make life long memories.
How to visit: – It is Situated in GMVN Auli.
Exploration Time : – 2 hr
Timings: – Although There are no fixed timings for the chair lift. And it keeps operating most of the time. However, the operational hours can be varied upon the seasonal changes.
Entry fee: – Rs 500 Per Head.
When to visit Auli
Winters is the best season to visit AULI, The December – February period. In this period the hill station gets snowfall which covers it with snow and which further enhances its beauty.
Since, AULI is a holiday destination which consisted of activities which are winter favourable like skiing, ropeway, etc. One can indulge in the various tourist's activities and can visit a place in Auli and can get the most out of it.
How to reach Auli
By Air
The Jolly Grant Airport of Dehradun is the Nearest Airport to the Auli. This airport is well connected to all the major cities in Indian (like – Mumbai, Delhi, Chennai, etc) as well as international. And many High reputed Air companies like (Etihad, emirates' etc) are also available from this airport.
After exiting the airport, one can find various cabs and other public transport options to Auli.
By Train
Although Auli didn't have any of its railway stations 4 major railway stations of Haridwar, Kotwadar, Dehraadun and Rishikesh located very near to this town. After exiting this railway station, one can reach Joshimath by road with the help of buses, cabs or any other means of public transport. And after that taking the ROPEWAY( details described above)is the best way to reach Auli.
By Bus
The Town is connected with NH 58 with the rest of the country, and taking a road trip here is breathtaking as the journey is covered with beautiful scenes and mind-boggling views.
Although Bus services are available from Rishikesh, Haridwar, Dehradun, etc and other major cities to the Joshimath only. Because it is the last town before Auli with good connectivity. After reaching Joshimath one have to change its bus or can take the ROPEWAY to Auli.
Where to stay
Since, AULI's is not so commercialised yet lie other big hill stations (like Shimla, Manali, etc). There are not many staying options available here. However, this destination has good tourist traffic with comparatively lower staying options. Hence, the average accommodation charges are higher here. So, it is very much advised to book your staying place here ASAP.
Some of the best options available for staying in Auli and which are also very near the skiing resort is – GMVN Auli tourist rest house, clifftop club, Manik Resort.
So how'd you like our travel guide on Auli? Tell us in the comments below!
Also Read : Nainital – A City Known for its Eye Shaped lake