Alpenstock World School – A premium Boarding School in Punjab
The campus is spread across 135 acres of pollution-free lush green area that has a sports complex within 100 acres.
Montessori Teaching Methodology to ensure sound learning and knowledgeable experience.
Alpenstock World School: The Best Boarding School in Punjab
In a highly competitive era, having great educational background holds high importance when applying for jobs and going out in the corporate market. Since education is an essential component of human development, you must begin it from a young age which is why you must look for schools that offer valuable development programs providing students with the necessary knowledge and skills that will assist them to succeed in their careers and make meaningful contributions to the society in the later part of their lives.
It becomes highly important to choose a professional school that offers not only the best educational structure but also facilities that nurture the kids into being knowledgeable and good human beings. Today we are going to talk about one such school situated in Punjab that is not only one of the best educational institutes but also functions in a way that ensures the involvement of the students per the job market.
We are talking about Alpenstock World school, considered to be one of the best co-educational boarding schools in Punjab. This school is open for admission for the 2023-24 batch for grades I-VIII. With the ICSE curriculum, Alpenstock World School has educational expertise of 25 years and high-tech facilities that ensure the best learning for young students in their growing age.
Here are some of the prime features of Alpenstock World School:
Not only schools, but the society has over 25 years of experience in running colleges in India.
It is a complete residential school with an ICSE curriculum.
The campus is spread across 135 acres of pollution-free lush green area that has a sports complex within 100 acres.
French-spoken atmosphere gives students an opportunity to learn a new language and grow their personal skills.
Montessori Teaching Methodology to ensure sound learning and knowledgeable experience.
Also read: What's so fascinating about Smart home appliances?
What makes Aplenstock World School, the Best boarding school in Punjab?
The concept of boarding school is a bit scary for the students as well as the parents, however, Alpenstock manages to make it the best years for the students so that they can feel at 'home even though they are away from home'. Furthermore, every faculty member of ours is an educational from the top Indian and foreign institutions to ensure that students learn from the exceptional. Moreover, the school aims at making boarding safe and full of opportunities to develop fun and independence.
Curriculum and Development Programs at Alpenstock World School the Best Boarding School in Punjab
Furthermore, if we talk about studying and curriculum, then Alpenstock believes in laying down practical based learning that promotes ICSE curriculum, Inter-Cultural Exchange Programs, Career Guidance Programs, Personality Development And Holistic Development Programs, and Montessori Teaching Methodology among many other facilities for great nurturing.
Life at Alpenstock World School through pictures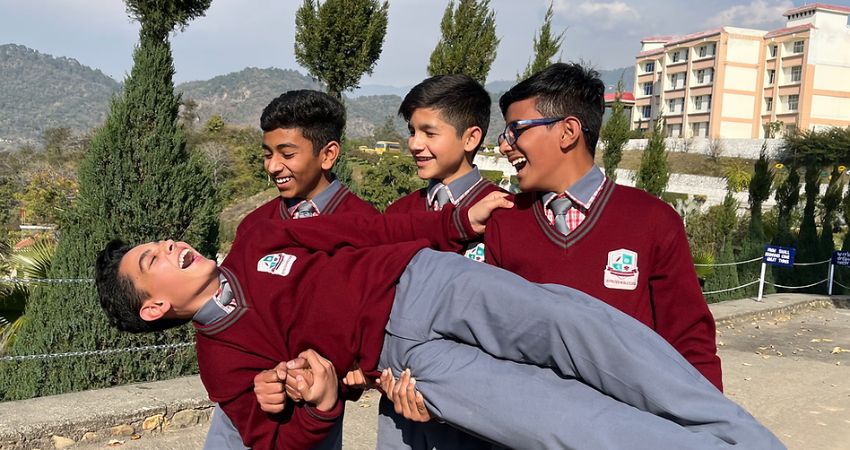 Sports and Games Activities at the Alpenstock World School
Beyond the curriculum offerings, the schools love to promote learning beyond a classroom which makes them provide the facilities of a complete residential school with a strong emphasis on sports activities and physical growth.
With a house system, Alpenstock has standard grounds for outdoor sports and a large indoor games area.
They offer activities such as a splash pool, swimming pool, mixed martial arts and taekwondo academy.
They believe in mass participation, exposing their students to a number of sports events at inter-school, state, national and international level. Every student is encouraged to join at least one school sports team.
Their Teachers are young and energetic with a good amount of expertise in sports and provide coaching for sports like football, basketball, throwball etc.
Adventure Nature Camp at Alpenstock World School's Adventure Sports Area
ADDRESS: Pathankot-Dalhousie Road, NH-154 A, Dunera, Teh. Dhar Kalan, Distt. Pathankot (Punjab) – 145022
Mobile No: +91 7347523658
Email Id: alpenstockworldschool@gmail.com