To honor the Olympians Neeraj Chopra and Vandana Kataria, Usha Breco is offering free ropeway rides.
The people with the name Neeraj and Vandana can enjoy free ropeway rides to Sidh Peeth Maa Chandi Devi.
Haridwar, Uttarakhand, India: To honor the "Golden Boy of India" Neeraj Chopra, and Vandana Kataria of the Indian Women's Hockey team, Usha Breco Ltd. Has taken a unique initiative.
The ropeway company in the home of Gods is offering free rides to ones with the name Neeraj and Vandana. The eligible candidates will have to show their Aadhar Card to avail free ropeway rides. However, the offer is valid from August 11 to August 22. All men and women whose names are Neeraj and Vandana will get an opportunity to visit Siddha Peeth Maa Chandi Devi through the ropeway for free.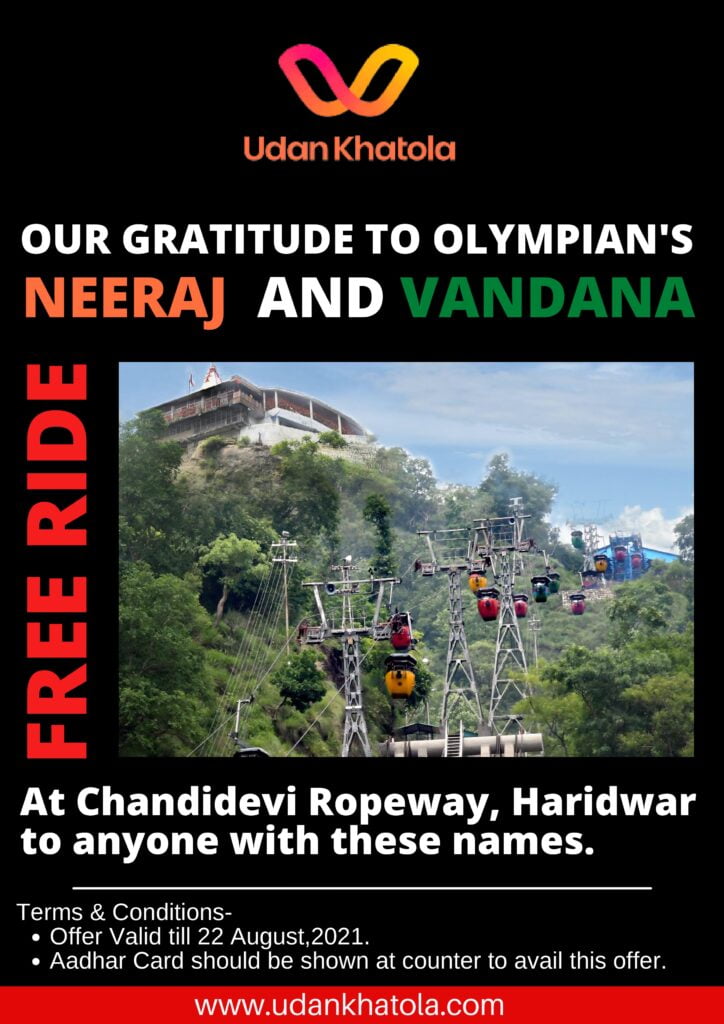 It is to be noted that Neeraj Chopra has become the first Indian to win an Olympic medal in any track and field event. He won a gold medal for India in the Javelin throw event in Tokyo 2020.
On the other hand, Vandana Kataria has been a star performer in the Indian national women's hockey team. They reached the semi-finals in Tokyo Olympics defeating world number 2 Australia.
Also read- Badrinath – 4th Dham among Char Dham Yatra
Usha Breco Limited (UBL) is a pioneer in the field of transportation of passengers and materials through ropeways. Mr. Basant Kumar Jhawar established the company in the year 1969. He was one of the first to start the concept of Build-Own- Transfer model in India. He commenced the first passenger ropeway at Maa Mansadevi, Haridwar.