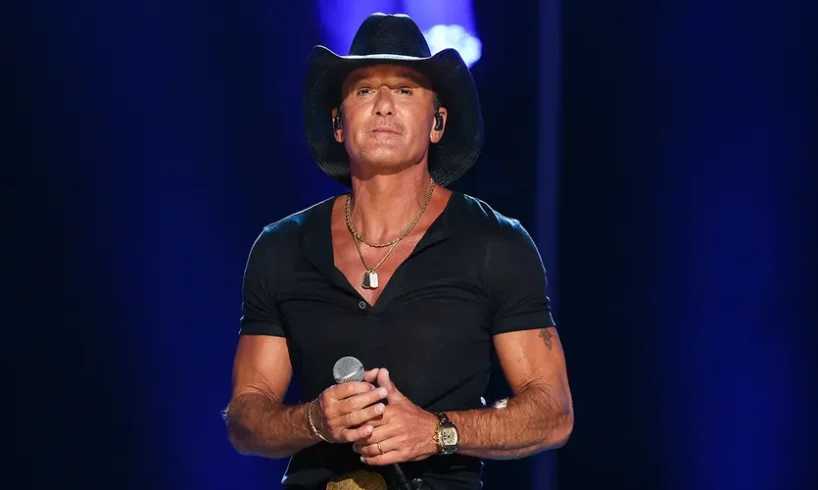 Country Superstar Delights Fans with New and Classic Hits Amidst Intimate Crowd
August 28, 2023(America): Tim McGraw, the renowned country music sensation, once again showcased his musical prowess as he graced the stage for Good Morning America's 2023 Summer Concert Series on August 25. The singer, known for hits like "Live Like You Were Dying" and "Something Like That," treated the audience to a spirited performance, previewing songs from his upcoming album and revisiting an old fan-favorite.
Tim McGraw sang two tracks from his latest album, " Standing Room Only"
McGraw, whose coordinated red carpet appearance with his family made headlines earlier this week, captivated the audience despite unfavorable weather conditions. The artist's dedication and enthusiasm shone through as he sang two tracks from his latest album, Standing Room Only: the titular "Standing Room Only" and "Hold On to It." The crowd's enthusiastic response underscored the continued adoration fans hold for the country icon.
Adding to the nostalgia of the performance, McGraw also took the opportunity to revisit his 1999 hit, "Something Like That." The crowd's palpable excitement was evident as the opening chords resonated through the outdoor setting. The singer's ability to connect with his audience, whether in an arena or an intimate outdoor setting, further solidified his status as a performer of exceptional caliber.
Notably, Tim McGraw recently shared his candid feelings about performing in smaller concert settings, confessing to feeling "intimidated" by the close proximity of the audience. "Because it's more intimate, you can see everybody, so it's not like you're yelling to the back rafters," he explained. Despite his reservations, his performance on Good Morning America showcased his unwavering commitment to delivering a powerful show, regardless of the crowd's size.
The concert, which featured a crowd significantly smaller than his typical arena audiences, did not deter McGraw from delivering a high-energy performance. The artist's passion and stage presence remained as captivating as ever, leaving no doubt about his ability to command the attention of any audience, regardless of its scale.
Announcement of his upcoming tour, "Standing Room Only,"
Fans were thrilled to learn that Tim McGraw's musical journey will continue with the announcement of his upcoming tour, "Standing Room Only," scheduled to kick off next March. The tour promises to bring his signature energy to crowd sizes he's most comfortable with, alongside talented artist Carly Pearce, who will be supporting him on the road.
Tim McGraw's recent appearance on the Summer Concert Series served as a reminder of his enduring influence and his commitment to delivering unforgettable performances. As anticipation builds for his upcoming tour, fans can rest assured that they will be treated to an exceptional musical experience from one of country music's most beloved figures.
Also Read: Meet UK PM Rishi Sunak's maternal relatives who live in Ludhiana