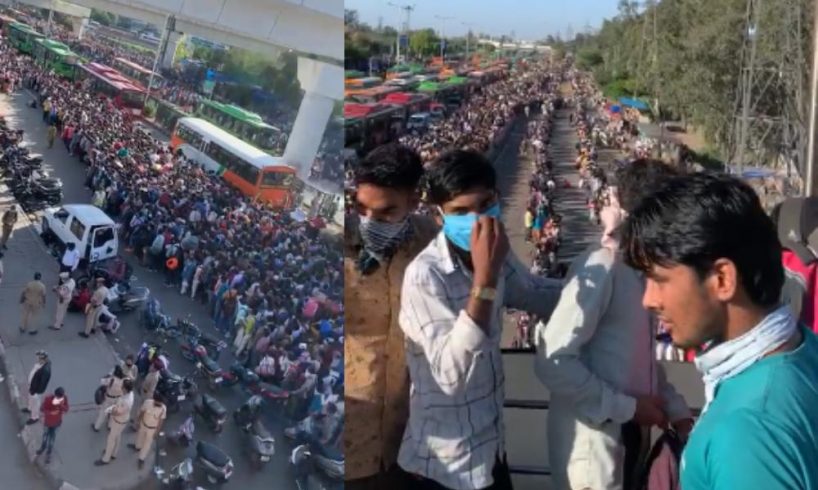 YDNews| 08:20pm | One-minute read
Delhi: Thousands of migrants emerged to Anand Vihar Interstate Bus Terminus in Delhi on Saturday afternoon in order to head back to their villages and towns. Despite the government's repetitive request to stay wherever they are, the citizens decided to flock into the open spaces. These people were migrants from several districts of UP.
Various migrants were from states like Bihar and Madhya Pradesh as well. The people were seen carrying their kids and huge bags in a hope to catch a bus to return to their distant homes.
The national lockdown has temporarily snatched their employment which is why they are desperate to go to return to their native places. A video went viral on the Internet which shows clearly how densely Anand Vihar Terminus is flocked with workers and laborers.
Also read: Arvind Kejriwal, Nitish Kumar on exodus of workers and laborers stuck in Delhi, urges them to stay wherever they are
Have a look at the video:
A man belonging to Mayayun Badaun district working as a helper in a transport company quoted about the condition and said that they have exhausted all their savings. Hence, living in Delhi has become difficult for them so, they have decided to go back to their villages. Ajay was accompanied by his 8 friends.
Not only this but there were thousands to stories of the people who ran out of money and are struggling to go back to their families.
The government, various celebrities, and others have informed the country repeatedly about the hazardous effect of not following the lockdown rules but unfortunately, the warnings are ignored by these people.