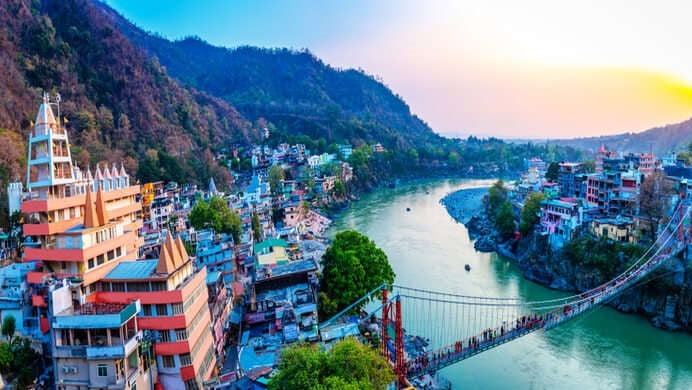 Rishikesh Is one of the most sacred places in Hinduism and of course in Uttarakhand, India.
It attracts tourists from all over the world to learn and practice Yoga as well as for their spiritual and mental growth.
Rishikesh, also known as 'Yoga Capital of the World' and the Gateway to the Garhwal Himalayas' is a city in the foothills of the Himalayas located in the district of Dehradun of the Uttrakhand State. It is the birthplace of yoga and is regarded as one of the holiest places in Hinduism. Rishikesh is about 45km Southeast of the capital city Dehradun and about 20 km north of Haridwar city.
The moment you reach Rishikesh, the peaceful yet spiritual environment all around you will soak you in I and you will be immediately fell in love with it. Rishikesh is situated on the banks of the Mother Ganga river. It attracts tourists from all over the world to learn and practice Yoga as well as for their spiritual and mental growth. Rishikesh is also the starting point of the CHARDHAM yatra (which includes the place – Badrinath, Kedarnath, Yamunotri and Gangotri).
Rishikesh is the full-fledged modern vacation destination despite being the yogic and spiritual Guru of the world.
Apart from spirituality, yoga and meditation, Rishikesh now is also a hub for various adventures activities like – Trekking, River rafting, bungee jumping, camping etc.
Since Rishikesh Is one of the most sacred places in Hinduism and of course in India, it is completely free from alcohol and non-vegetarian food. In addition, The town is settled on both sides of the Ganga river with one side are various places and on the other side are various Ashrams. The city is also free from traffic because both sides are connected via a bridge (known as Ram Jhulla). So, you can cover the entire city on your feet and can witness everything in the city completely. The people here are extremely good and polite and will help you (if needed) with any sort of problem.
How Rishikesh got its name
The name of the city was referred to by the name Hrishikesh, which was one of the forms of Lord Vishnu who appeared to a famous Sant Raibhya Rishi, as a result of his Tapasya. Later the name changed to Rishikesh.
History of Rishikesh
There are various stories and believes linked to Rishikesh in the Hindu scriptures, which all justifies the name and existence of the Rishikesh city.
– As mentioned earlier Lord Vishnu came in the form of Hrishikesh as the result of a famous saint's penance (Tapasya).
– Another belief is that lord ram did strong penance (Tapasya) for killing Raavan. And Lord Ram along with his brother (Lakshman) and his wife (Sita) crossed the Ganga river via a bridge which was made of rope.
– According to legends, Lord Agni (god of fire) made a strong penance (Tapasya) for lord shiva.
---
Besides, all the believes one important thing to notice is that:
Rishikesh has emerged as an ancient India. where when many students came from abroad to study and to gain knowledge from our rishis about various subjects.

today's Rishikesh
Although there is so much to explore in Rishikesh But we have listed top things for you:
1. Ganga Aarti at Triveni Ghat.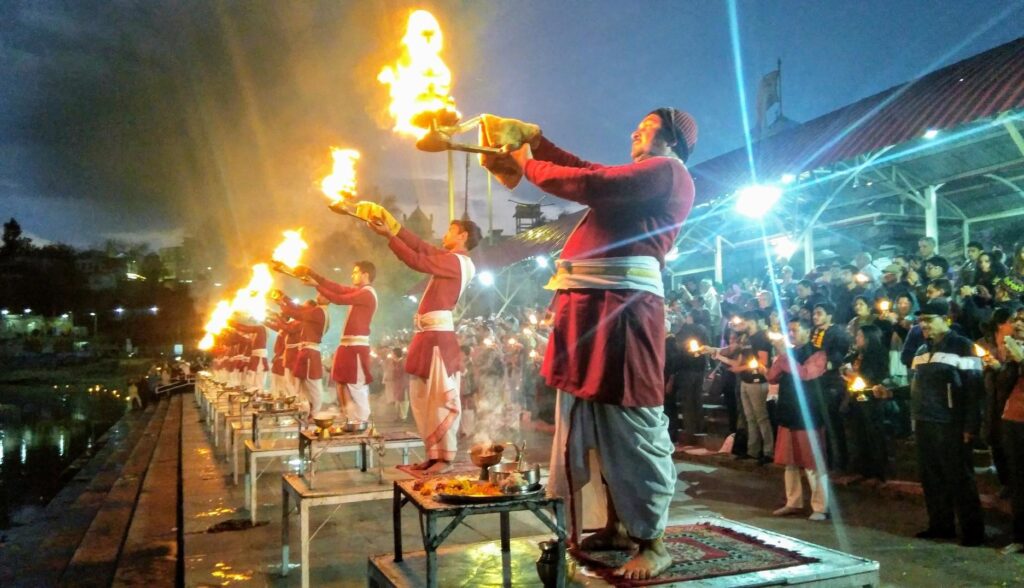 Your journey should always be started by offering prayers to the lord and when you are in a spiritual city, visiting a sacred place is the very first thing you should do. The Triveni ghat is the biggest and most famous ghat in Rishikesh. Here people offer prayers to the holy Ganga and take a dip in it to clean their sins.
Afterwards, in the evening, The Ganga Aarti is held here when the holy Ganga is being worshipped. Hundreds and thousands of tourists, as well as the locals, attend it every day. After the aarti is over, hundreds of lamps are set afloat on the leaf's boats, which As a result lights up the whole ghat.
Witnessing this is truly a sight to behold, which will fill you up with peace and spirituality.
Location: Triveni Ghat, Rishikesh
Exploration Time: 2hr
Timings: No time limit to visit the ghat, but the Aarti starts in the evening.
Entry fee: No entry fee
2. Lakshman Jhulla
When last did you enjoyed the pollution-free soft breeze of wind, which immediately cleanse you and make you feel more refreshing? A long time ago or never been?
Since you're in Rishikesh, the Lakshman jhulla is the place to be. Enjoy the stunning view of the whole Rishikesh city with river Ganga flowing below you and of course witnessing the soft breeze of the wind.
According to Ramayana, Lord ram with his wife and younger brother crossed the river Ganges using a bridge made of rope. However, Later a bridge made of iron and steel using the modern
architecture with a total length of 450 feet above the river Ganges in the year 1929, which today is called Lakshman Jhulla.
Location: On the way to the Triyambakeshwar temple
Exploration Time: 1hr
Timings: No Time Limitation
Entry fee: No entry fee
3. NeerGarh Waterfall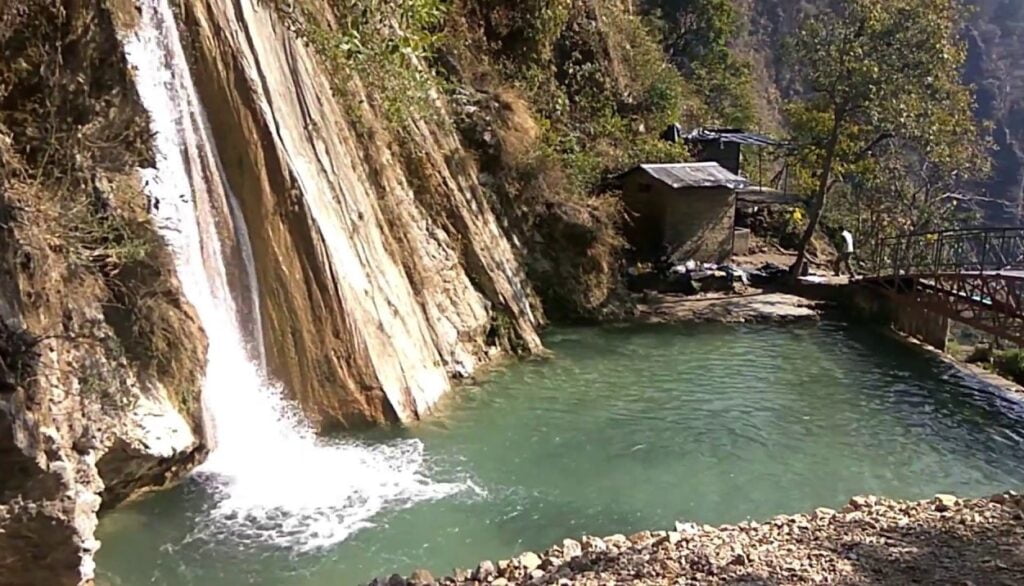 Neer gaddu or Neer Garh waterfall is a 100% natural waterfall in Rishikesh. The water tumbles down through the rocky cliffs, making viewers stunned because of its sheer beauty. What makes it more exciting is a short Yet beautiful trek to reach it.
The waterfall's water gets stored in 2 pools one big and one small. So, if you're visiting during summer then you can take a dip in it and witness its beauty.
Location: The waterfall is 5km from the Laxman jhulla. But, one has to trek 1Km for pool one and 3km for pool two.
Exploration Time : 2 – 2.5 hrs
Timings: 8:00AM to 6:00 PM everyday
Entry fee: Rs 30 per head.
4. Bunjee Jumping
Bunjee jumping is an adventurous yet fun activity you can do in Rishikesh.
In this activity, you have to jump from a high place like abridge, a cliff, etc with a thick elastic tied to your feet. However, the fun begins when the rope gets fully stretch (because of the persons fall) and get recoil, making the person bounce back.
This fun activity is very rarely available in India and it is introduced a little time ago in Rishikesh. So, If you love adventure and love to do unique things, then this activity should be of your top things.
Tip: This activity demands a little bit of physical fitness. So, if you have any doubt about your physique then please don't indulge in this activity.
Bunjee Jumping Requirements:
Age – Minimum of 12 yrs
Weight – Min 35Kg and Max 120 Kg
How to visit: Mohanchatti (25 km from Rishikesh)
Exploration Time: 1 hrs (depends on the number of people)
Timings: 9:30 AM to 3:30 PM
Entry fee: Between 2000 to 4000 Rs.
When to visit Rishikesh
| | | |
| --- | --- | --- |
| Travel Seasons | Min/Max Temperature | Season |
| October to February | 8 to 34°C | Winter – Chilly |
| March to May | 14 to 39°C | Summer – Hot and humid |
| June to September | 24 to 35°C | Monsoon – High Rainfal |
The best time to visit forms February to May (summer season), because the sun on your top while soft but chilling breezes make an amazing combination to explore everything including the adventurous activities.
How to reach Rishikesh
By Air
The Jolly Grant Airport of Dehradun is the nearest airport to Rishikesh which is approximately at a distance of 35 km. Various daily flights connect this airport with all the major cities in Indian including Delhi as well as international destinations.
Various taxi service and bus service are available right in front of the airport.
By Train
The nearest Railway station to Rishikesh is the Haridwar railway station. It is approximately 25 km far away. It is linked to various major cities in India like – Delhi, Mumbai, Kolkata, etc.
Various taxi service and bus service are available just after exiting the railway station.
By Bus
As Rishikesh is a popular travel destination, it is connected with a good network of buses connecting it with major places inside the Uttarakhand state like – Dehradun, Haridwar, etc as well as with outside the state, like – Delhi, etc.
By car
Rishikesh is connected to other cities via National Highway 58, Although the road conditions are pretty good a small stretch of hilly train can be rugged. But overall road condition is good. A Delhi to Rishikesh journey would take about 6 – 7 hours.
Where to stay
Rishikesh is a well-developed tourist destination that attracts tourists from all over the world. Hence, there are various option to choose from for staying. From Luxurious hotels to budget-friendly PGs to Ashrams, the city has it all. But, it depends on you about which location you prefer to stay like – near the river, or to the highest hotel tower in the city.
So how'd you like our travel guide on TOPIC? Tell us in the comments below!
Also Read : Lansdowne – A majestic journey in Hills of Uttarakhand, Travel Guide 2021