YD News | Three-minute read | KGF Chapter 2
It appears that the 'K.G.F: Chapter 2' craze isn't going away anytime soon, as the film continues to break record after record. While the Hindi dubbed version of the film surpassed the box office collections of 'Baahubali-The Conclusion' ((Hindi), 'Sanju', and 'Tiger Zinda Hai' in the first three days (141.50 cr.), the original version also made history with a record opening on Day 1. In that vein, the latest reports indicate that 'KGF: Chapter 2' (all versions) has crossed the 500 crore mark at the worldwide box office in just four days.
The film's total earnings across all language versions have now reached a staggering 551.83 crore. Furthermore, according to trade analysts, this gross collection places the film as the world's second-highest-grossing film over the recently concluded weekend.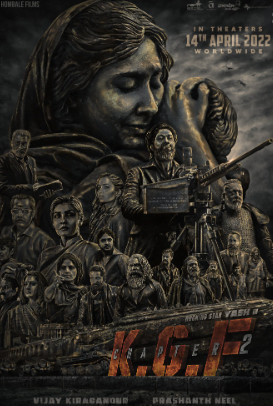 Star Cast of KGF Chapter 2
Yash as Raja Krishnappa Bairya / Rocky
Sanjay Dutt as Adheera
Raveena Tandon as Ramika Sen
Srinidhi Shetty as Reena Desai
Anant Nag as Anand Ingalagi
Ramachandra Raju as Garuda
Achyuth Kumar as Guru Pandian
Lakki Lakshman as Rajendra Desai
Vinay Bidappa as Virat
Ayyappa P. Sharma as Vanaram
Dinesh Mangalore as Shetty
Prakash Raj as Vijayendra
Archana Jois as Rocky's mother
Malvika Avinash as Deepa Hegde; journalist
Ramesh Rao as Raghavan; CBI officer
Govinda Gowda as Peon
Eshwari Rao as Appaji Ambarisha Darbha
Vashishta Simha as Kamal
Harish Rai as Khasim
Mohan Juneja as Nagaraju
Srinivasa Murthy as Narayan
Balakrishn as Inayat Khalil
KGF Chapter 2 Storyline
The KGF films, written and directed by Prashanth Neel, a superstar in his own right, have captured the entire nation's attention and reinvented the time-honored story of an underdog triumphing overall odds. But when the underdog in question is the seemingly invincible Rocky Bhai (Yash), every aspect of the masala template is turned up to astronomical levels.
The second section picks up right where the first one left off. The "pillars" of Narachi are now being forced to accept Rocky as their new boss. Of course, this causes widespread resentment, and it is clear that betrayals will befall Rocky left, right, and center.
Rocky's name frightens his opponents in the blood-soaked Kolar Gold Fields. While his allies admire him, the government regards him as a threat to law and order. Rocky must contend with threats from all sides in order to maintain unrivalled dominance.
 Twitter Updates of KGF Chapter 2
Film trade analyst Ramesh Bala tweeted about the film's success on Monday, stating that Comscore's list of Global Top 10 Movies for the April 15th to 17th Weekend included KGF 2 at the second spot. Comscore is an American media measurement and analytics company that provides market data and analytics.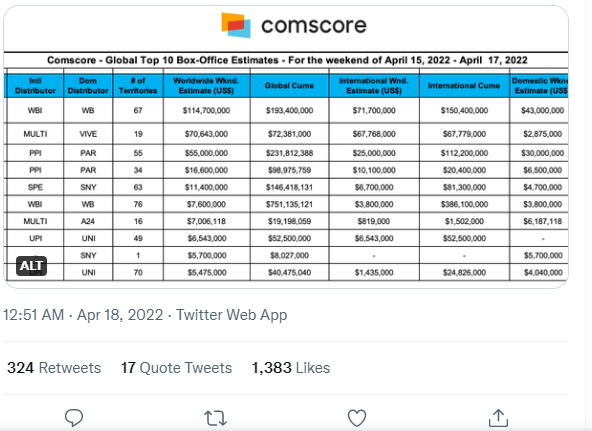 Fellow trade analyst Manobala Vijayabalan provided a more detailed analysis of KGF 2's global earnings, giving a day-by-day breakdown of the film's global gross.
In an interview with PTI, Prashanth said of the film's success, "When we started with the film, we never thought it would be this (big) and that we would be here today." We didn't start by attempting to make it a pan-Indian film, or even in two parts. We began as a Kannada film and eventually decided to split it into two parts and take it outside. The producer and Yash should be credited. The idea was for me to connect with people through the mother-son story."