Joginder Kumar group filed nomination papers for all eight postes under leadership of D. S. Chawala to the presiding officer Rajan Gupta.
Ludhiana(Punjab)August 26, 2023: In a move that underscores its formidable presence and widespread support, the Joginder Kumar Group has submitted nomination papers for all eight key positions within the organisation. The leadership, spearheaded by D. S. Chawla, has garnered robust backing from both the MSME sector and prominent industries, bolstering its candidacies. The group's nominee list for each role is included herewith.
During the official announcement, D. S. Chawla, a contestant for the presidency, conveyed his profound gratitude for the overwhelming endorsement his group has received. He emphasized, "The heartening response to our group invigorates our spirit. We pledge an unwavering commitment to the well-being of the Cycle trade's members, vowing to not only meet but surpass their hopes and aspirations."
In response to recent speculations, Chawla swiftly dismissed any rumors of compromise, attributing them to mere ploys aimed at bewildering the esteemed members.
D. S. Chawla's Leadership Tenure: Achievements and Reforms
Reflecting on the accomplishments under D. S. Chawla's astute leadership during the past tenure, the Joginder Kumar Group highlighted a series of notable achievements that have positively impacted the industry:
Recovery of Pending Payments: Notably, the group facilitated the recovery of long-standing dues from members across India. A remarkable 490 registered notices were issued to deliberate defaulters, ultimately leading to the commendable retrieval of Rs. 2.25 Crores.
Resolution of Mix Land Use Issue: After two years of persistent efforts, the group succeeded in persuading the Punjab Government to extend and accept mixed land use regulations. This commitment assures that industries in areas like New Janta Nagar, Shimlapuri, and New Shimlapuri will not be relocated, working towards their official designation as industrial zones.
Advocacy for Bicycle Reflector Regulations: Anticipating the enforcement of bicycle reflector regulations on January 1, 2023, D. S. Chawla proactively engaged with the Industry Minister of the Government of India. This advocacy resulted in a substantial extension of the enforcement deadline.

Reduced Registration Fees: The group played a pivotal role in slashing the registration fees for Micro Industries, from around Rs. 60,000/- to a mere Rs. 10,000/-. Smaller units also saw their annual fees reduced to Rs. 20,000/-.

Swift Conflict Resolution: The tenure was marked by the group's commitment to promptly and ethically addressing the day-to-day challenges encountered by members, ensuring that solutions were delivered without unnecessary delays.
Looking ahead, the cohesive team led by D. S. Chawla is poised to usher the Bicycle Industry towards an even more prosperous future, solidifying its status as a driving force in the sector.
List of Joginder Kumar Group Candidates
President: D. S. Chawla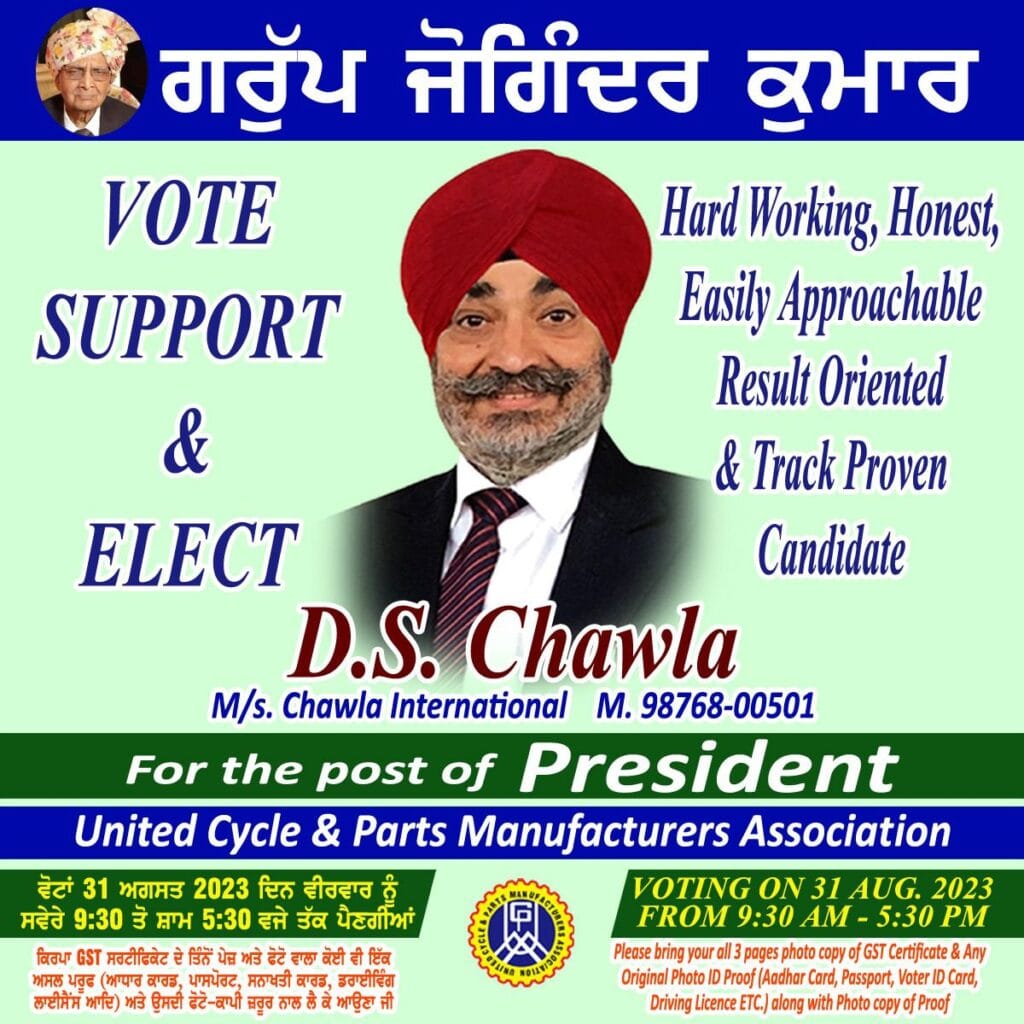 Senior Vice President: H. L. Kharbanda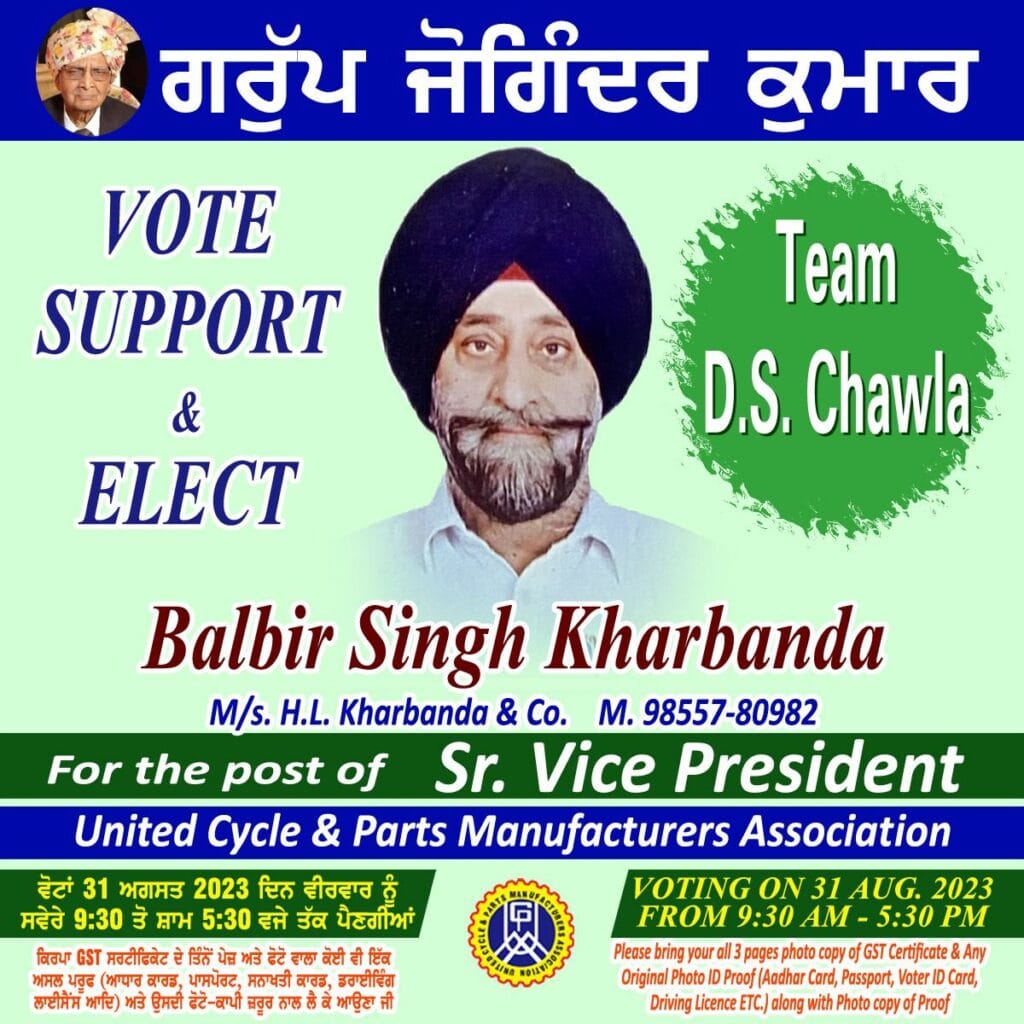 Vice President: Jaswinder Singh Bamrah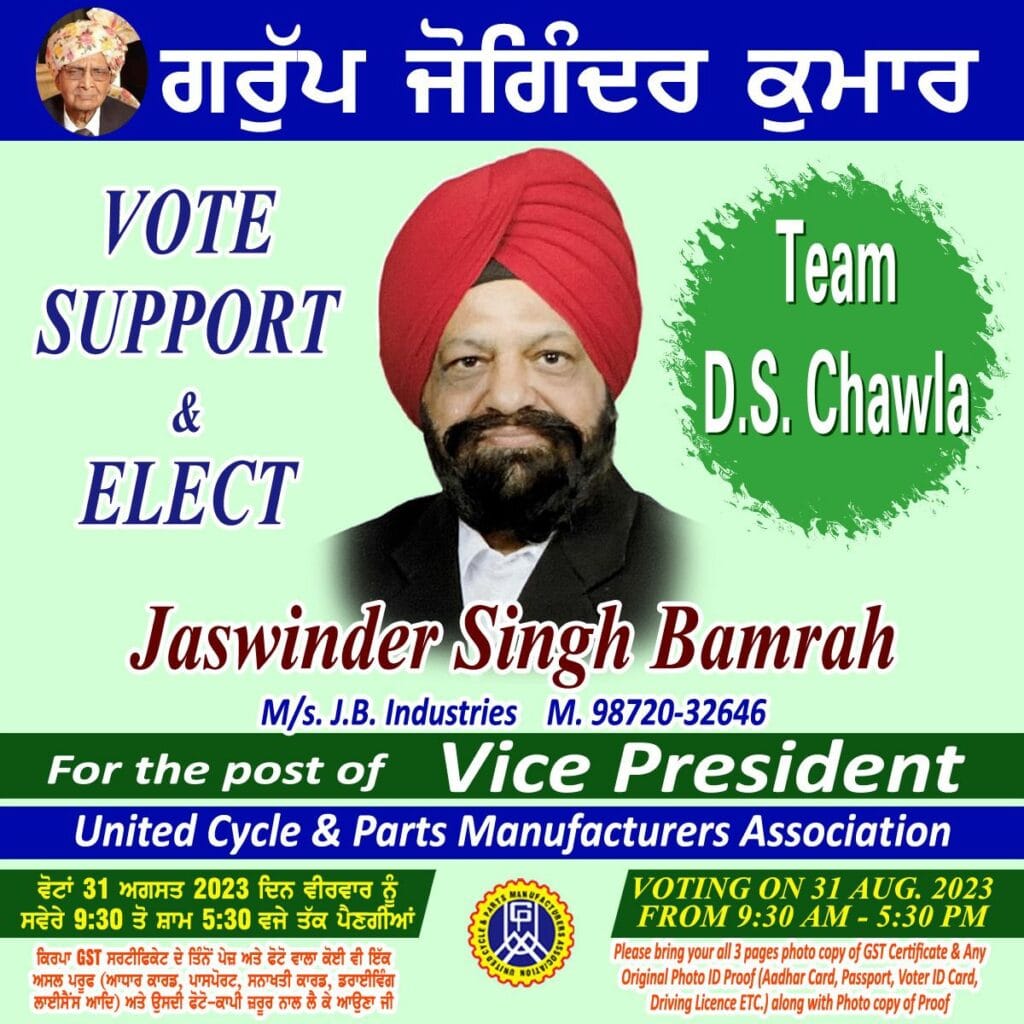 General Secretary: Bharat Bhushan Bharti
Secretary: Varun Aggarwal
Joint Secretary: Jatinder Kumar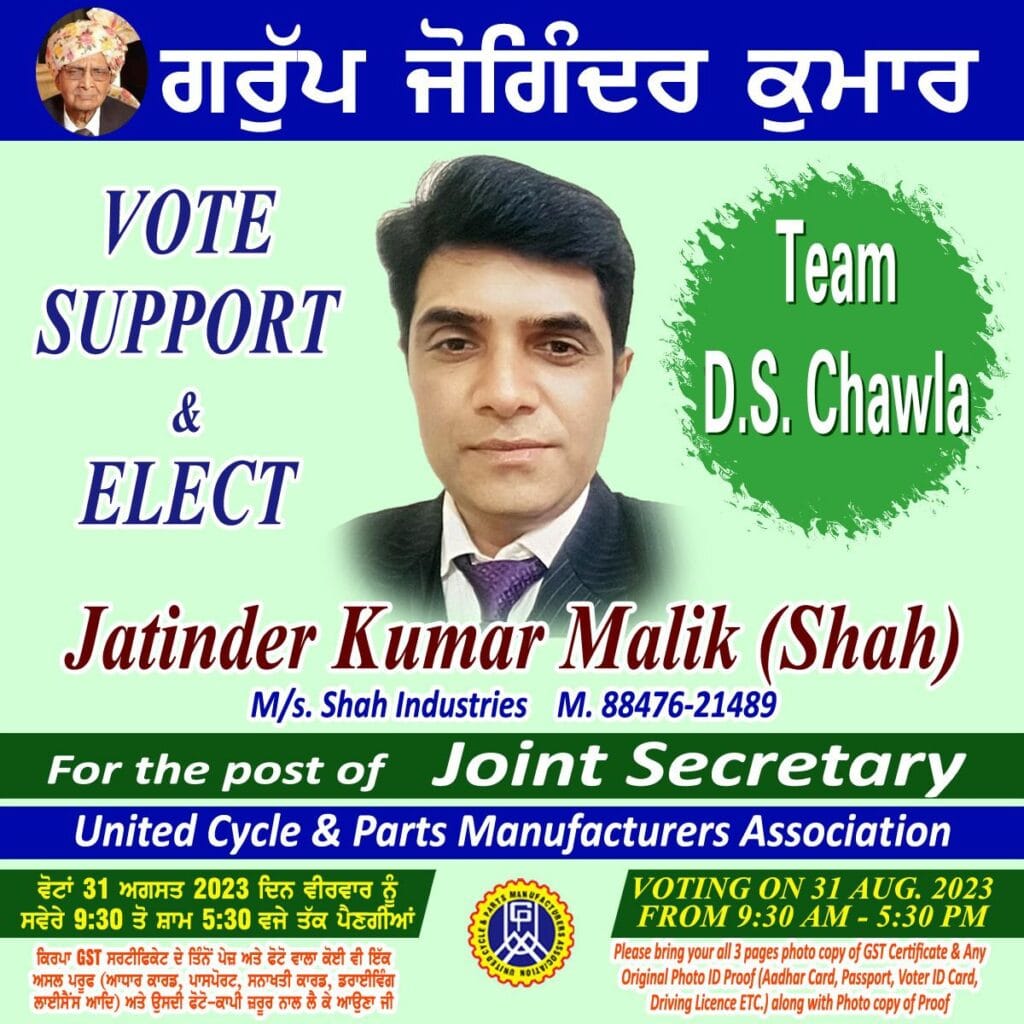 Propaganda Secretary: Sunil Goel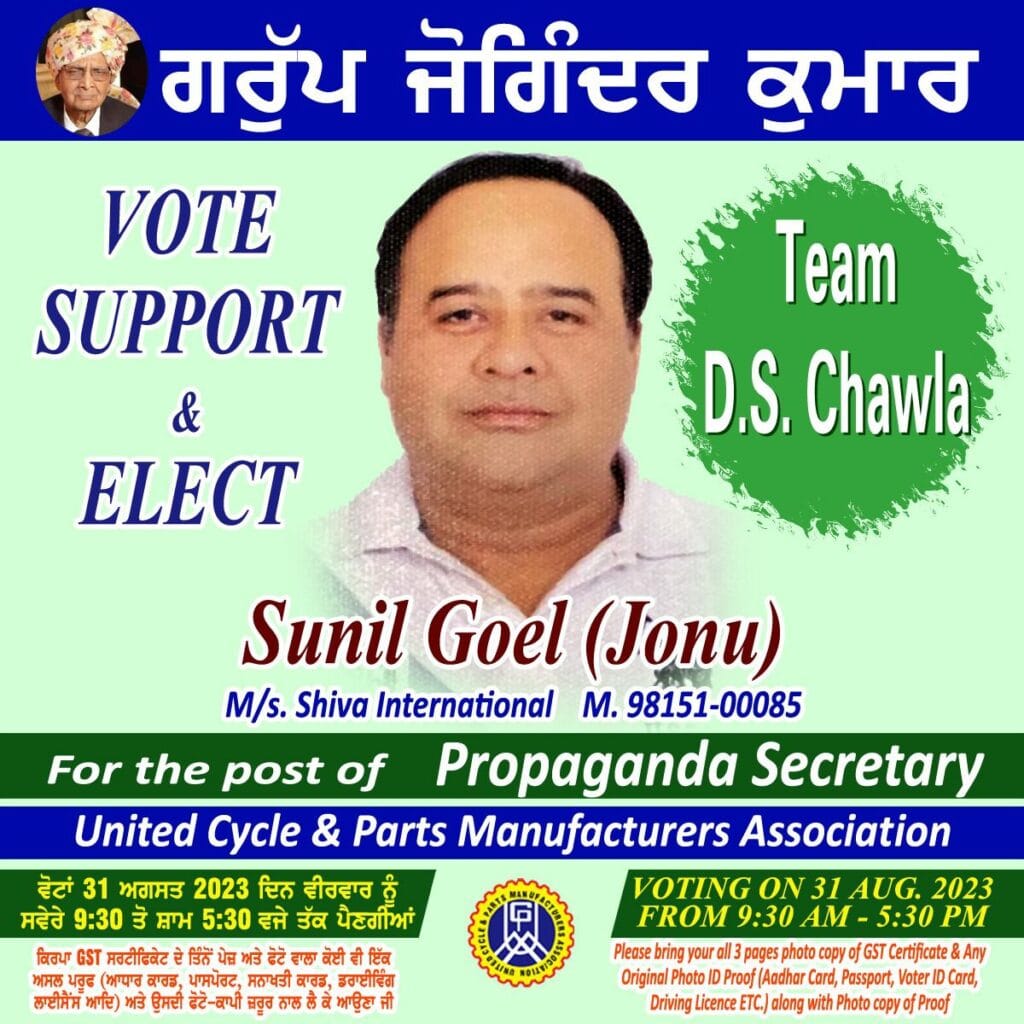 Finance Secretary: Achhru Ram Gupta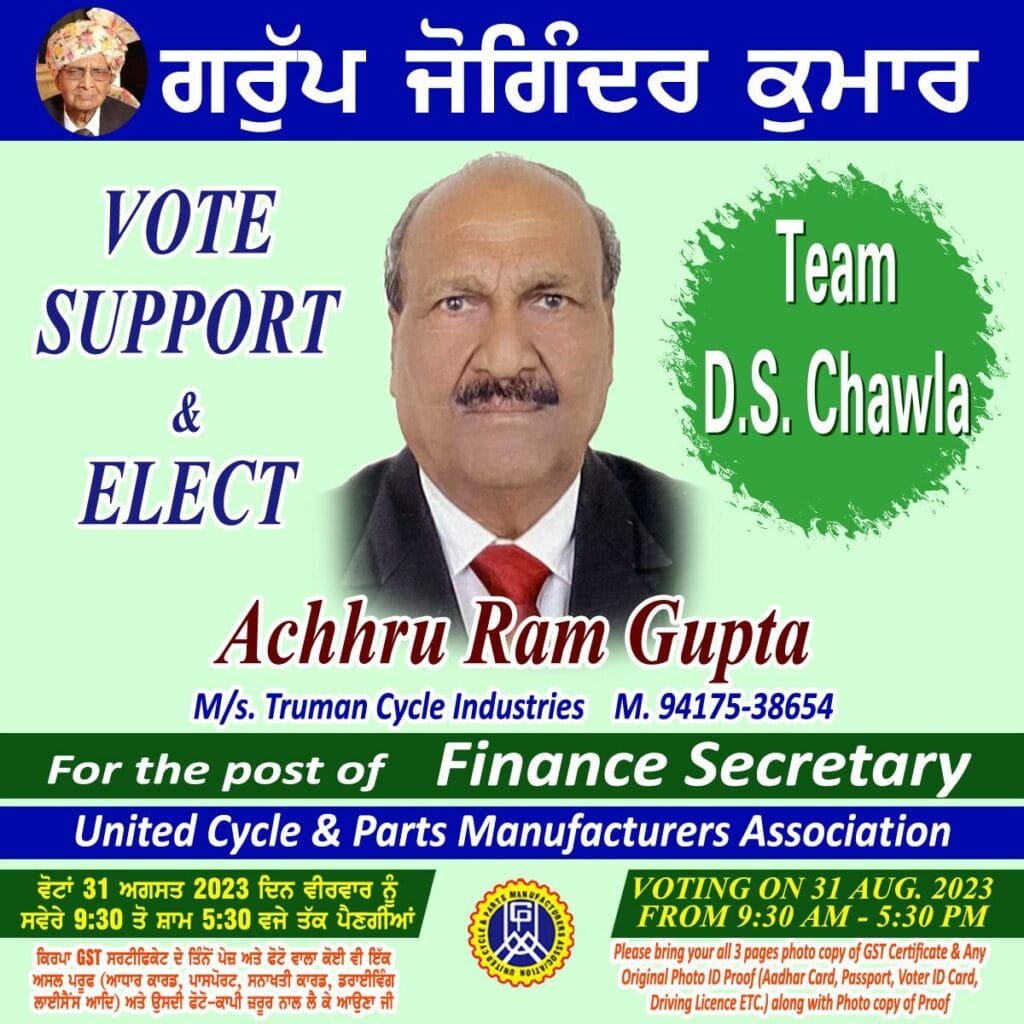 Also read: CII Ludhiana Zone Organises Interactive Workshop On Zero Defect Zero Effect