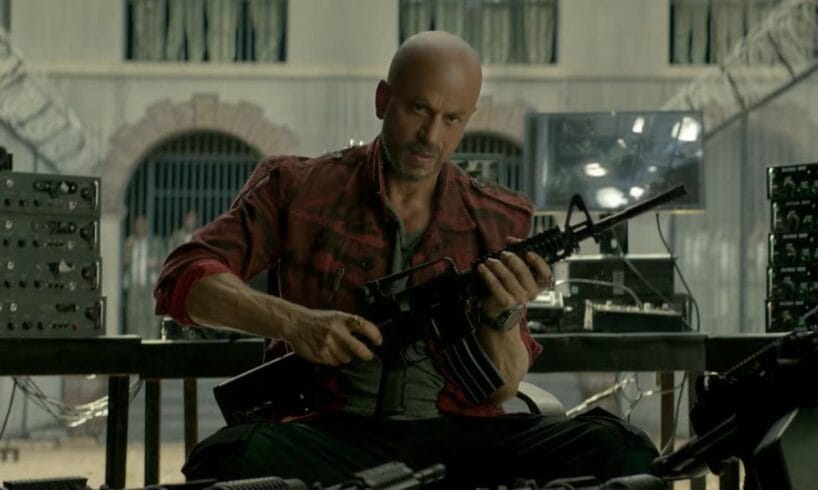 Bollywood's timeless superstar Shah Rukh Khan has given birth to "Jawan"
"Jawan" seamlessly marries the charisma of its leading man with thought-provoking themes
A dynamic collaboration between a young South Indian director boasting an impeccable track record and Bollywood's timeless superstar Shah Rukh Khan has given birth to "Jawan," a Hindi blockbuster that ranks among the best in recent memory. Released nationwide with Tamil and Telugu versions, "Jawan" seamlessly marries the charisma of its leading man with thought-provoking themes while never losing sight of its primary mission: delivering unadulterated entertainment.
Replete with all the elements expected in a high-octane action film, "Jawan" takes on a meta quality where a superstar connects directly with his fanbase while addressing pressing societal issues. In this regard, it is reminiscent of the 2017 Vijay starrer "Mersal," directed by Atlee, who makes his Hindi film debut with "Jawan."
Jawan: A cinematic gem of a moving story
This cinematic gem tells a moving story of a soldier without resorting to empty patriotism. Instead, it champions the cause of the masses and touches on issues that resonate with those affected by political and economic power plays. Without naming names or drawing explicit parallels, "Jawan" takes on crony capitalism, farmer suicides, ailing public healthcare, dysfunctional military equipment, electoral fraud, and the struggle of citizens denied rightful access to resources. The film delivers its message with flair, avoiding unnecessary grandstanding.
Shah Rukh Khan, a master of his craft, effortlessly balances the role of a larger-than-life action hero seeking justice against a powerful industrialist who has wronged him and the nation. His portrayal is both grounded in reality and enriched with humanity, even as he embodies an invincible, superhero-like persona.
Produced by Gauri Khan under the Red Chillies Entertainment banner, "Jawan" blurs the line between an actor portraying a fictional character and a star engaging in a dialogue with his audience. SRK executes this challenging task with remarkable finesse, seamlessly merging the performer and the character while maintaining narrative equilibrium.
At its core, "Jawan" serves as both fan service and a politically charged revenge tale, leaving a resounding message. The film closes with Shah Rukh Khan breaking the fourth wall, addressing the audience directly, and echoing the sentiment, "Don't underestimate the power of a common man." He urges viewers to question, seek answers, and wield their voting power wisely—a solemn plea after a daring act compels the head of state to intervene.
The Story of "Jawan"
The story begins in a remote village on India's border, where a wounded soldier is nursed back to health. Decades later, an aging man (Shah Rukh Khan) hijacks a Mumbai Metro train, demanding to negotiate only with a specific police officer (Nayanthara). The negotiations bring an uneducated agriculture minister and a wealthy businessman (Vijay Sethupathi) into the picture, highlighting the contrast between a struggling farmer and a tycoon with a waived loan.
The film then shifts to a women's prison, where the captain reappears as a progressive jail warden, Azad, determined to transform the lives of inmates. With the support of six women who've suffered at the hands of the powerful, Azad sets out to change both the prison system and the nation.
The first half of this 170-minute extravaganza is a whirlwind of fast-paced action, stylish fight sequences, and a heartwarming romance between Azad and Narmada. After the intermission, the film delves into Azad's origin story, his mother's fate (featuring a memorable special appearance by Deepika Padukone), and his relationship with former prison jailer Kaveri.
Returning to the present, "Jawan" intensifies the action as it confronts the villainous industrialist attempting to manipulate the electoral process with money. In the run-up to a thrilling climax, director Atlee and his team deliver breathtaking chase sequences. SRK and Vijay Sethupathi engage in a riveting showdown that caps this spectacular crowd-pleaser, combining sharp writing and technical finesse.
Final Verdict
"Jawan" strikes a bullseye as both an entertaining movie and a testament to the power of a superstar with an extraordinary voice—on and off the screen. It resonates not only within its fictional world but also in the hearts of its audience.
Cast:
Shah Rukh Khan, Nayanthara, Vijay Sethupathi, Deepika Padukone
Director:
Atlee
Also read: Top 10 Series with Most-Awaited Next Season!