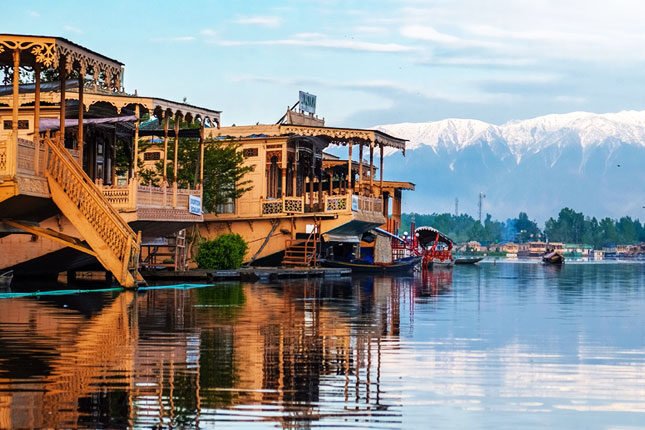 YD News | Three-minute read
The ultimate houseboat experience in paradise on earth- Kashmir, is a dream for all travellers. Better known as floating houses, houseboats preserve the cultural heritage of Kashmiris. These are located on the banks of two beautiful lakes Dal and Nigeen Lake of Srinagar.
The houseboat experience is unmissable for visitors. It is no less than staying in a haveli mansion in Rajasthan or a villa in Goa. Undoubtedly, these houseboats are ideal for family vacationers, honeymoon couples as well as solo travellers.
The houseboats are of different sizes and shapes. You wl also easily find the premium versions as well. Just imagine! Four bedrooms (each with an attached bathroom), a pantry, and a dining room. Other than all this, a living room, and a balcony with a view of the lake. You will get everything in a premium houseboat.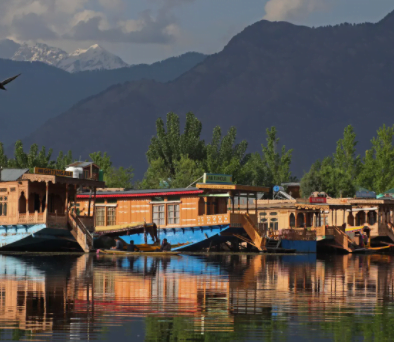 Glorious Past
Some attribute the houseboat phenomenon to a shop owner named Pandit Naraindas, who catered to foreign tourists in the 1880s. When his shop burned down, Naraindas is said to have moved his inventory to a small boat.
The old folks who have lived in Kashmir for generations, claim a different origin story of these houseboats. Many of them believe that the houseboats of Kashmir valley are mentioned in Kashmiri literature. It is worth mentioning that the literature dates back to the 13th century. They believe that it was for personal use rather than tourism in Kashmir lakes. Today, these houseboats are a major tourist attraction.
Houseboat architecture and design
The exquisite art of wood carvings represents Kashmiri life and culture. Also, it depicts the fine craftsmanship of Kashmiri artisans. When you enter a houseboat you will see the finest Kashmiri artisanship, a space filled with gorgeous silk carpets, furniture, and accessories with intricate designs carved from walnut wood, crewel curtains, and embroidered bedcovers. The khatambandh ceiling is made of hundreds of small wooden pieces that fit together in an appealing geometric pattern. Yoall engraved by hand.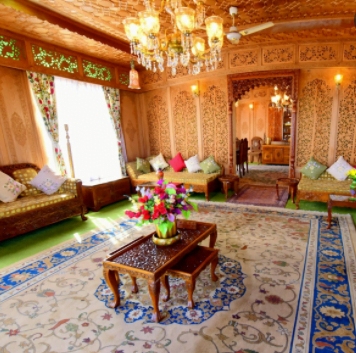 Home away from home
A houseboat feels like a luxury house, with each bedroom self-contained and opening onto a corridor that runs along the side of the boat.
The divans on the balcony, which is open on all sides and overlooks the lake, are unquestionably the best seats in the house.
Food served in a Houseboat
On the ornately carved walnut table, you will get a sumptuous spread of Kashmiri delicacies such as pilau, seekh kebab, mutton yakni, fried lotus root and stewed quince apples.
Floating market
The floating vegetable market on Dal Lake is a one-of-a-kind experience in Srinagar. The floating gardens in Srinagar's natural wetlands are the primary source of vegetable cultivation. Also, fresh vegetables are then sold on the lake's floating shikara boats.
You can also enjoy Shikara rides (local boats) in the evening, humming your favourite songs, and witness the Meena bazaar. This vibrant floating market, set against a stunning backdrop, is a photographer's dream. Its beautiful scenery makes it one of the must-see attractions in Srinagar, Kashmir.
A variety of Kashmiri bakery products are also available in the floating market. Specifically, breads like lavaas and girda. The florists also sell flowers, the most common of which are roses, daisies, water lilies, and lotus blossoms.
Fun activities to do when living on a houseboat
A shikara ride in the Dal Lake in Srinagar has become a must-do activity for any tourist. It can seat 4 people and boatman rows from the upper bow.
While in the shikara, people trying to sell you all sorts of things including art pieces, Pashmina shawls, Jewellery, and suits will approach you.
You must visit Meena Bazar market in the evening.
Floating photo studio shikaras. They will give you all the props you need to go with the colorful Kashmiri dresses "Kashmiri damsel". They will click your picture and by evening it will be delivered to your hotel room.
Tips while choosing a houseboat
Examine the access because some houseboats can only be reached by shikara while others have road access as well.
The prices of houseboats vary depending on size and type, and one should try to get the best experience possible within their budget.
Because power outages are common, ensure that the houseboat has a generator to provide 24-hour hot water, wireless Internet, and television.
A houseboat owned and operated by a family means more personalized attention and a more valuable stay. However, before booking a stay on a houseboat, read the reviews.
A houseboat experience in Kashmir is truly a once-in-a-lifetime opportunity to share memorable moments with your partner or family while also admiring the beauty of the region.