YD News | Burnish-A magical flower that helps to manage Diabetes & Asthma | Three minutes read
Burnish-A magical flower that helps to manage Diabetes & Asthma
How it all started?
When environmentalists and Padma Shri winner Dr. Anil Joshi, and his team, visited Uttarakhand's Ramadi and Pulinda villages. They came across a unique dish for the first time. Dark pink in colour and sweet-sour in taste. This chutney had been made by the village people using buransh, or Rhododendron.
The dish sparked an idea for economic change. Dr. Joshi's organization – is the Himalayan Environmental Studies and Conservation Organization (HESCO). Then began training individuals and organizations in setting up processing units for the flower.
HESCO currently frequently instructs rural women in the production and sale of buransh items. They say that the program contributes to the widespread acceptance of buransh squashes and liquids.
What's so special about this Burnish-A magical flower that helps to manage Diabetes & Asthma
Rhododendron has great horticultural value and is a vital element of Uttarakhand's local economy. In addition to just being a stunning decorative plant famed for its rich pink blossoms. It's a vital source of income for women in particular. Who use it to make a variety of juices, jams, honey, squash, chutneys, and other products. It is also held in high esteem in traditional medicine, and its wood is used to produce khukri handles, gift boxes, and other items.
This landscape is all pack with the R arboreum species in particular. Flowers bloom every year between February and April. And according to a Mongabay article, 10-20% of households in four Uttarakhand districts collect and trade the flower.
Burnish-A magical flower also offers many health benefits
The flower includes phenolic chemicals, quercetin, coumaric acid, saponins, and tannins (all of which are important in defense responses). It is also high in amino acids, vitamins, organic acids, and other nutrients. Ursolic acid (found in the leaves) and quercetin, in particular, have anti-inflammatory, anti-ulcer, anti-tumor, anti-viral, and anti-microbial characteristics.
Burnish-A magical flower is a nutraceutical (protects against chronic diseases) food for diabetes and related complications. These compounds also provide the flower with anti-diarrheal and anti-allergy properties. They also help in the treatment of gout and rheumatism. In addition, the presence of flavonoids can help alleviate cough, cold, fever, headaches, etc.
The roots of the Rhododendron tree also include alkaloids, terpenoids, reducing sugars, and anthraquinones. Alkaloids are frequently used as anaesthetics and pain relievers. Terpenoids provide similar relief and are rich in anti-parasitic qualities.
The bark and the stem come with similar healing characteristics. One study says that the latter can help reduce the risk for excessive bleeding, high fever, bronchial asthma, and cardiovascular diseases.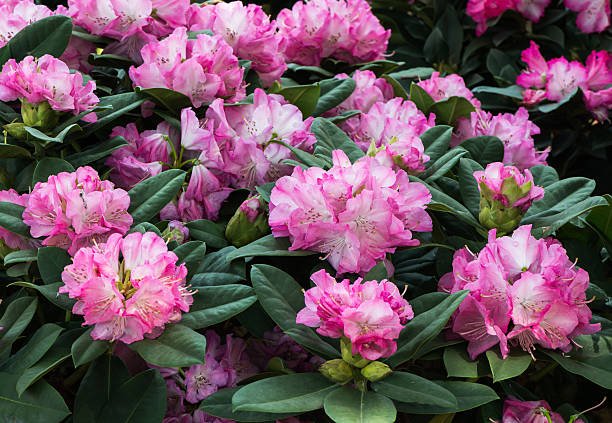 Use it in Moderation
Rhododendron, like any other food product, should be added to the diet due to tannins. Which highly protects the liver by reducing lipid peroxides, may also precipitate proteins, block digestive enzymes, and interfere with vitamin and mineral absorption. When consume in large quantities, the flower can also have intoxicating effects.
Burnish-A magical flower to enrich everyday meals
Few Recipes to make your meals more healthy with Rhododendron or Buransh
Now that you're aware of all the benefits of buransh, you may include it into a range of recipes, from squashes to mocktails and chutneys; the possibilities are unlimited.
Burnish-A magical flower's Sharbat is a nice distraction from the hot, humid summer
Ingredients
Fresh Buransh petals
Sugar
Lemon
Black salt (optional)
Water
How to prepare
Remember that you only need the petals, so get rid of the stigma and stems. Thoroughly clean the petals.
After the water comes to a boil, put the petals in a pot and simmer on low heat for around 30 minutes.
Allow for a 15-minute cooling period after steeping. Then squeeze out the petals, leaving only the liquid, which should be a rich crimson colour.
Combine the sugar and lemon juice in a bowl.
Continue to simmer on low heat for another 20 minutes or until the mixture thickens. Then remove the pan from the heat and let the liquid cool.
Keep it in a glass jar that is airtight. Add two spoons of squash, some lemon, black salt if desired, and water to a glass of this delightful drink whenever you feel like it.
Buransh chutney — a sweet and sour accompaniment to rice, parathas, and more
Ingredients
Five-six buransh flowers
One bunch of coriander
Half a bunch of mint
Two tablespoons of chopped onion
Two tablespoons of sesame seeds
One teaspoon of chopped ginger
Two teaspoons of lemon juice
Half a teaspoon of honey
Salt to taste
How to prepare
Thoroughly wash the flowers, coriander, and mint.
Mix the ingredients well.
Add the sesame seeds to your blender after toasting them.
Now add the onions and ginger and mix until you get a chutney-like consistency.
Add salt, lemon juice, and honey to the mixture in a serving bowl. You're ready to begin if you thoroughly combine these ingredients.
Buransh paratha — a healthy and beautiful twist to your favorite breakfast food
Ingredients
Two cups of wheat flour
Half a cup of gram flour
Half a cup of buransh flowers
Chopped coriander
Two tablespoons of chopped onion
Half a teaspoon of turmeric powder
One teaspoon of grated ginger
Chopped green chillies (optional)
Salt to taste
How to prepare
To begin, sift the wheat and gram flours and thoroughly combine them.
Add the other ingredients, including buransh, onion, turmeric, coriander, ginger, chilies, and salt.
Mix in the water until the dough turns firm.
Cook like a normal paratha with ghee.
Serve with pickle and dahi.
Also Read: Easy home Remedies for clear skin