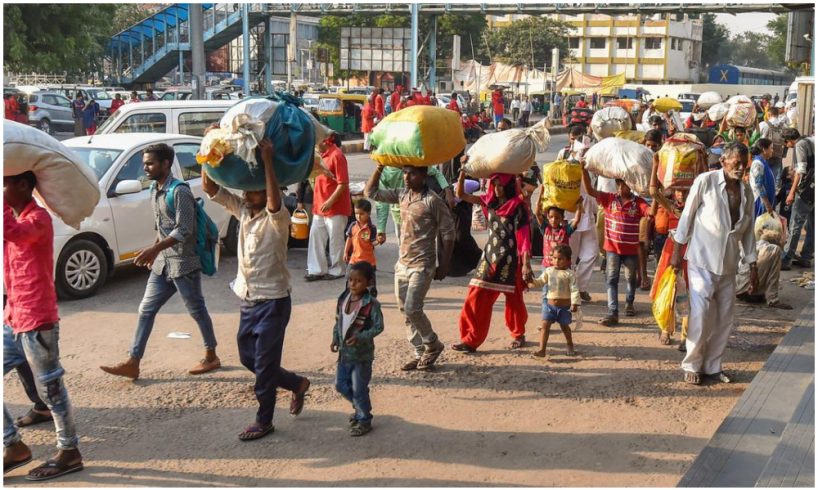 YDNews| 03:50 pm| Two-minute read
Delhi: While the whole country is home-quarantined and safe inside their homes, thousands of laborers had to come to the Delhi-UP border in order to head to their respective homes. The incident took place today morning in Ghazipur when thousands of laborers were stuck in the state and desperately wanted to go to their house so that they can avoid catching the deadly virus.
The people lived in different districts of UP. Since yesterday due to no transportation available, they decided to walk their distance. However today, the police did not allow them to pass by the road.
Due to no facilities, and police guidelines the people gathered at the border in order to get the update if they will get any travel facility or not. The Central and the Delhi government has facilitated the transport of people but the people are still facing issues amid lockdown.
Have a look at the people walking towards their homes:
Delhi Chief Minister Arvind Kejriwal tweeted on earlier the day that both the state governments have laid down arrangements for buses but he also appealed to people to stay inside the homes or wherever they are currently.
Kejriwal also said that Delhi has got arrangements for food, living, and drinking. He quoted that people need to stay where they are irrespective of if they are home or not. Otherwise, the aim of the lockdown would not be accomplished.
Have a look at Delhi CM Arvind Kejriwal's Tweet:
Workers and laborers were migrating in large numbers and got stuck on the highway. However, Bihar Chief Minister Nitish Kumar also appealed to its citizens stuck outside the state that they must stay wherever they are in order to keep the conditions in control.
Nitish Kumar quoted to people that if they love Bihar and want their families and other people to be safe then those who are there must remain. Bihar CM also assured the workers that all possible help will be provided to the citizens. He has also said that if they do not receive any help on the helpline number, then the people can freely call to CM's office.
Have a look at Nitish Kumar's Tweet: