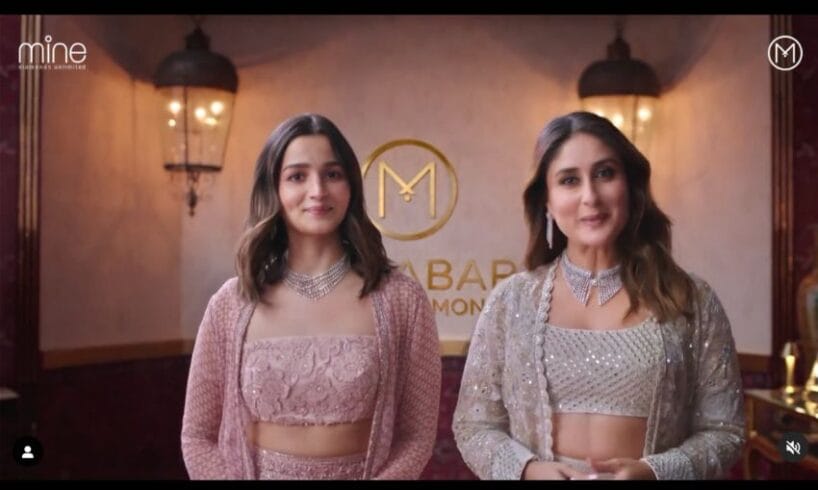 The iconic duo of Alia Bhatt and Kareena Kapoor joined hands for a captivating jewelry brand advertisement
Mumbai(India): Bollywood enthusiasts received an unexpected treat when the iconic duo of Alia Bhatt and Kareena Kapoor joined hands for a captivating jewelry brand advertisement. The surprise unveiling of their collaboration had been teased in a recent Instagram post, and it turns out their partnership was in the realm of exquisite jewelry. Kareena took to her Instagram account to unveil the promotional video for Malabar Gold & Diamonds, a moment that created quite a buzz in the entertainment world.
The advertisement commences with both Alia and Kareena engaging in a discussion about the significance of jewelry as gifts, within the backdrop of a luxurious jewelry store. Alia proceeds to enter a spacious room and passionately illustrates the various occasions where a piece of jewelry can express profound sentiments and emotions, including a touching moment when a gentleman proposes to his beloved. She utters the heartfelt words, "Main tumhara humesha khayal rakhunga (I will always take care of you)."
The scene then transitions to Kareena, who enters a warm and intimate setting where a couple is joyfully celebrating their 10th anniversary, marked by a stunning necklace as a gift. With tenderness, she articulates, "10 nahi, 10 hazaar saal saath rakhunga (Not just 10 years, I will be with you for 10,000 years)."
Finally, Alia and Kareena unite in a single frame, emphasizing the idea that diamonds can be gifted to oneself. They gracefully move forward, advocating that diamonds are the perfect expression of one's heart on every special occasion.
The Old Instagram Collaborative Post
Their collaborative journey had been subtly hinted at a month prior when Alia shared a series of pictures on her Instagram account. The images showcased the two stars, side by side, striking poses beside their own makeup mirrors. In one photograph, their reflections were seen in their respective mirrors, while the final image captured a moment of charming goofiness. Alia's caption humorously expressed the desire for them to be cast in a film together, adding, "although we may spend most of our time on set reflecting."
As for their individual career pursuits, Kareena was last seen in the Netflix thriller "Jaane Jaan," a gripping adaptation of "The Devotion of Suspect X." Directed by Sujoy Ghosh, the film also featured Vijay Varma and Jaideep Ahlawat in pivotal roles. Kareena has exciting projects in the pipeline, including "The Crew" and an upcoming film directed by Hansal Mehta.
Also read: Jawan: Shah Rukh Khan's Blockbuster Blend of Entertainment