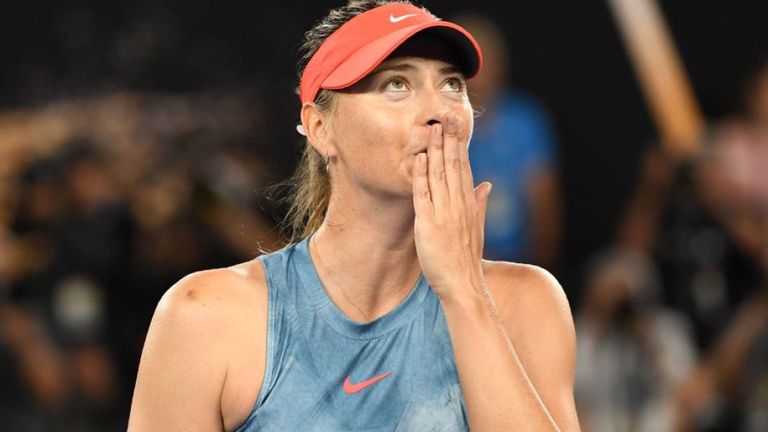 Maria Sharapova the legend in the world for her tennis skills, now announced her retirement from professional tennis. She is a five-time Grand Slam champion and known for her fighting spirit.
Maria Sharapova has announced retirement from professional tennis. "How do you leave behind the only life you've ever known? How do you walk away from the courts you've trained on since you were a little girl, the game that you love—one which brought you untold tears and unspeakable joys—a sport where you found a family, along with fans who rallied behind you for more than 28 years? I'm new to this, so please forgive me. Tennis—I'm saying goodbye," she wrote in an essay for Vogue and Vanity Fair.
Maria Sharapova became an overnight star when she was crowned Wimbledon champion at the age of 17 in 2004. She remains the second youngest to win the women's singles title at Wimbledon behind Martina Hingis in the Open era.
She became world number one in 2005 and won the US Open the next year. Russian went on to win the US Open crown in 2006 and the Australian Open title in 2008.
Her twin triumphs at the clay courts of Roland Garros at the French Open in 2012 and 2014 were are considered to be her biggest achievements as they came at a time when her bitter rival Serena Williams was at the peak of her domination of women's tennis.
More fitness troubles followed in her kitty before the bombshell announcement of her positive test for the banned heart drug meldonium. Always a fighter — the seven-year-old Maria and father Yuri left for the US in 1994 with just a borrowed $700 to their names — Sharapova returned to the sport in 2017.
In the essay, Sharapova went on to describe the initial years when she moved from Russia to the USA to further her career. "When I was six, I traveled across the globe to Florida with my father.
The whole world seemed gigantic back then. The airplane, the airport, the wide expanse of America: Everything was enormous—as was my parents' sacrifice.
"When I first started playing, the girls on the other side of the net we're always older, taller, and stronger; the tennis greats I watched on TV seemed untouchable and out of reach. But little by little, with every day of practice on the court, this almost mythical world became more and more real," Sharapova wrote in Vogue and Vanity Fair.
She ended the essay by saying that it was the sport of tennis that showed her the world.
"Tennis showed me the world—and it showed me what I was made of. It's how I tested myself and how I measured my growth. And so in whatever I might choose for my next chapter, my next mountain, I'll still be pushing. I'll still be climbing. I'll still be growing," Sharapova wrote.
Maria Sharapova also has an Olympic silver medal to her name, that she won at the 2012 London Games.
She lost in the final of the women's singles to Serena Williams. Sharapova lost several key matches in her career to Serena Williams, having a rather lopsided head to head record of 2 wins and 20 losses against the American legend.