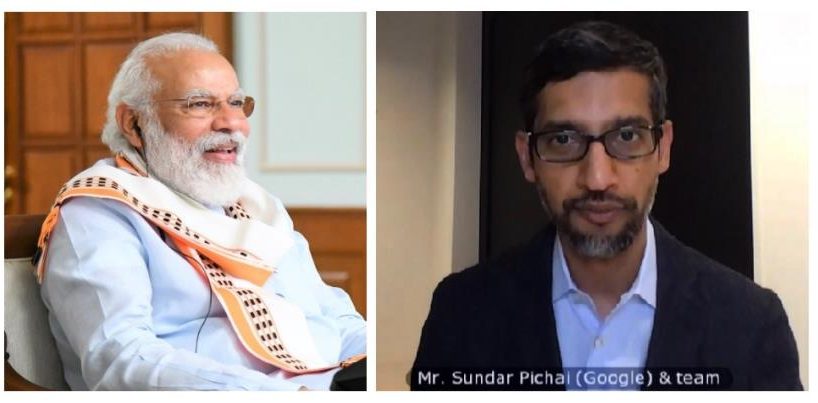 Google will invest 75000 crores in India.
The company's CEO Sundar Pichai announced this at its annual program Google for India.
The PM Modi gave this information via tweet.
New Delhi: Prime Minister Narendra Modi held a virtual meeting (video conferencing) today with Google CEO Sundar Pichai. The PM gave this information via tweet. Google company also talked about investing 75000 crore rupees in India.
PM Modi wrote on Twitter, "This morning, had an extremely fruitful interaction with @sunderpichai. We spoke on a wide range of subjects, particularly leveraging the power of technology to transform the lives of India's farmers, youngsters, and entrepreneurs."
PM Modi also wrote, 'During a conversation with Sundar Pichai, I talked about the new work culture that is emerging in the time of Corona. We discussed the challenges that the global epidemic has brought to areas such as sports. We also talked about the importance of data security and cybersecurity.'
PM Modi also wrote that, "I was delighted to know more about the efforts of @Google in several sectors, be it in education, learning, @_DigitalIndia, furthering digital payments and more. @sundarpichai."
"Google will invest 75000 crores in India"
Sundar Pichai said on this occasion that the Google company will invest 75 thousand crore rupees to promote India's digital economy.
Pichai said that in this era of Kovid-19, the online has become lifeline.
At the Google for India event, Google CEO Sundar Pichai said that Google is excited to make several announcements for India's digitization. Google will invest 75000 crore rupees or 10 billion dollars in the next 5-7 years in India. These investments will be made through equity investment, partnerships, and operational infrastructure.
Also read: Vikram Pawah is appointed President of BMW Group India along with BMW Group Australia