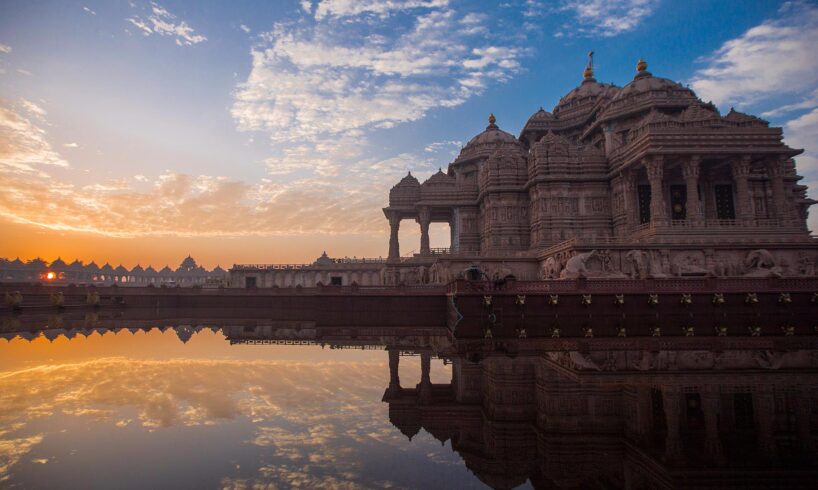 Yd News | 10 best places to visit in Delhi | 3 minutes read
The Capital city of India has millions of places to visit in Old Delhi. May it be lords living on earth, or be the Mughals ruling or the British taking over. You will find busy looking people, religious personalities and many clusters of friends scattered around Old Delhi.
Delhi never failed to impress any visitor or world-class tourist with its cherished past. The contrast between rambling Old Delhi and well planned New Delhi is immense, and it's interesting to spend time exploring both.
Let's explore 10 best places to visit in Delhi
1st – Jama Masjid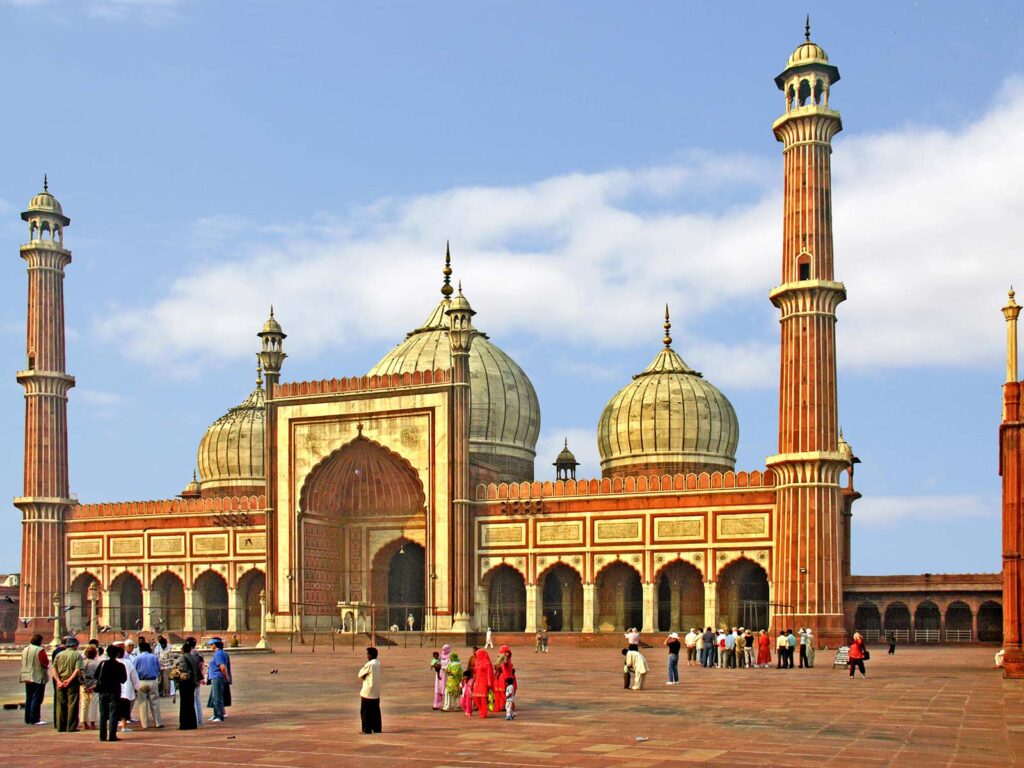 One of the largest mosques in India holds the marvelous treasure of the Old City. The prodigal monuments built by Shah Jahan. Shah Jahan named it "Masjid e Jahan Numa" which means "a mosque that commands a view of the world". It took 12 years to build Jama Masjid. A strenuous climb to the top of its southern tower will give you a stunning Delhi.

Important note – Dress appropriately while visiting the mosque. E you won't be allowed in. This means covering your head, legs and shoulders.

2ND – Swaminarayan Akshardham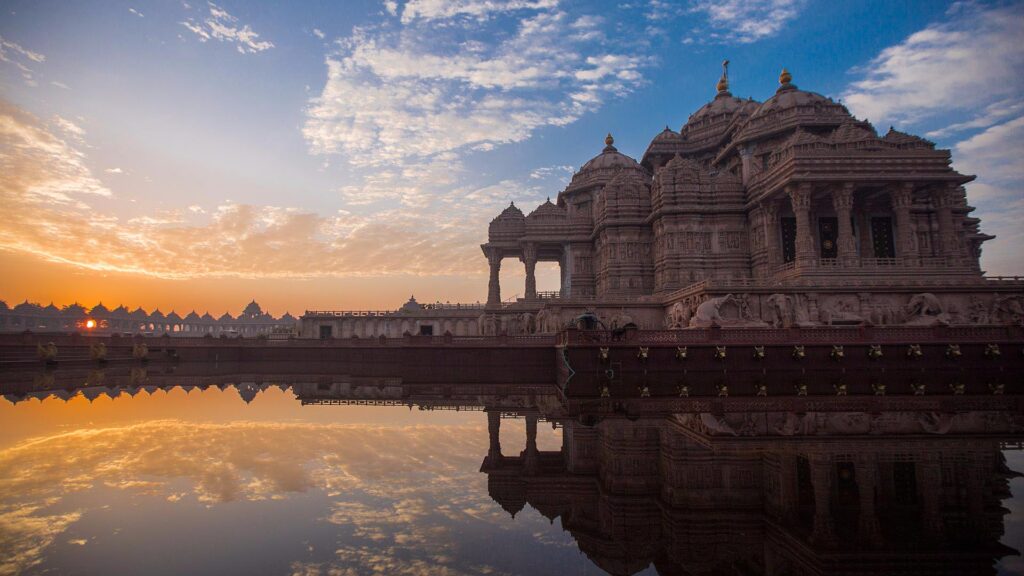 The massive temple complex was built by the BAPS Swaminarayan Sanstha. It is unimaginable architecture, a great theme show. One must spend half a day to spare at this Iconic place. It is one man's creation in five years. The complex includes a sprawling garden, sculptures, and boat rides. A monument which makes every Indian proud!
Important note – The cell phones and cameras are not permitted inside; you can be fined.
3rd – Humayun's Tomb – 10 best places to visit in Delhi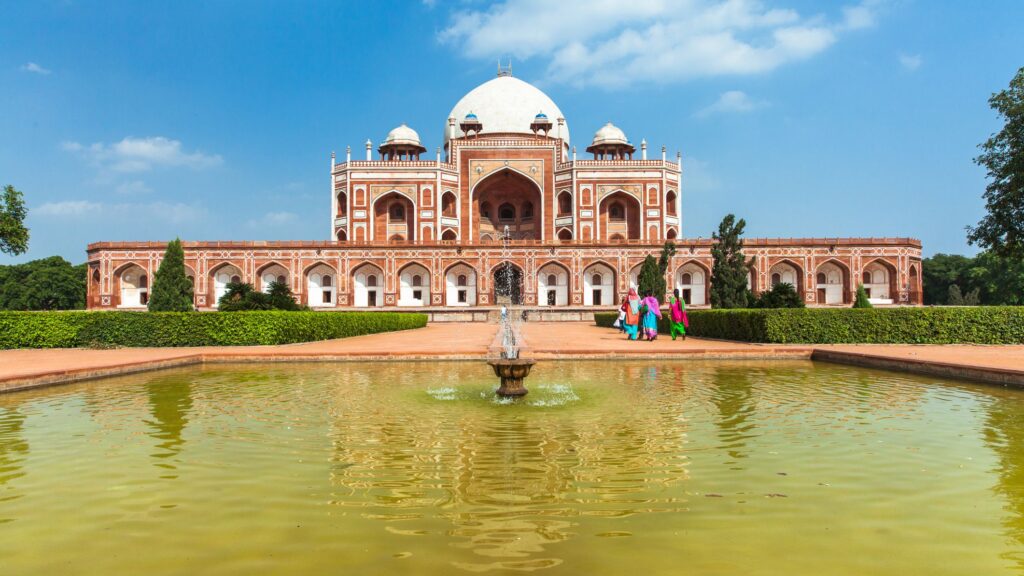 India has a lot of its architecture and place of Muslim culture as Mughals have a huge history in India. Humayun's Tomb looks similar to Taj Mahal in Agra. It was the inspiration for the Taj Mahal's creation. It houses the body of the second Mughal emperor Humayun. The tomb is part of a greater complex that's set among beautiful gardens.

Important note – It was the first garden-tomb in the Indian subcontinent.
4th – Red Fort
Another in list of 10 best places to visit in Delhi is one of the most famous monuments is Red Fort. The Red Fort stands not only as a powerful reminder of the Mughal era but also a symbol of India struggle for freedom. Inside the main campus, there are many architectural buildings where you can click pictures. There is Chatta Bazaar where you can shop for things.
Important note – Only cash is used at this place. Keep your ticket safe as the authority does check it again at the exit.
5th –  India Gate – 10 best places to visit in Delhi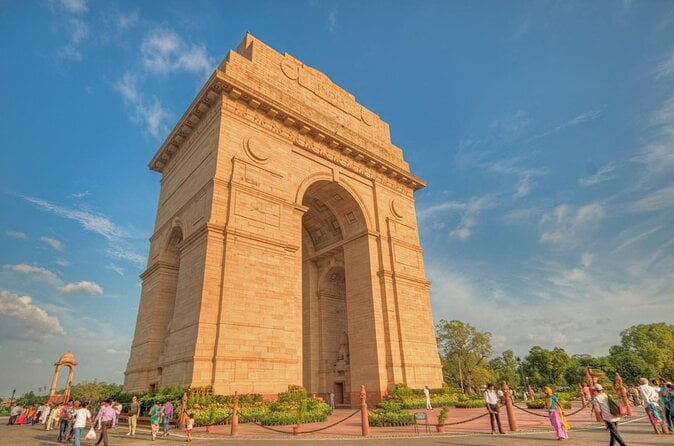 India Gate at the center of New Delhi is a war memorial, built-in memory of the Indian soldiers who lost their lives fighting for the British Army in World War I. It is located in Rajpath, near Connaught Place, New Delhi. At night it glows warmly under floodlights, and the gardens that line its boulevard are a popular place to enjoy a warm summer's evening.

Important note –
6th – Dilli Haat – 10 best places to visit in Delhi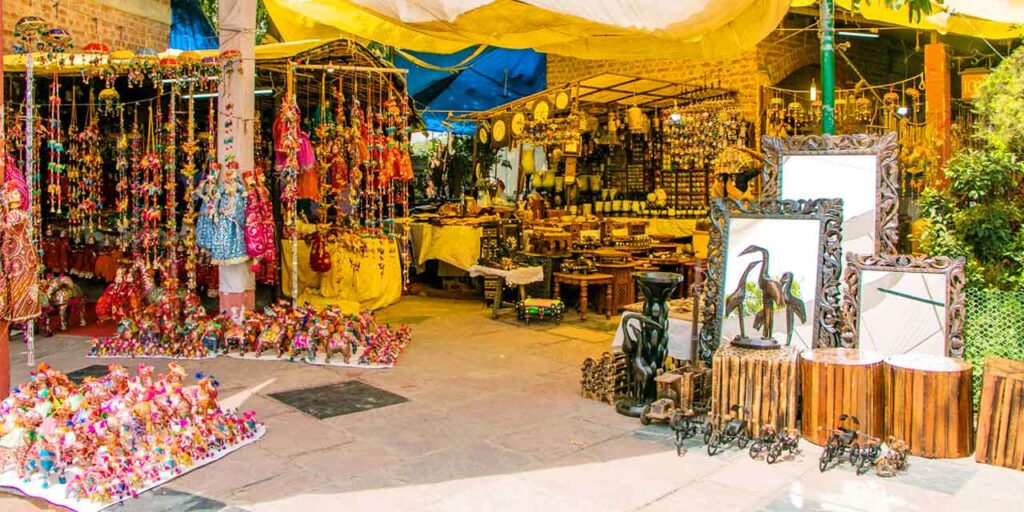 A good selection of handcrafts, an opportunity to meet the artisans and watch them work. This has the concept of mall. The craft market & open-air food plaza. The place is full of tradition and artistic things. Most of the things are handmade by artisans. A place where you can buy handicrafts, handloom apparel, marble and wooden show pcs for your home and many other such things.
Important note – On special occasions, there are dance performances.
7th – Gurudwara Bangla Sahib – 10 best places to visit in Delhi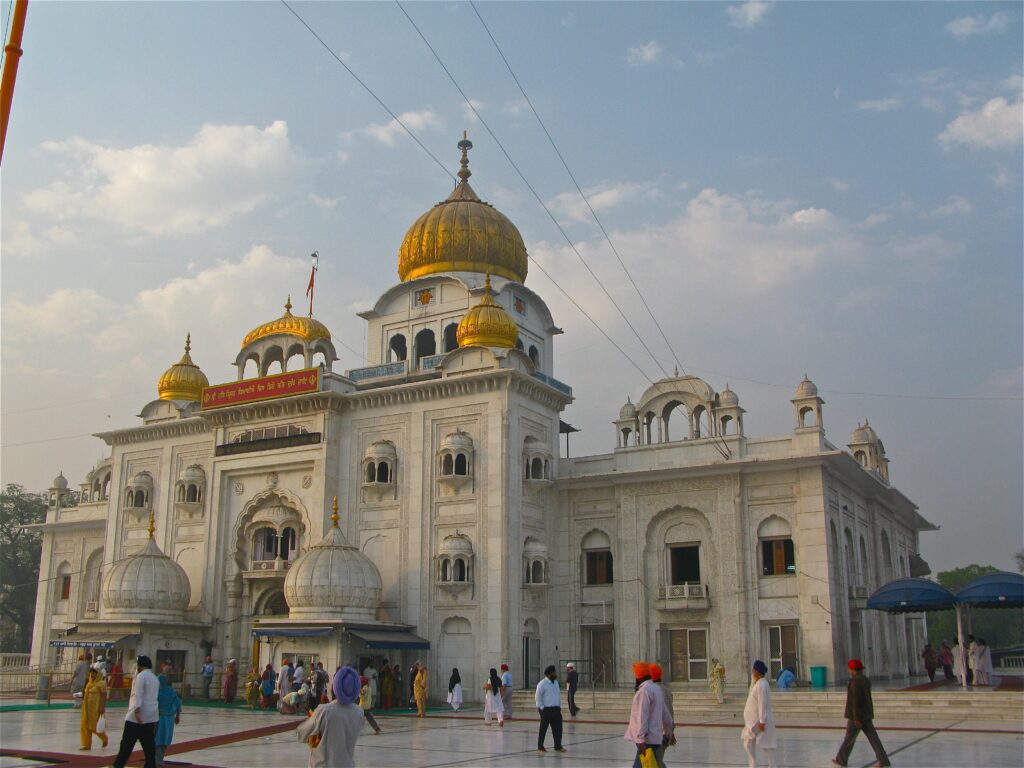 India is a vast cultural home. This place is a historic and holy place for Sikhs. Blessed by the 8-th Sikh guru-guru Harikrishna Sahib Ji. This was actually a Bangla of the raja Jai sigh where guru sahib poured the Charna Amrit in the well. People took the jal from this well and got free from the disease. Even today most Sikhs and other people from different religions come to visit this place.
Important note – The most amazing part of this place is the free kitchen.
Also read Best places to visit in Varanasi
8th – Lodhi Garden – 10 best places to visit in Delhi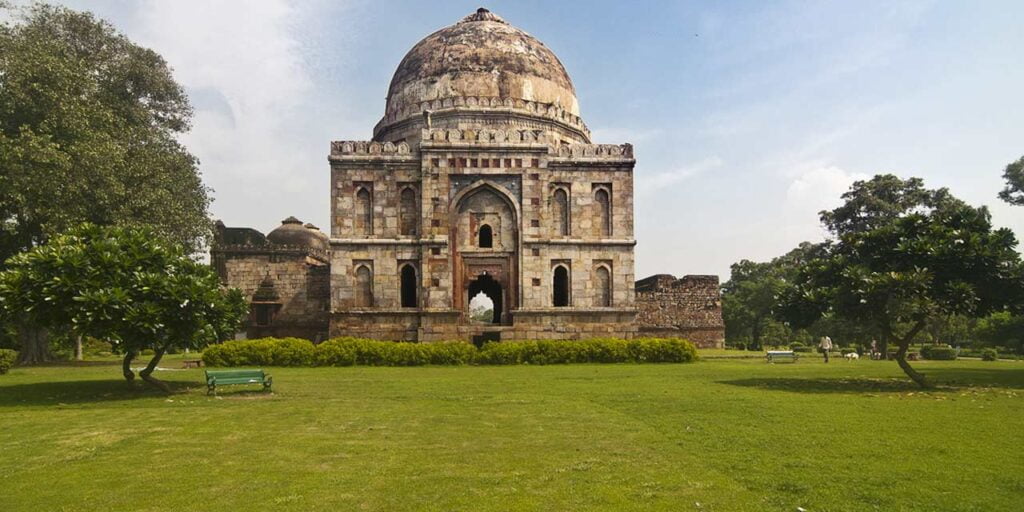 The garden contains, Mohammed Shah's Tomb, Tomb of Sikandar Khan Lodi, Shisha Gumbad and Bara Gumbad. It has impressive architecture and impeccable natural beauty, the garden and the structures. This is a favourite spot for local joggers, morning walkers, and yoga enthusiasts. The garden is a preferred picnic spot for the family crowd
Important note – Do visit for inner peace.
9th – Champa Gali
This place got famous most recently. People from all over the place come to visit this gali. It has various café and amazing food. Champa Gali has cafeterias, coffee shops, art galleries and some organic knick-knack stores. The place has tinsel light, cultural decor, fancy thematic setting and tiny seating spaces. This will sure to take to you back to lanes and gullies of 'Midnight in Paris'.
Important note – Don't forget to cl9ck pictures and #
10th – Fatehpuri Masjid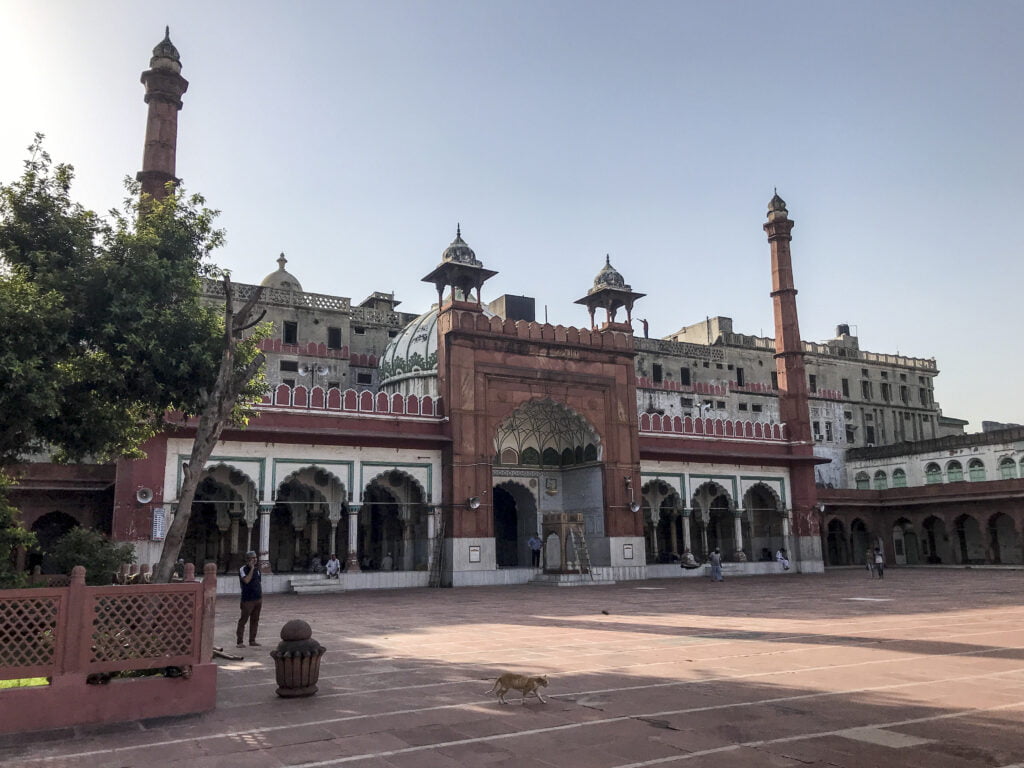 Fatehpuri Masjid built by Shah Jahan's wife Fatehpuri Begum. The mutiny of 1857 led to a lot of damage to the masjid. Festivals like Id-ul-Zaha and Id-ul-Fitr celebrates luxuriously in the Fatehpuri Masjid. One of the three gates faces the Red Fort and Chandni Chowk.
Important note – You will witness the inner beauty of the Mughals architect.
We hope you like our article on 10 best places to visit in Delhi. if You want to add some more information regarding same article, kindly write in comment box or mail us